Twin Lakes to Lake City
Day 21 | July 15, 2018
We left the Colorado Trail House and headed into town. On our way we met two thru-hikers, Masshole and Wiggles.
We stopped to chat for a bit and then continued on our way. After coffee and another meal we walked to the edge of town and stuck our thumbs out.
Shortly after we got a ride, the sky grew dark and heavy rain started to fall. Most of the storms in Colorado blow in and out quickly, but this one didn't look like it was ending anytime soon. We made a last minute decision to wait one more day before hitting the trail and hitched our way into the small town of Salida.

We were dropped off in downtown Salida (temptingly in front of a pizza place) and spent a few hours exploring the area. Salida was a great town! The Arkansas River runs through this small mountain town creating a playground for water recreation. The downtown area was filled with unique shops, good smelling food, and friendly folks.
We had a large vegan pizza for dinner and settled into a hotel on the outskirts of town.
Day 22 | July 16, 2018
It's easy to get in a natural sleep rhythm when you're living in nature, but within the dark hotel room I slept right through the morning. I woke up at 10am, just enough time to pack up and get ready to check out of the hotel and out of Salida.

Overeating feels inevitable in town, with so many options and so many foods that I miss when I'm hiking. My hiker hunger doesn't discriminate against time of day. This morning I NEEDED ice cream. After packing up our stuff we walked to Walgreens to get some final supplies including a pint of Ben and Jerry's vegan cinnamon bun ice cream (the ice cream didn't make it out of the parking lot.

Cosmo and I had spent the majority of our zero day demonstrating no self control when it came to food. In the past 24 hours we did not hold back when it came to our dining choices.
Day 1: Chinese food for lunch and Mexican for dinner. Ice cream for desert.
Day 2: Veggie burgers for lunch, ice cream sandwich for a midday snack, and pizza for dinner.
After this morning's pint of ice cream for breakfast we were feeling it. Sluggish, and a bit grumpy, we hit the road and hitched to Monarch Pass to resume our hike.
We were lucky and got picked up by a legend in the thru-hiker community. Bear Creek works for the Colorado Trail Foundation and has personally mapped out the routes of the CT and CDT! He has a partnership with Guthooks and has been a major contributor of beta for that app.
We had a lovely ride and conversation all the way to the Pass. It was late afternoon when we said farewell. Bear Creek drove off and Cosmo and I finished the last of our resupply prep before hitting the trail.
We hiked 11 miles this evening and set up camp at the base of Marshall Pass. It was a calm and quiet evening, but as to be expected, darkness came in with the distant roar of thunder. Happy to be dry and well-fed I cozied into my sleeping bag and settled in for the night.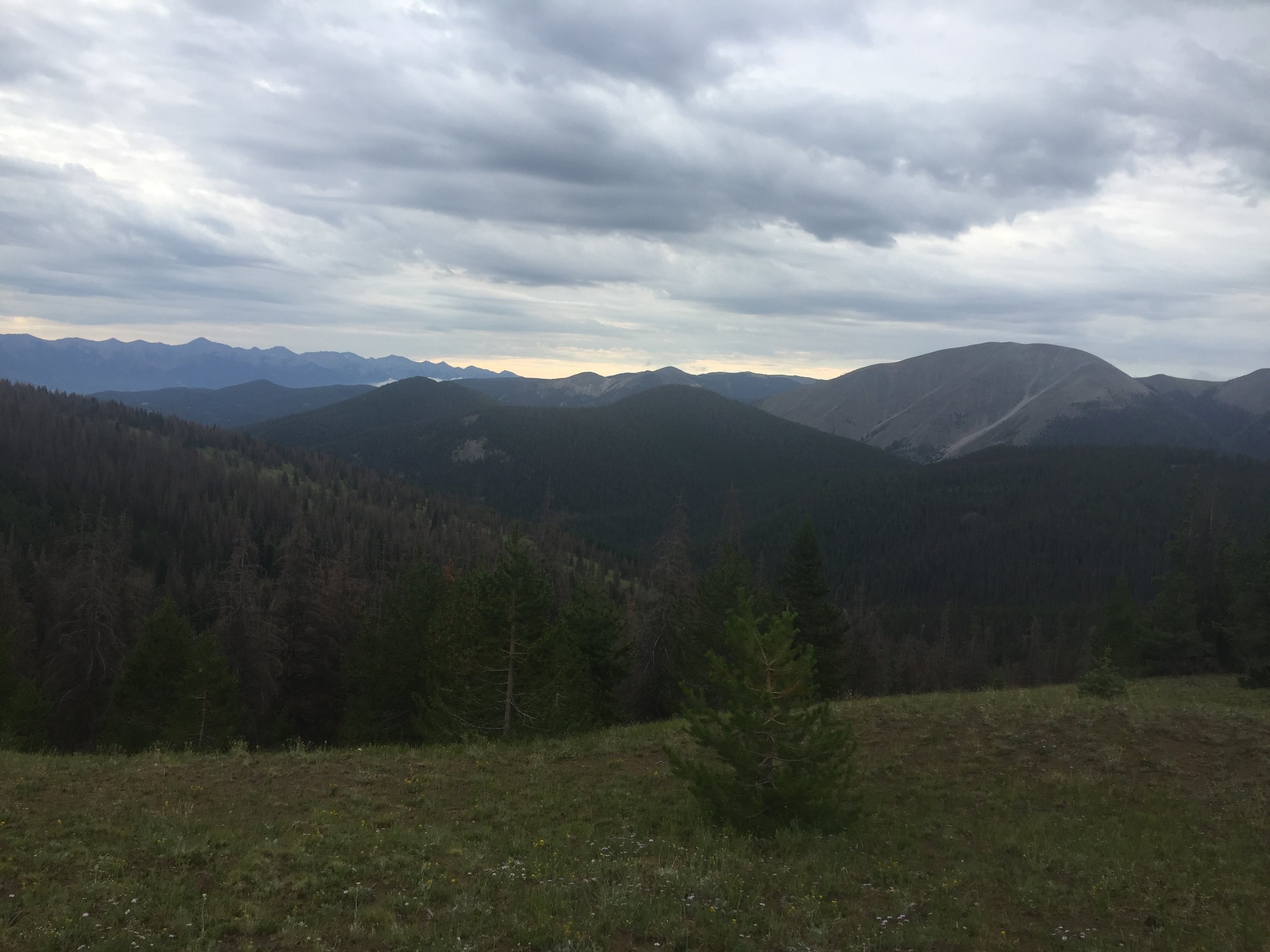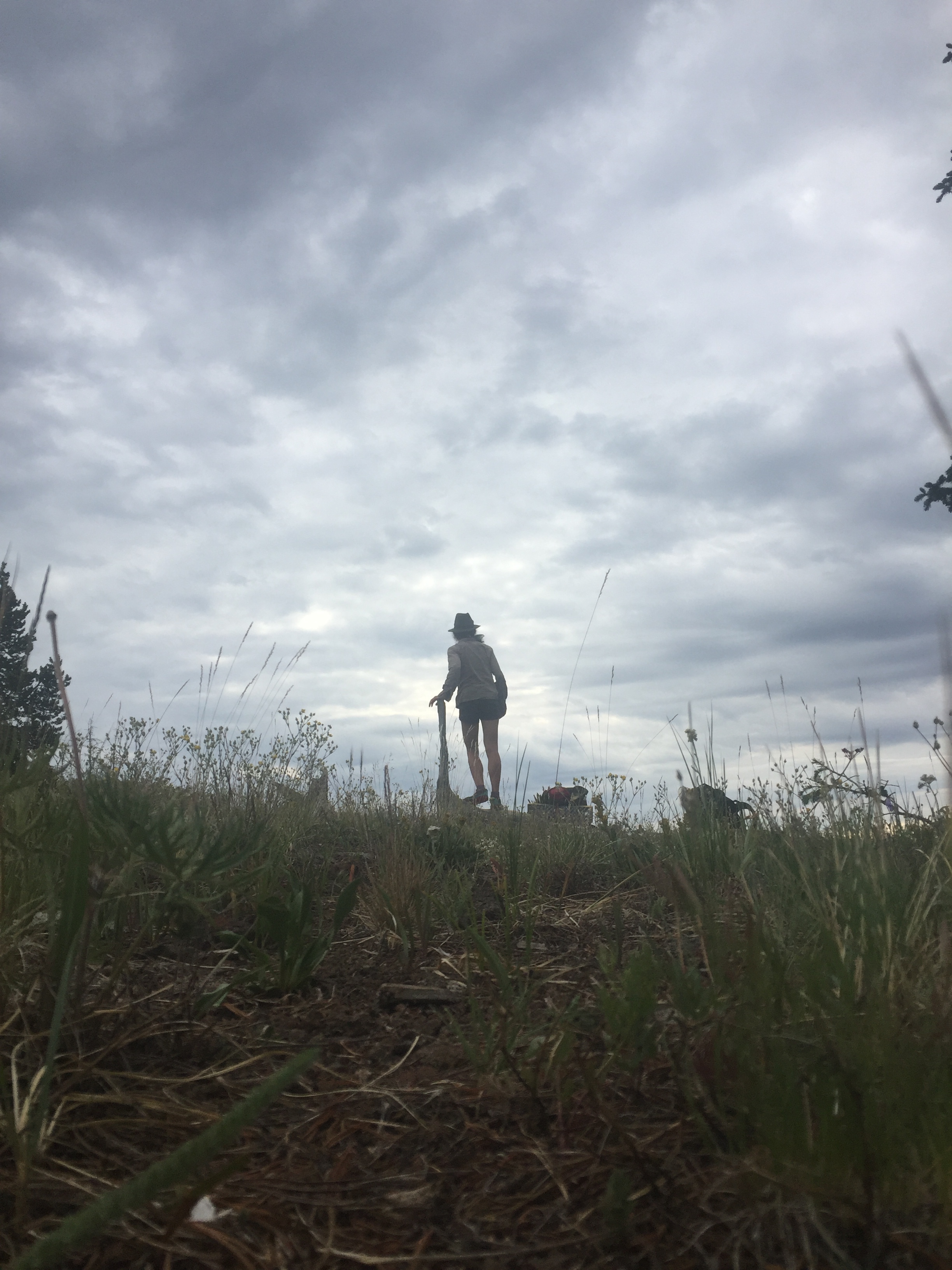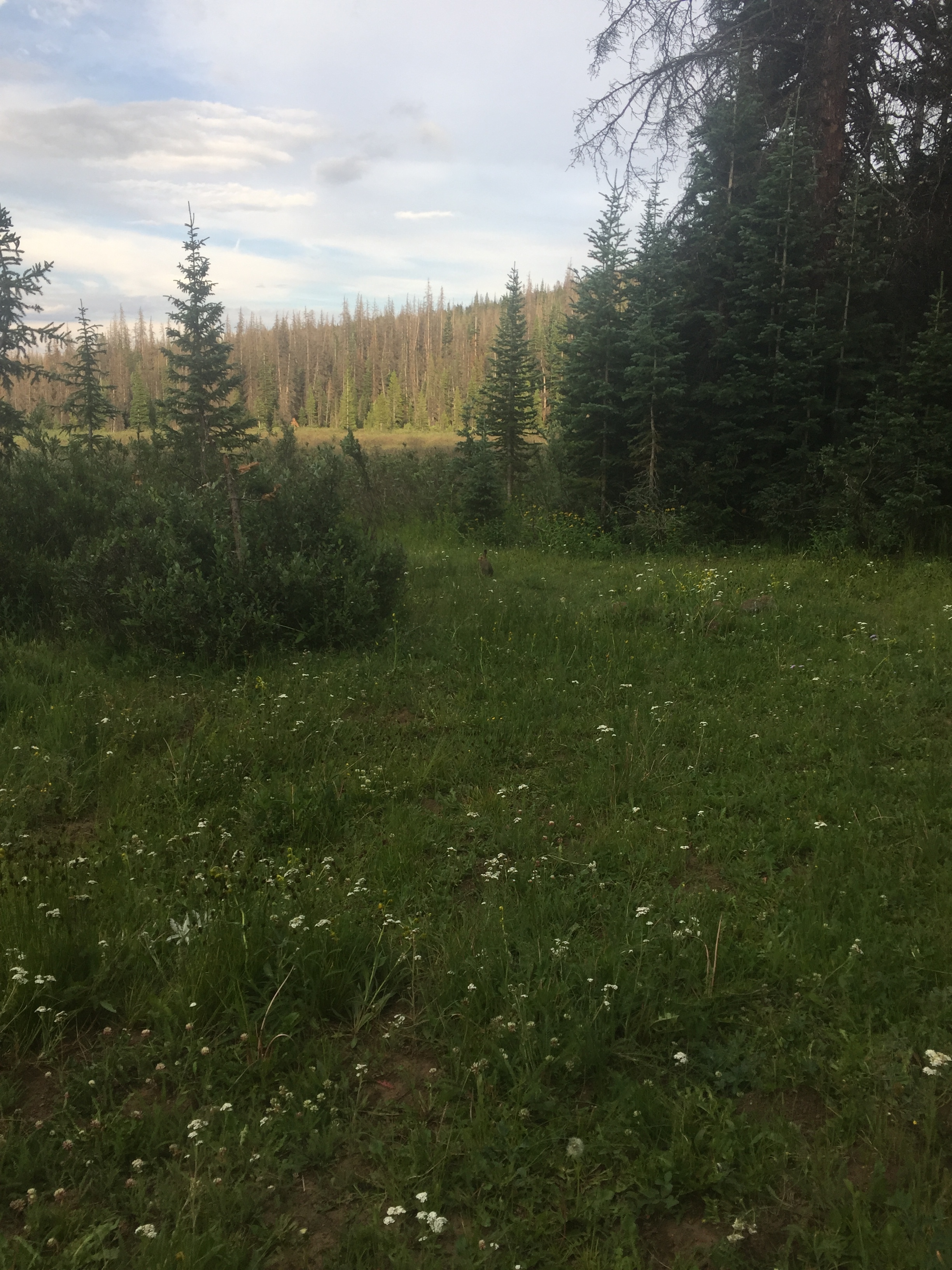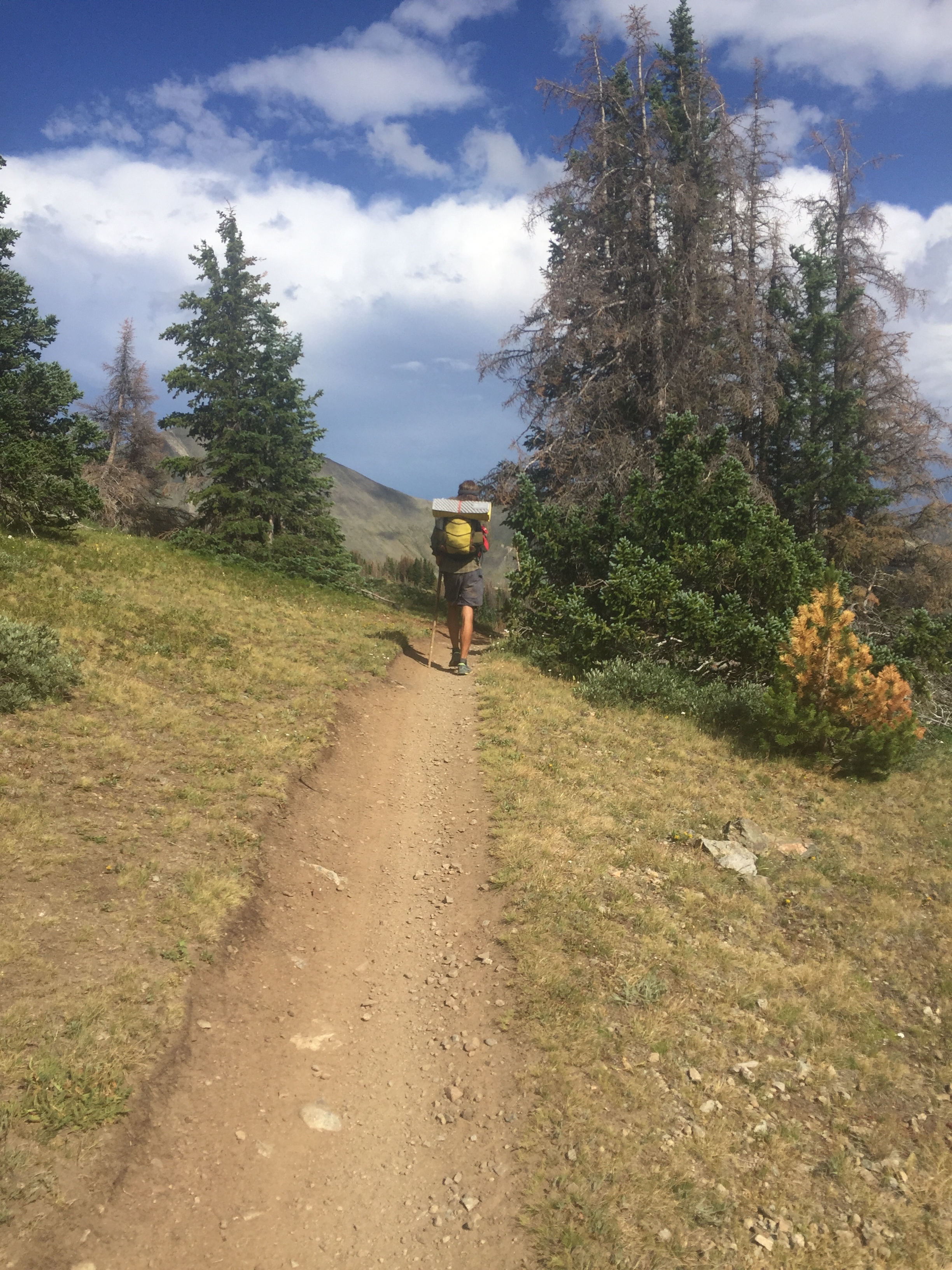 Day 23 | July 17, 2018
Today was an excellent day, attributed primarily to an early start. We were on the trail by 7:30am (yes, that is early for this trip so far) and finished our first marathon day!

The trail was mostly empty. We only crossed paths with one other fellow, a mountain biker from Nashville who is riding to Silverton. We saw no other hikers, no parking lots, and no signs of civilization.

Water was sparse, but we were able to make due with no issues. The trail meandered in and out of lush forests and through vast meadows. From the meadows I could see all around me. Mountain peaks in all directions and diverse weather systems all around. The sky above me was clear, but dark clouds were moving in.
Early evening brought the usual thunder storms. Rain and hail came on quick and with it thunder roared and shook the mountains.
After about thirty minutes the rain slowed down and the sky came out from behind clouds.

We ended the day with exactly 26.2 miles behind us. We set up camp with still an hour of daylight and planned to get good rest for another big day tomorrow.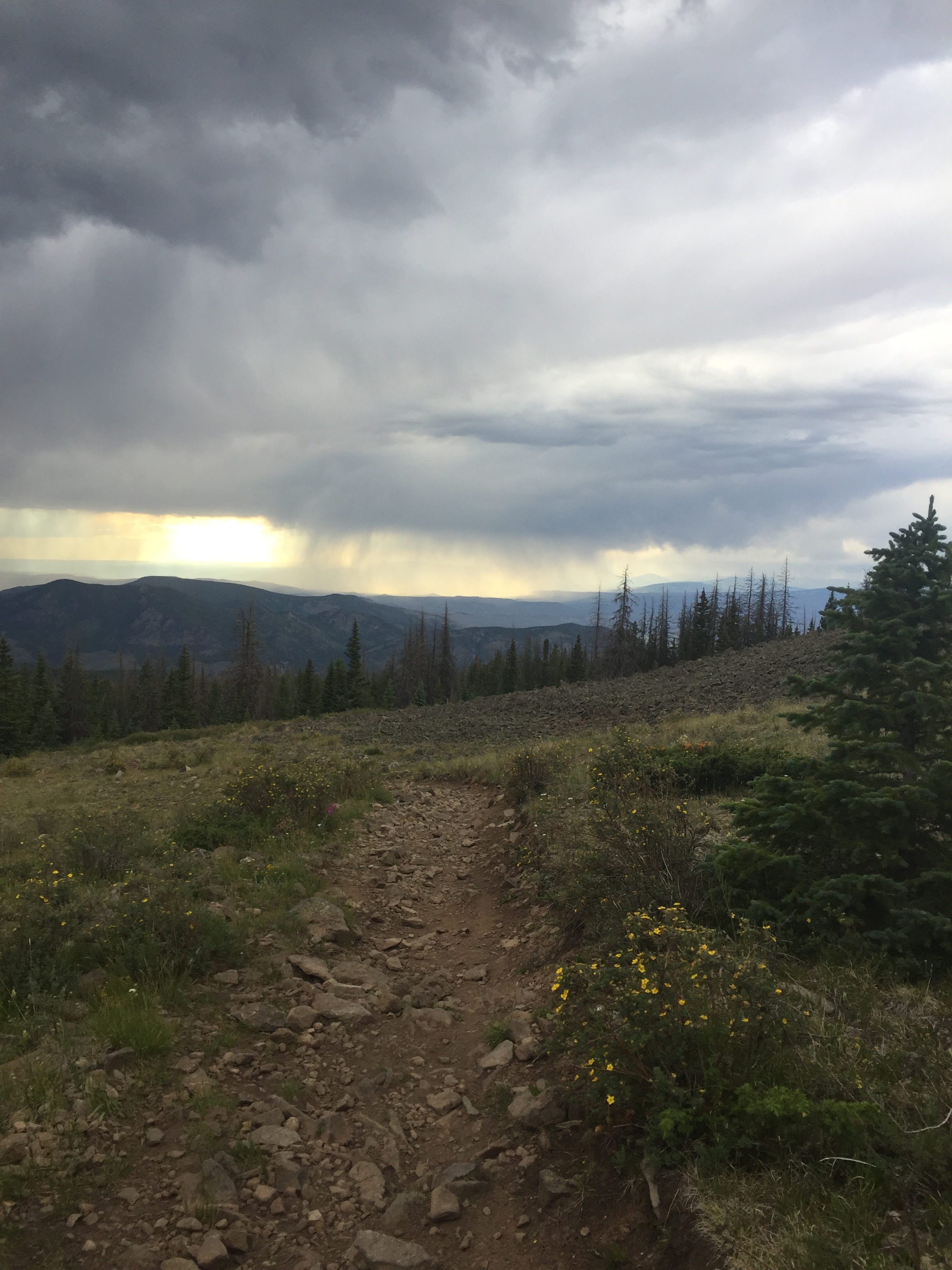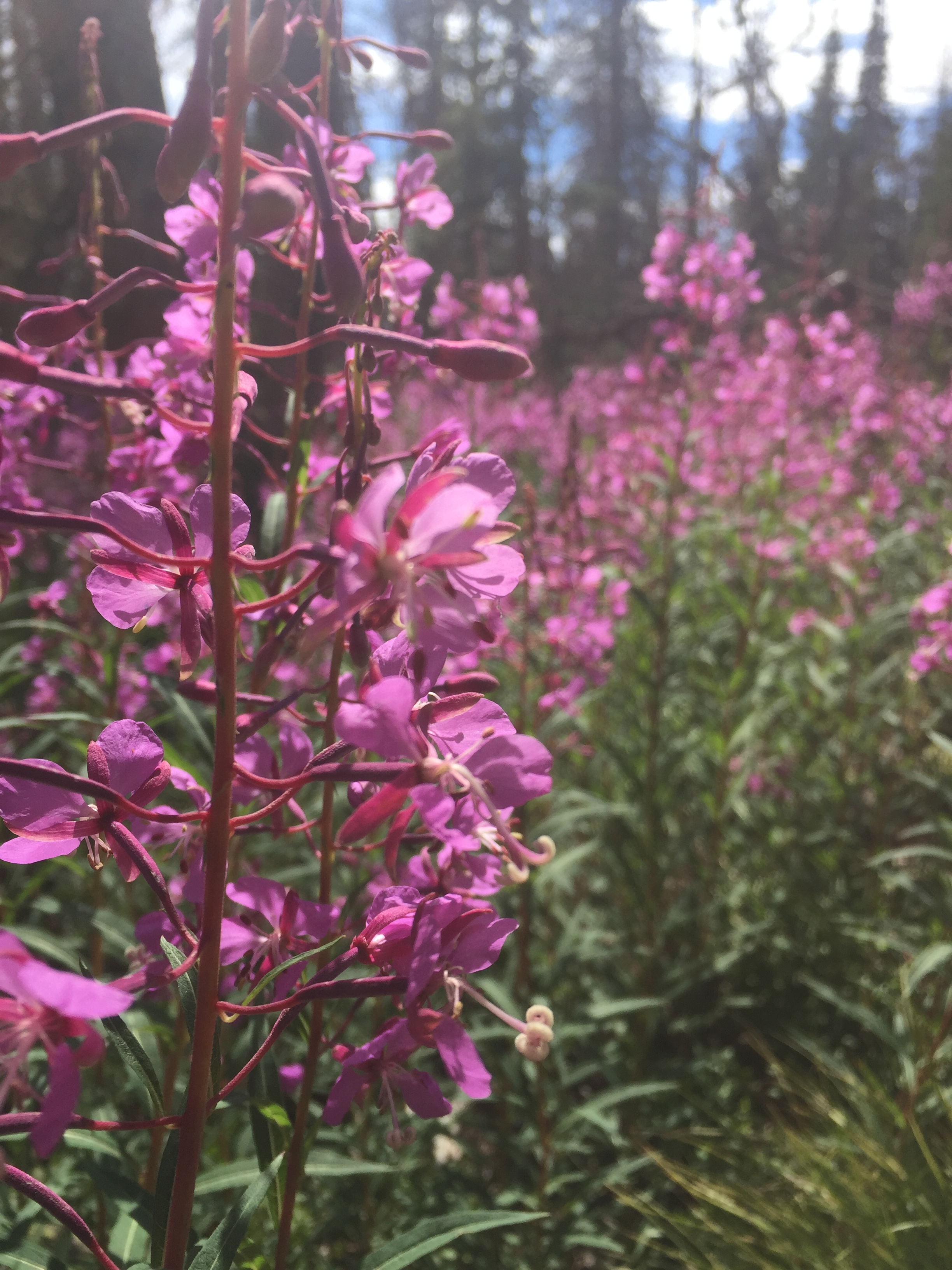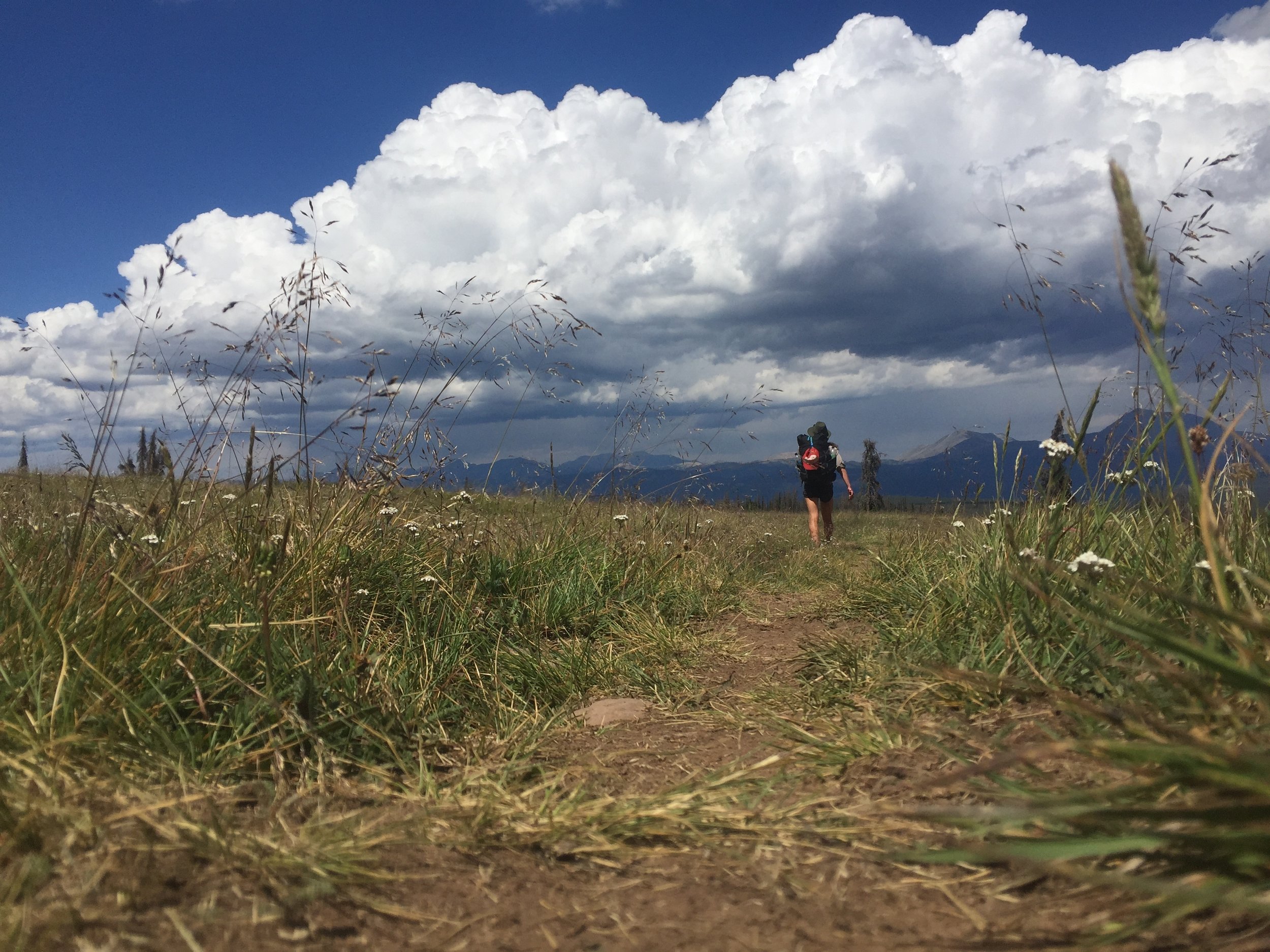 Day 24 | July 18, 2018

Today was another strong day. Sunny skies all day, and no threat of thunderstorms. The trail strayed from the usual single track and followed mostly dirt roads. Hiking along these roads had its own beauty. We were brought into sweeping valleys with vast open views.
This was another dry section of trail that was made much better with the help of the hiking community. This morning we happened upon a crew of Colorado Trail Foundation volunteers dedicating their time to maintaining the trail. These volunteers were kind enough to share their big water tank with thru-hikers and thru-bikers. We sat with our Nashville friend, now named Squeaker, and enjoyed the luxury of clean water from a spout.

Later in the day, at the peak of the midday sun, and during the driest section, I saw in the distance the reflective glare of a car. Is it someone camping out? Could it be...trail magic?! It was! Apple (not a trail name) has been supporting the CT and CDT for years. He provided lounge chairs, snacks, water and cold sodas. This magic was just the recharge we needed to end the day strong.
After hiking over 30 miles we made it to a reliable natural water source, the Cochetopa Creek. However, it appeared as though the area was already claimed...
The cows had claimed the land, and the campsites. We carefully collected water (which we would filter several times before drinking), and set up camp on the top of a hill overlooking the valley below.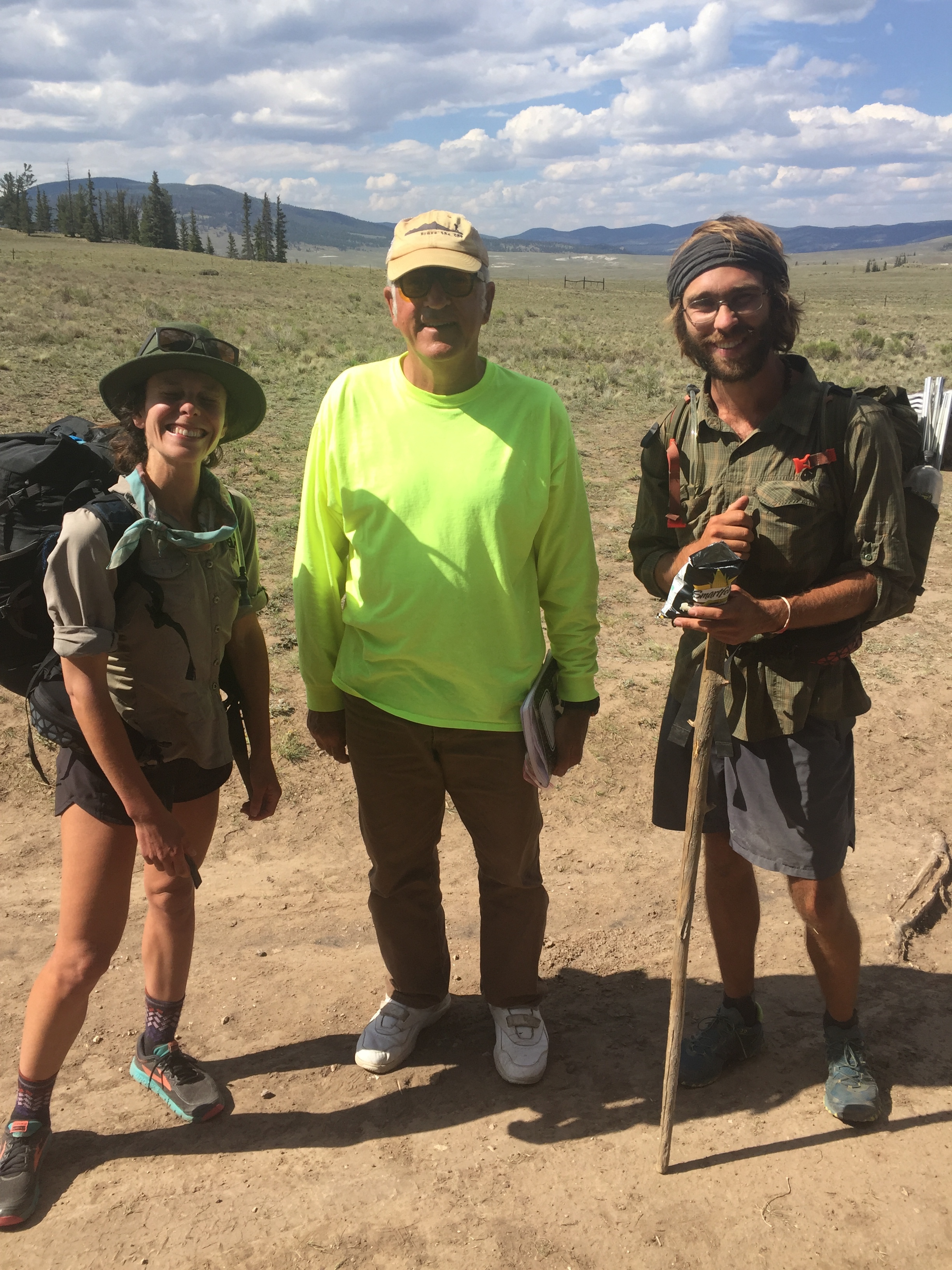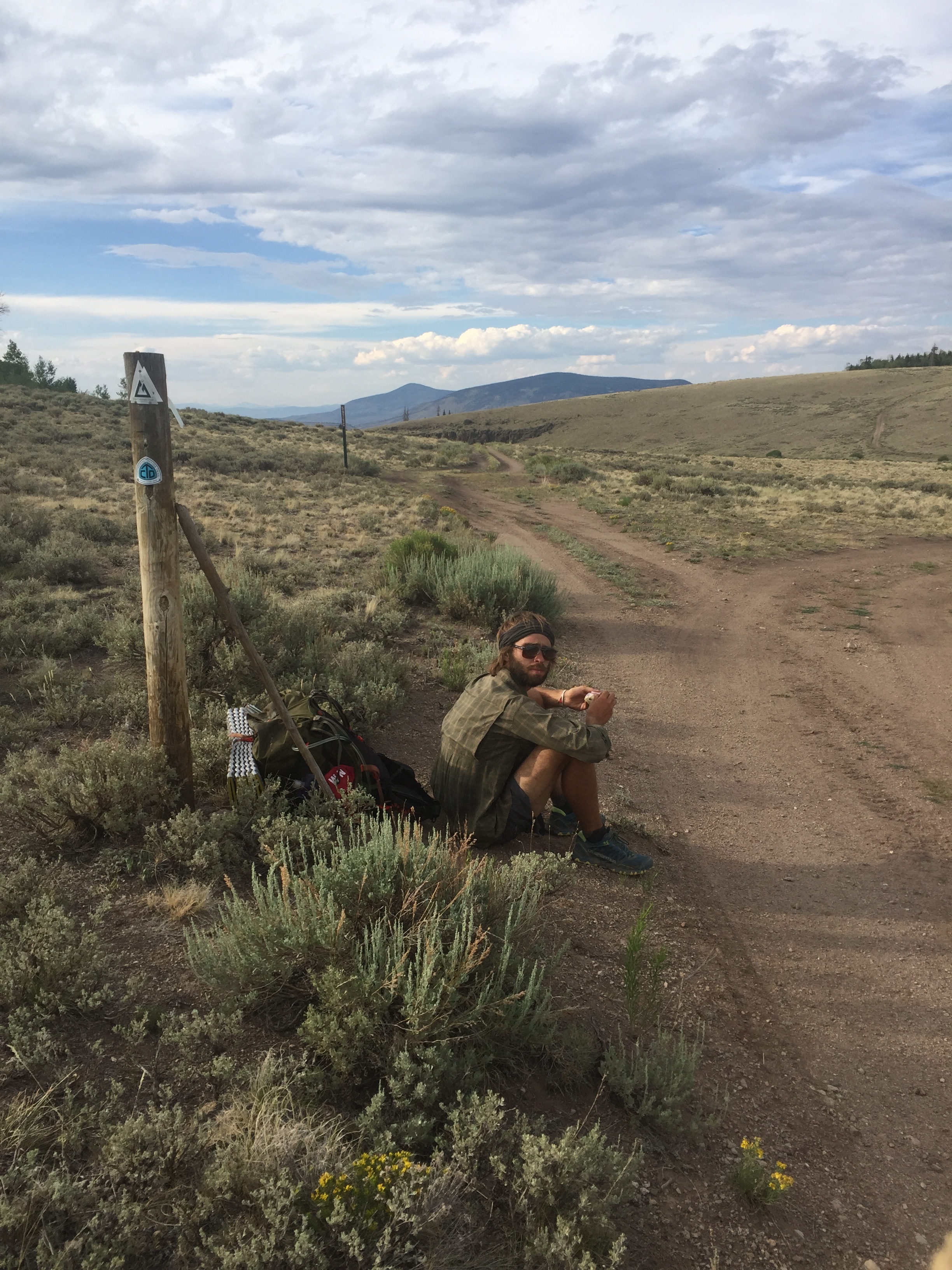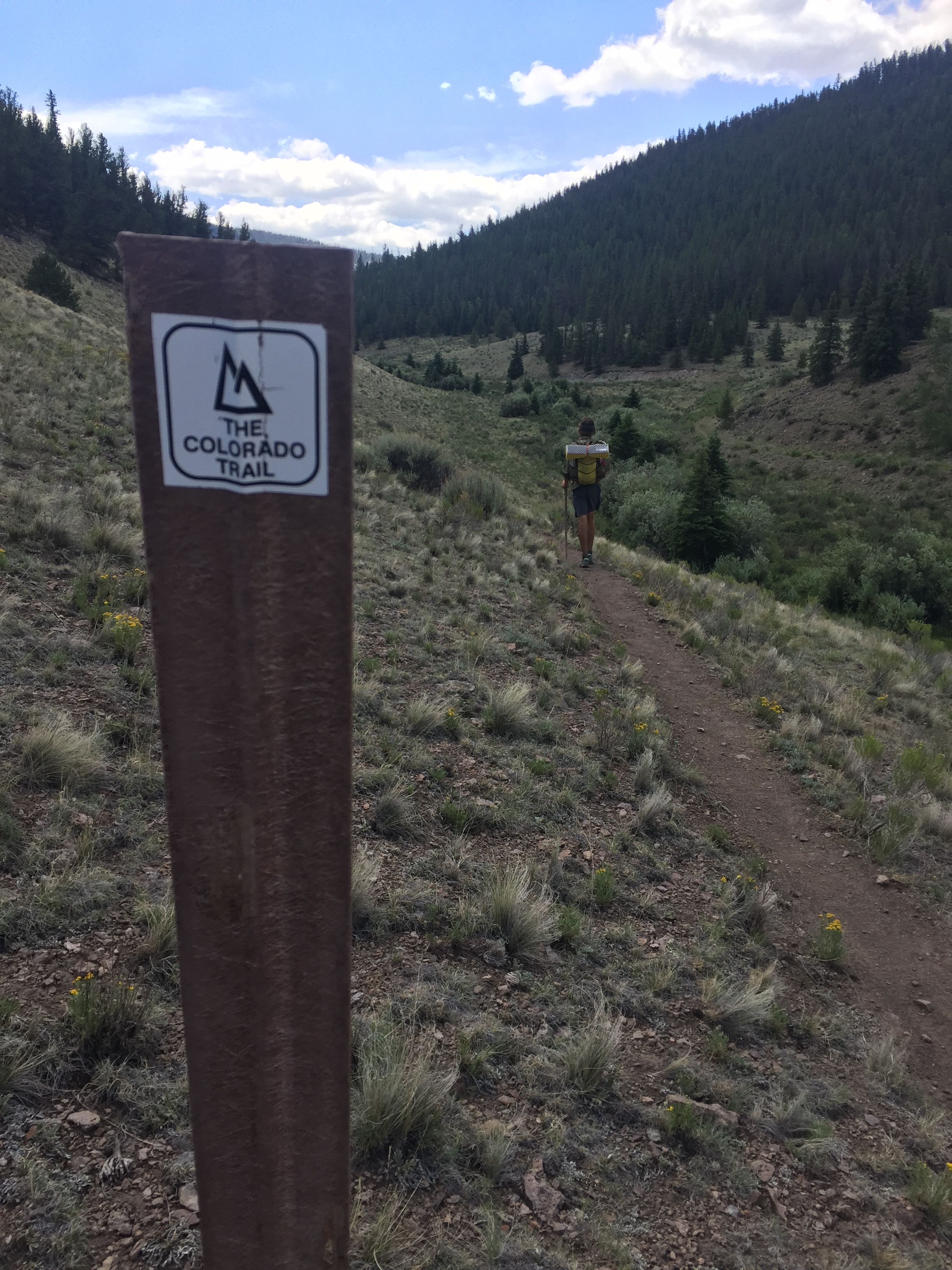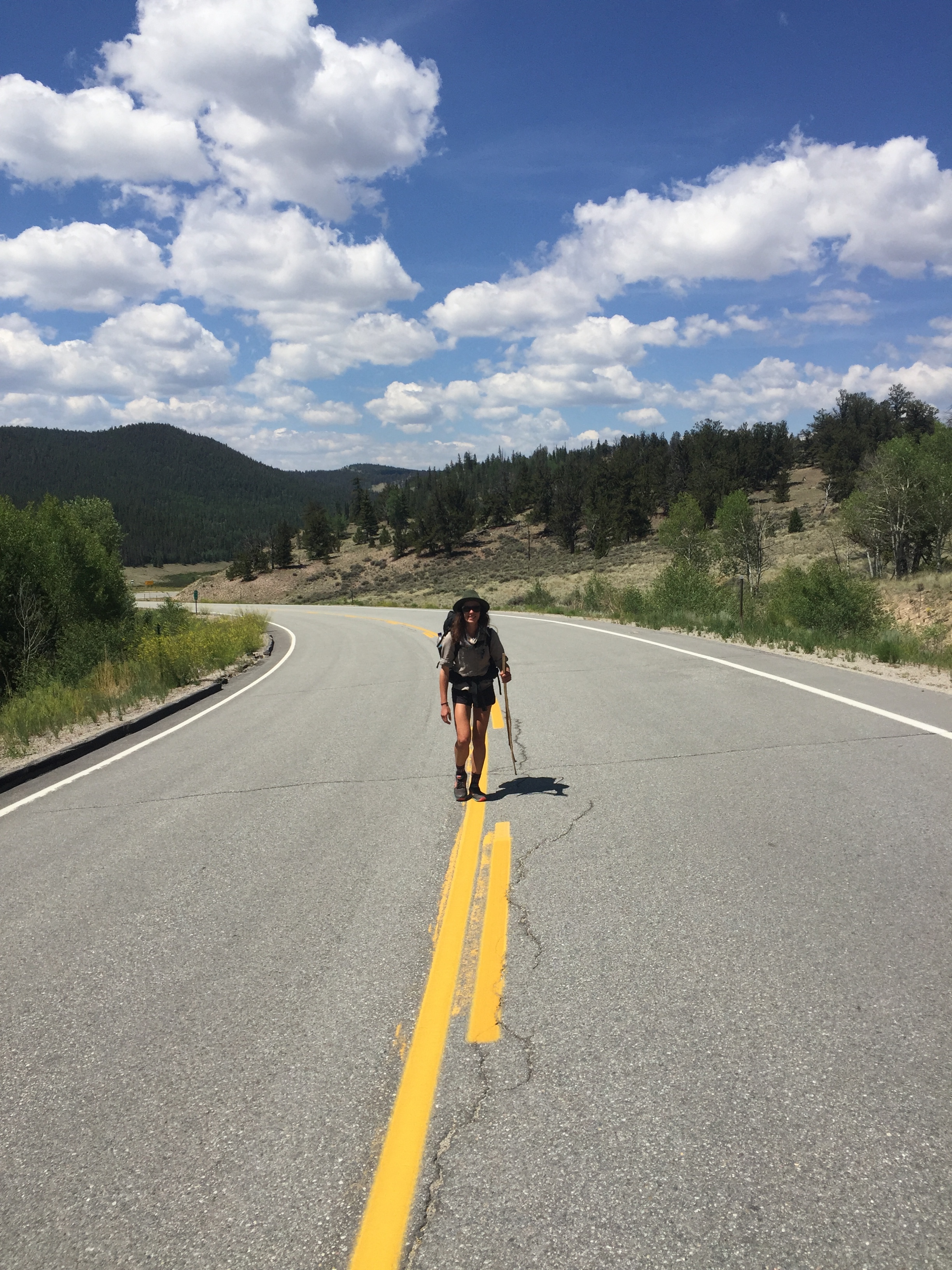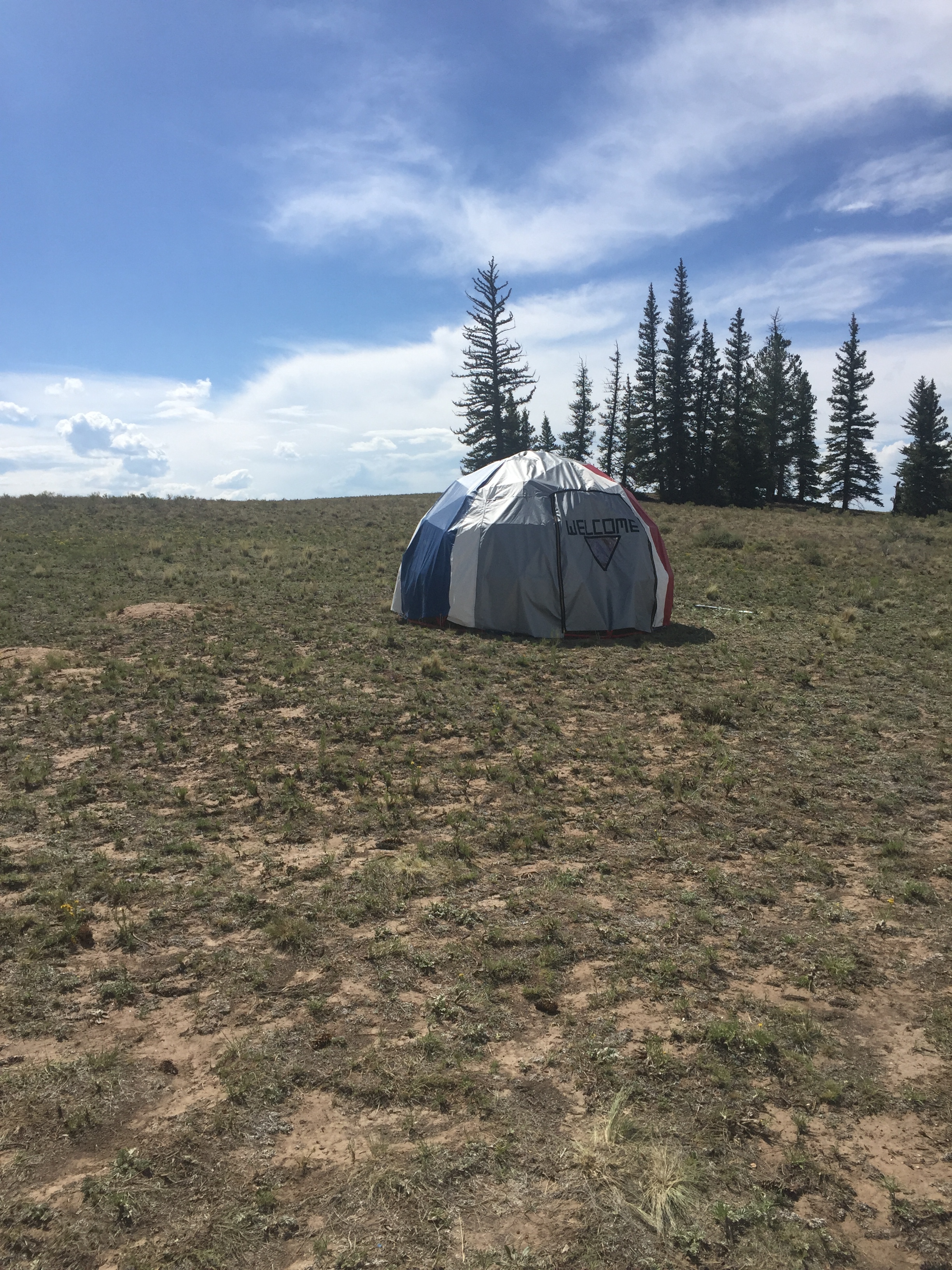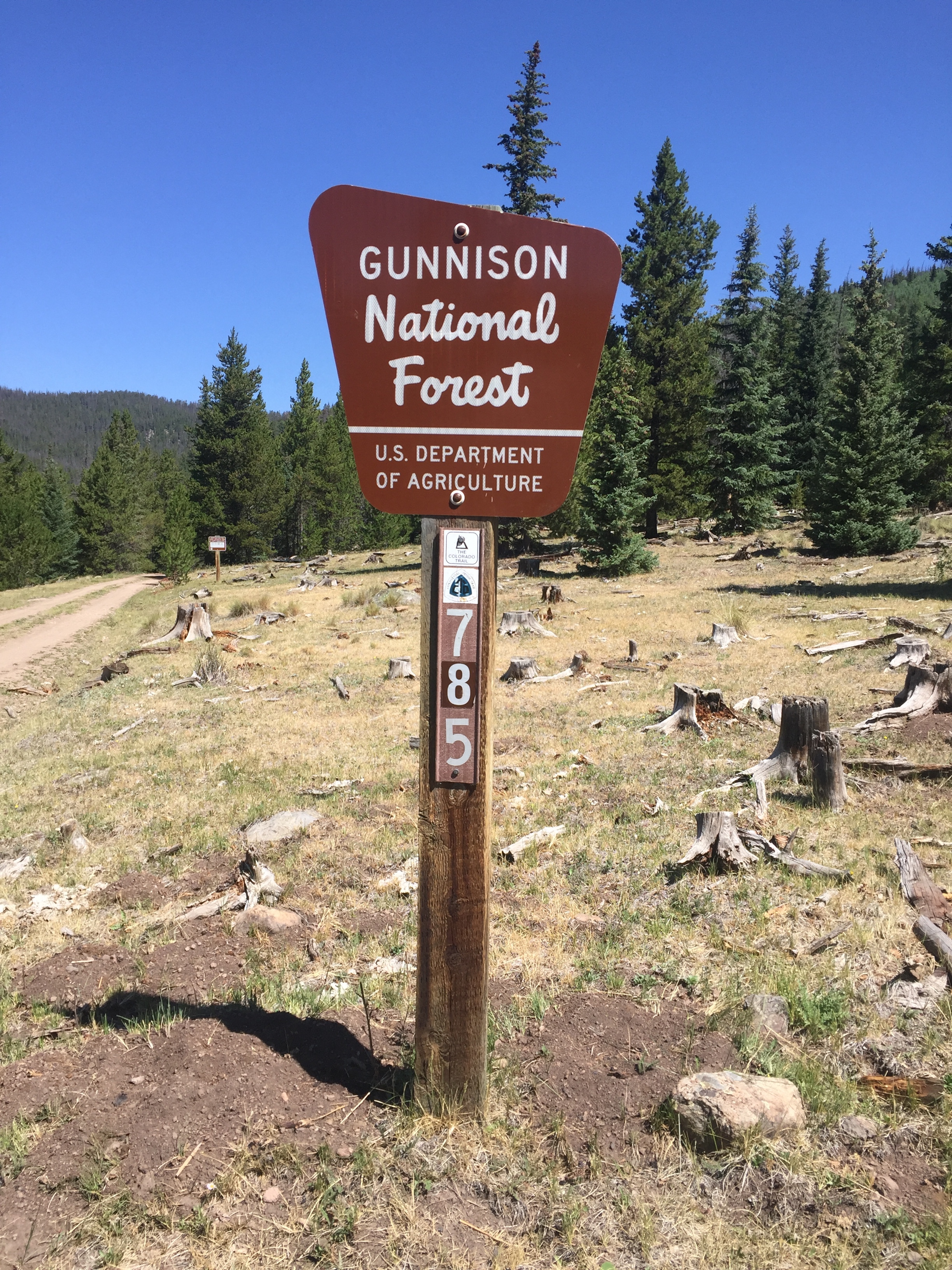 Day 25 | July 19, 2018

This morning we hiked along a plateau following the Cochetopa Creek.
Up ahead, in the distance, I caught glimpses of San Luis Peak - the next accessible 14er.
The morning was hot but with patches of cloud cover that came with a welcomed cool breeze. As we climbed further up the canyon the mountains appeared closer, creating a narrow corridor.
We entered the La Garita Wilderness boundary and the trail became steeper, making its way up the canyon to the San Luis Saddle.
Just below the saddle, at 12,335ft, Cosmo stopped in his tracks in front of me. When I followed his gaze I saw a big brown moose staring back!
San Luis Peak was only 1.5 miles from the saddle so we knew we had to bag it. We had a few more hours of daylight, the sky was clear, no storms in sight...the conditions were perfect.
We made it to the top and took some time to enjoy the view. I appreciated the desolation and ruggedness of this Wilderness area. For once there were no roads or towns obstructing the landscape, just mountain peaks and plateaus in every direction.
We headed down at the peak of sunset hours and continued a couple more miles. Right below the second pass of the evening I looked up and saw antlers sticking out on the ridge above. Two deers stood majestically, their silhouettes stark against the setting sun. We watched them run along the ridge and down the mountain before we made our way up and over the saddle.
On the other side of the pass, the setting sun shot beautiful light through the valley. We hiked a couple more miles and stopped for camp when we came to water.
The camp spot was tucked into short bushes overlooking the desolate mountainside. It was perfect.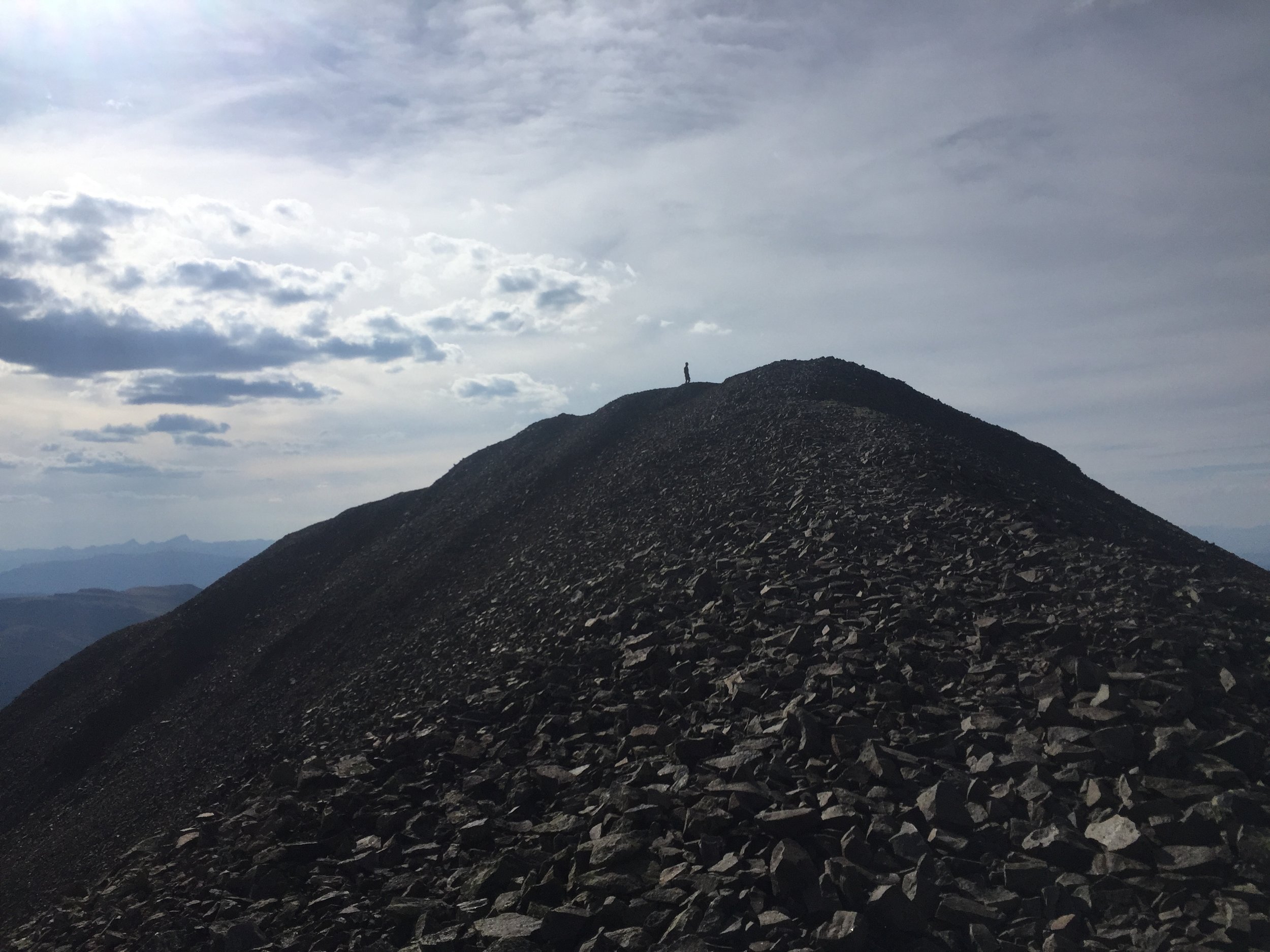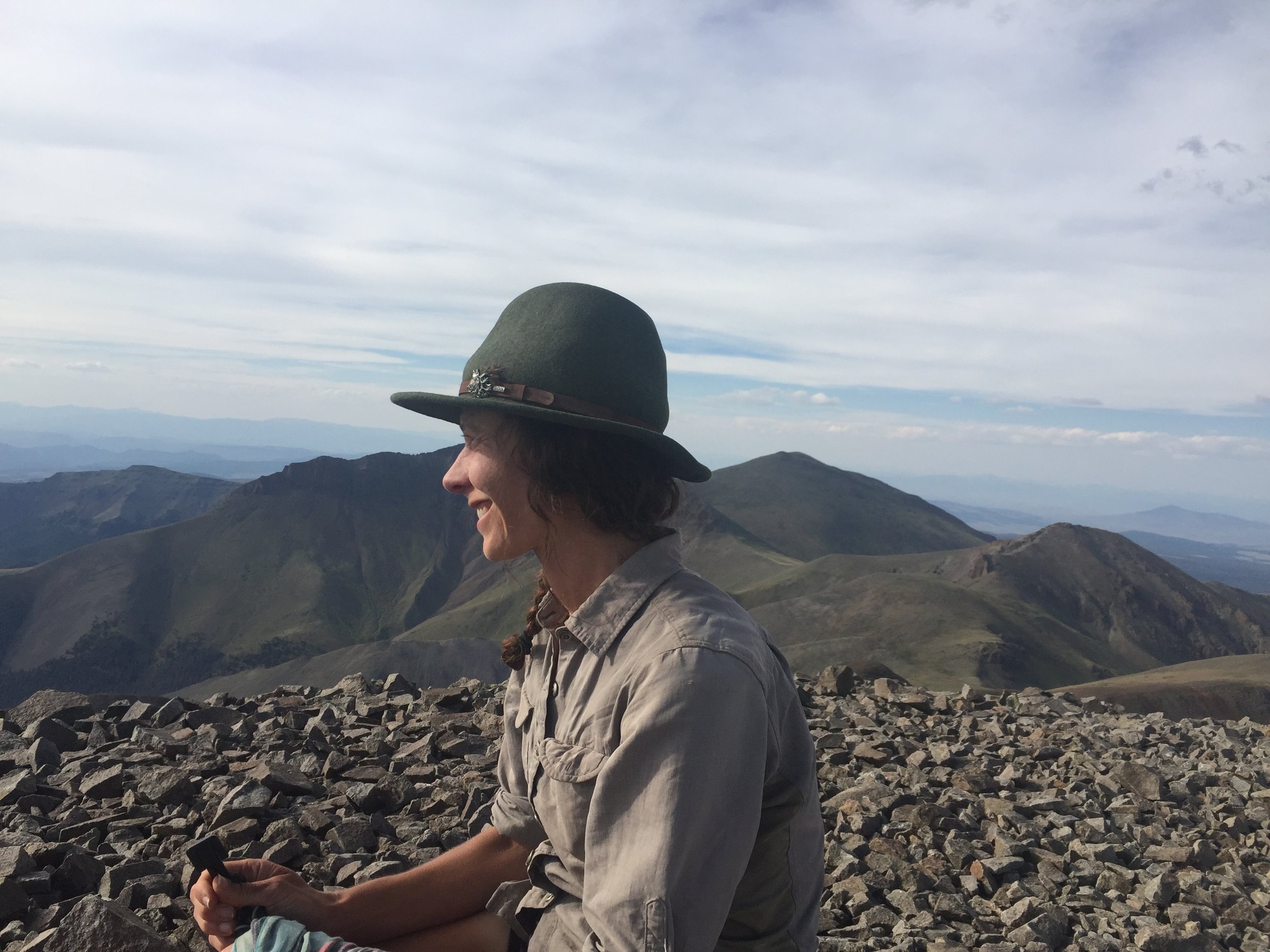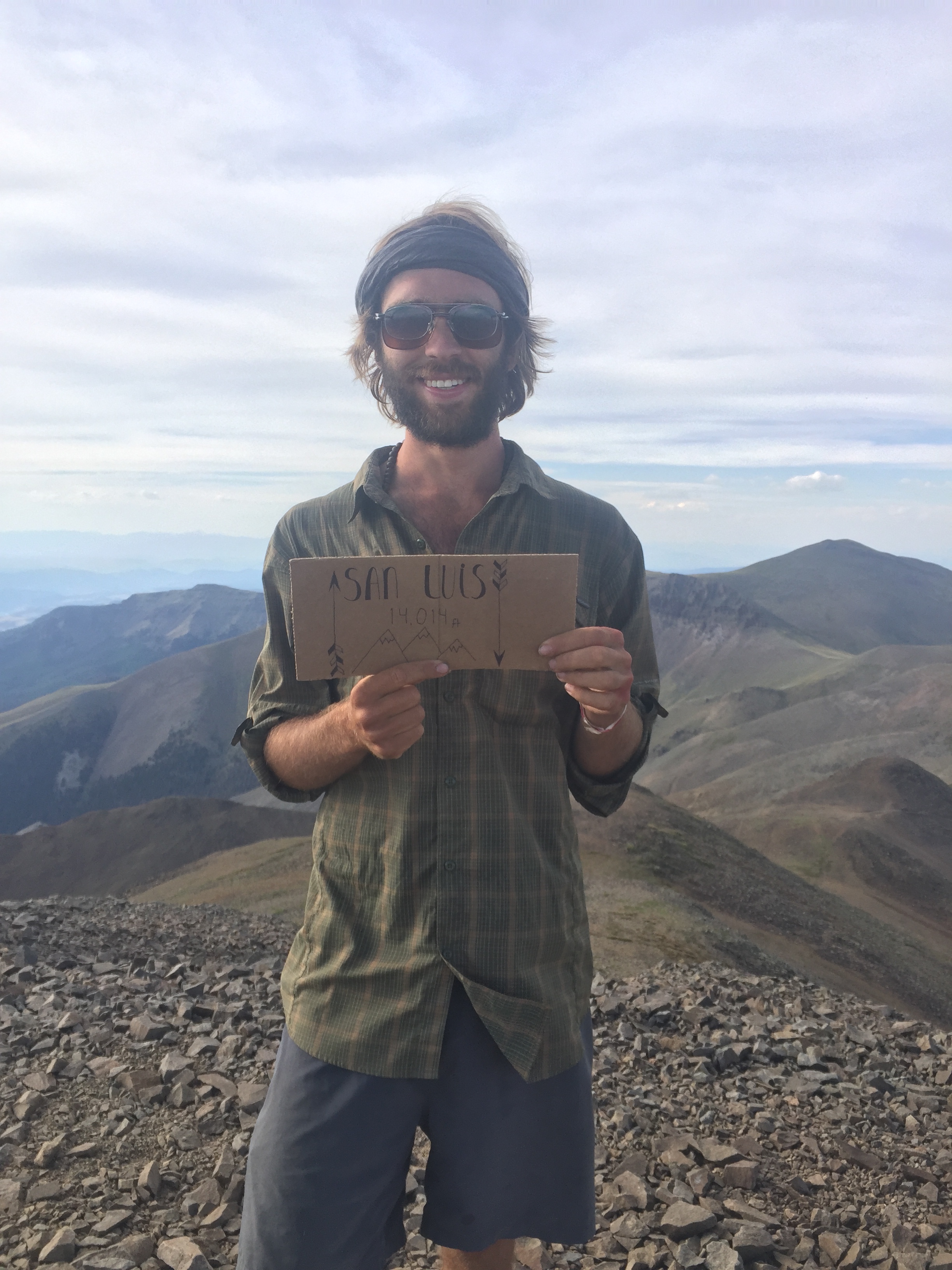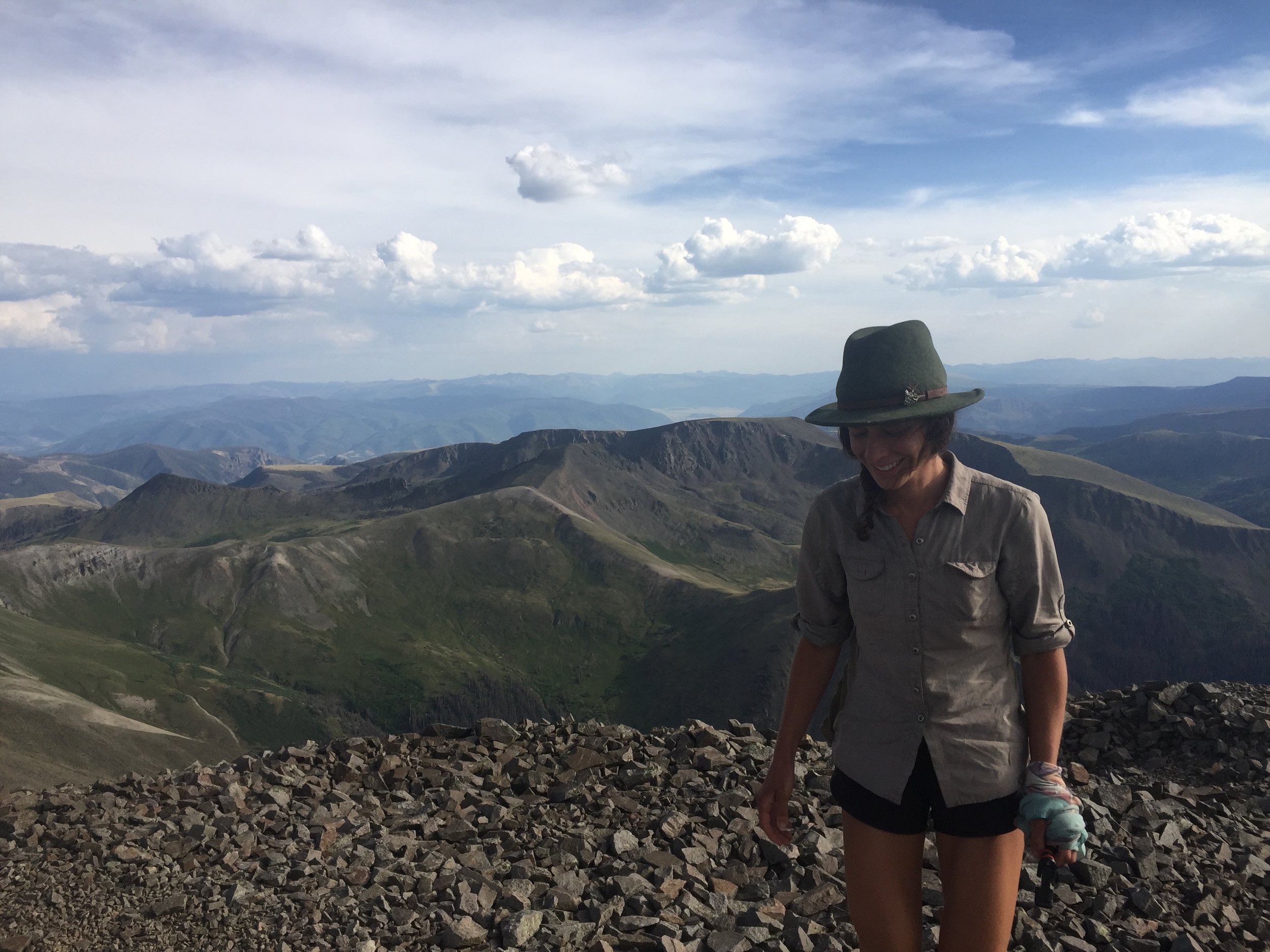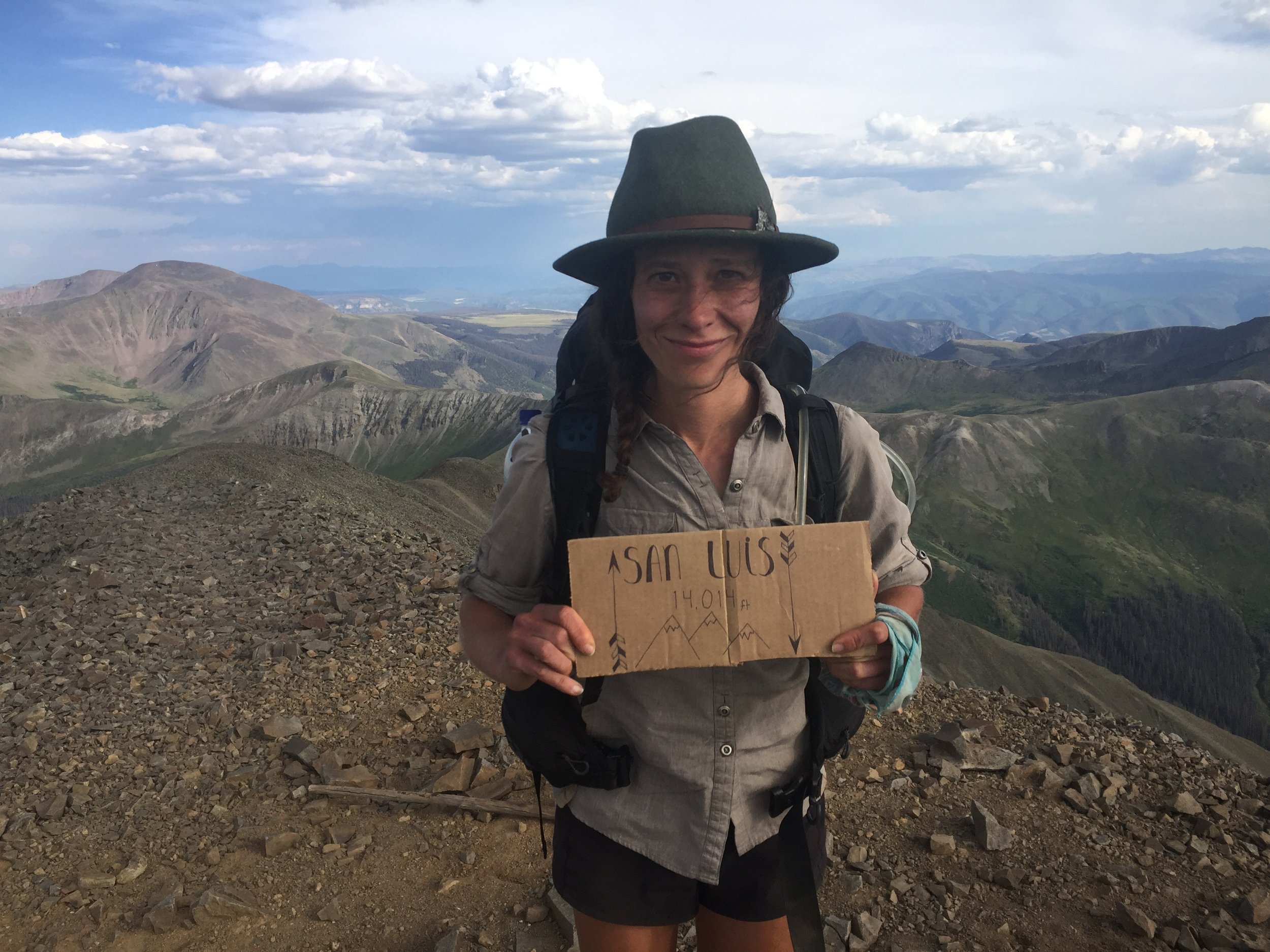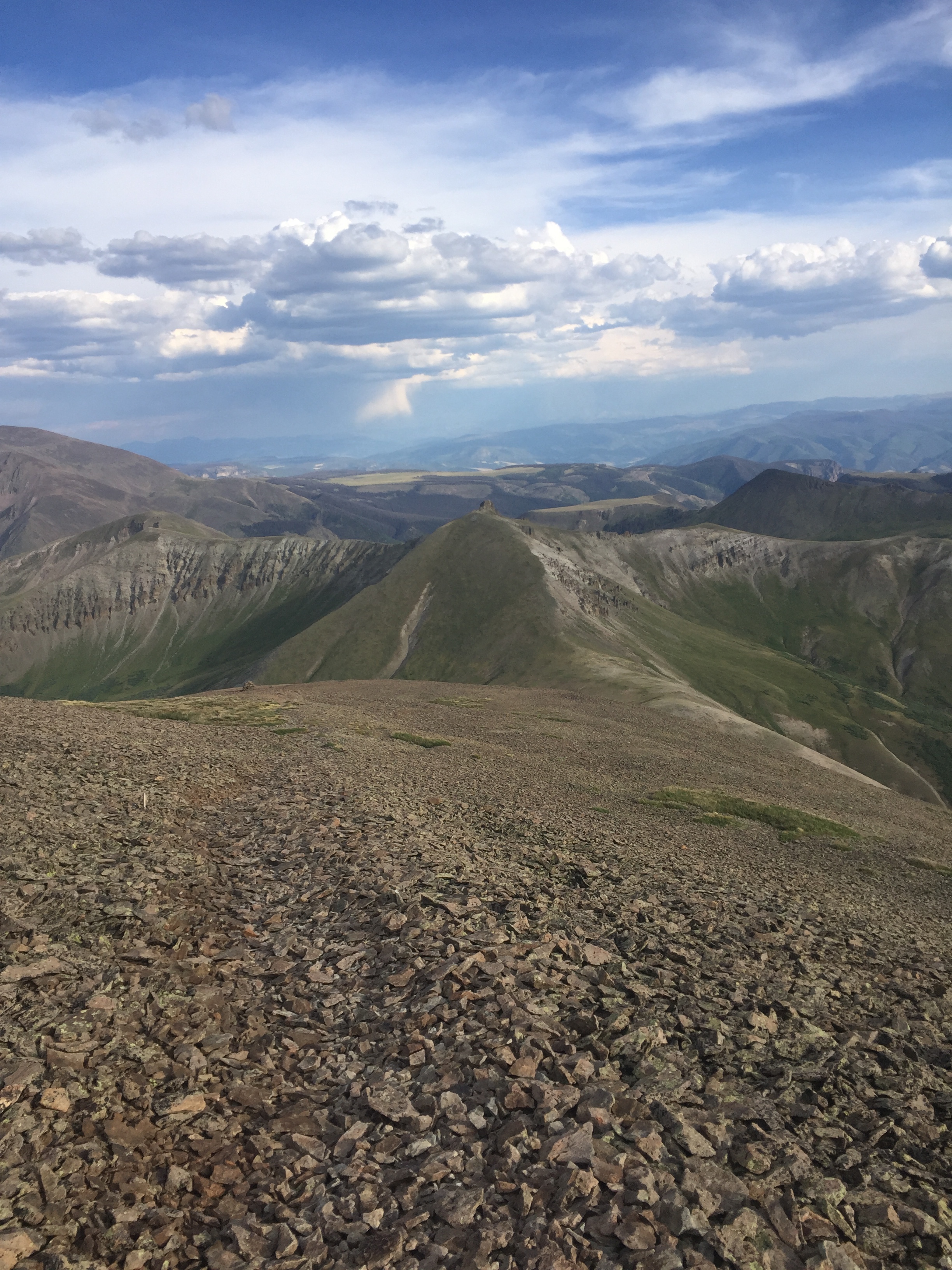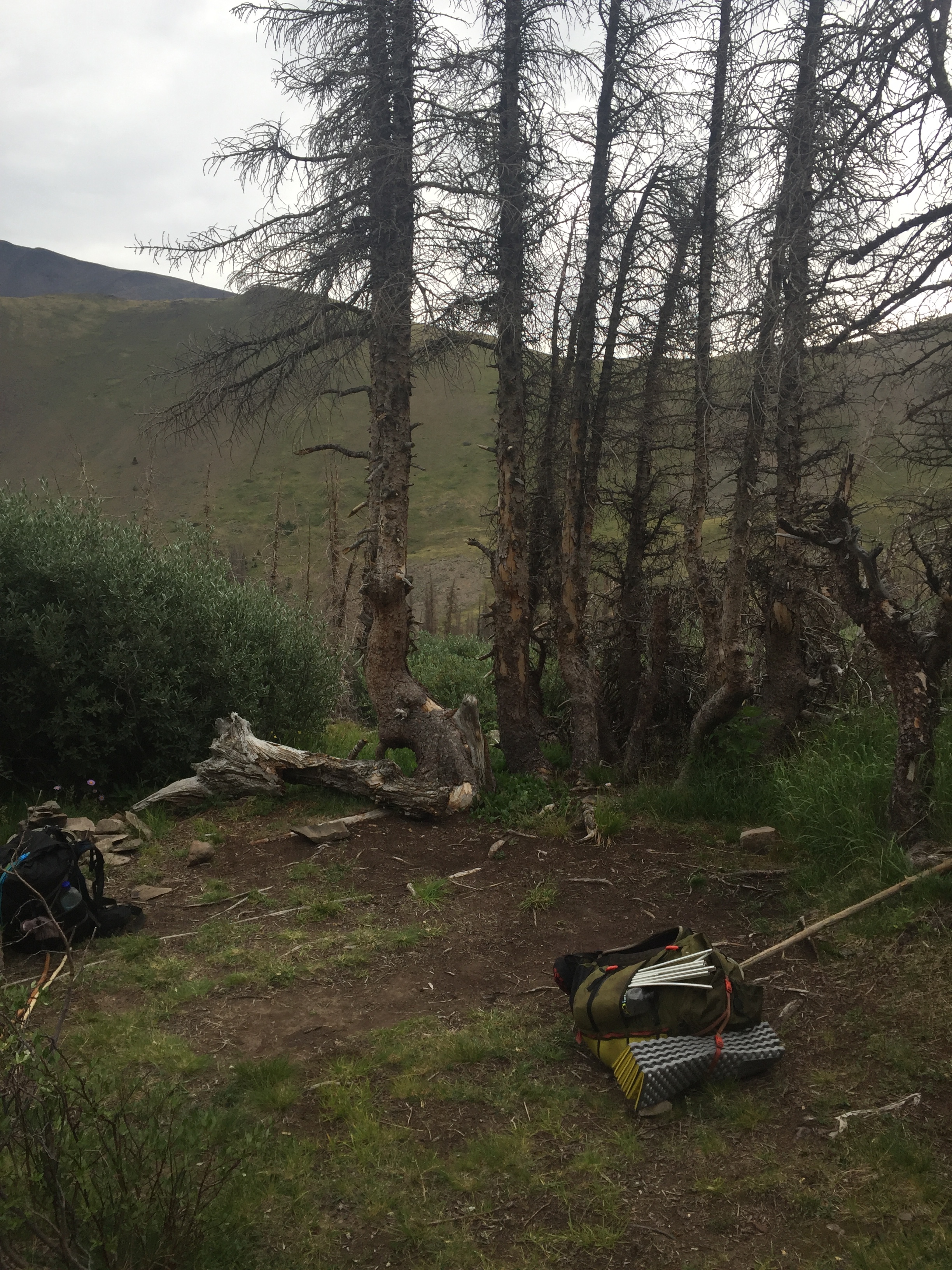 Day 26 | July 20, 2018
We hiked 17 miles through Snow Mesa - a uniquely scenic area with views of the San Juan mountains all around.

By the afternoon we hit Highway 149, a semi-desolate road, and waited about 15 minutes for a ride to Lake City, CO.
We settled into the Ravens Rest, a hiker friendly hostel, and walked up and down the one-street town.
The Hostel was full with hikers, the most we've seen all trail. We caught up with Eric, who we had been leap frogging with since Day 2, and stayed up late chatting with new friends.