Breck to Twin Lakes
Day 6 (continued)
We left Breckenridge in the early evening and took the free bus to the Goldhill Trailhead. We hiked just a few miles up the next climb and set up camp in a clearing of lodgepole pine.
Day 7 | July 1, 2018

This morning we crossed the Ten Mile Mountain Range. The climb was tough but the views were worth it. The surrounding peaks looked more rugged than we'd seen. The trail cut into the mountainside perfectly, and the higher we climbed the more peaks appeared as the city slowly disappeared in the distance. Bye Breckenridge!
On the other side of the mountain I could see the resort town of Copper in the distance. I tried to ignore the sight of civilization and the bustling sound of cars whizzing by on I-70. I turned my attention to the flowing creeks and colorful wildflowers of trail.
The CT leads directly to Copper. We could hear music from a few miles away and couldn't resist the possibility of french fries.
We wandered around in the resort town and must have stuck out with our backpacks and dirty clothes. Unashamed, we sat down with the crowd and finished off one plate of fries and one plate of tater tots.

It was a tough climb out of Copper with bellies full of potatoes, but eventually we got into a groove. We hiked up to 12,000 feet and again we were treated by the scenery around us.
At sunset we found a spot to camp and gazed out at the mountains ahead. Behind the mountains a big cloud of smoke reminded us that there are still fires burning throughout the state. We are feeling quite grateful to have made it this far and to be enjoying a clear sky night - I slipped quickly into sleep.

Day 8 | July 2, 2018
This morning we hiked over Kokomo Pass at 12,022 feet. Not a bad way to start the day. Surprisingly, the elevation has had little effect on me, with the exception of some random nose bleeds. Over the past two days I have had several nose bleeds throughout the day. It's possible the cause could be the dry weather and less about the elevation. Other than that, I've been feeling great!
Today was warm and pleasant. We hiked through the site of an old military training ground, the 10th Mountain Division at Camp Hale, and stopped to take a break at the memorial on Tennessee Pass.
By the early evening we entered Holy Cross Wilderness. When we are in a wilderness area it feels more desolate, more pristine, and there are no mountain bikes (which is a constant concern as they speed down mountains all along the CT). We had a tough, yet rewarding, climb at the end of the day which brought us to a mountain lake where we set up camp. We stopped a little early this evening, around 7:00pm, because we had already done 24 miles and felt like treating ourselves to a relaxing night.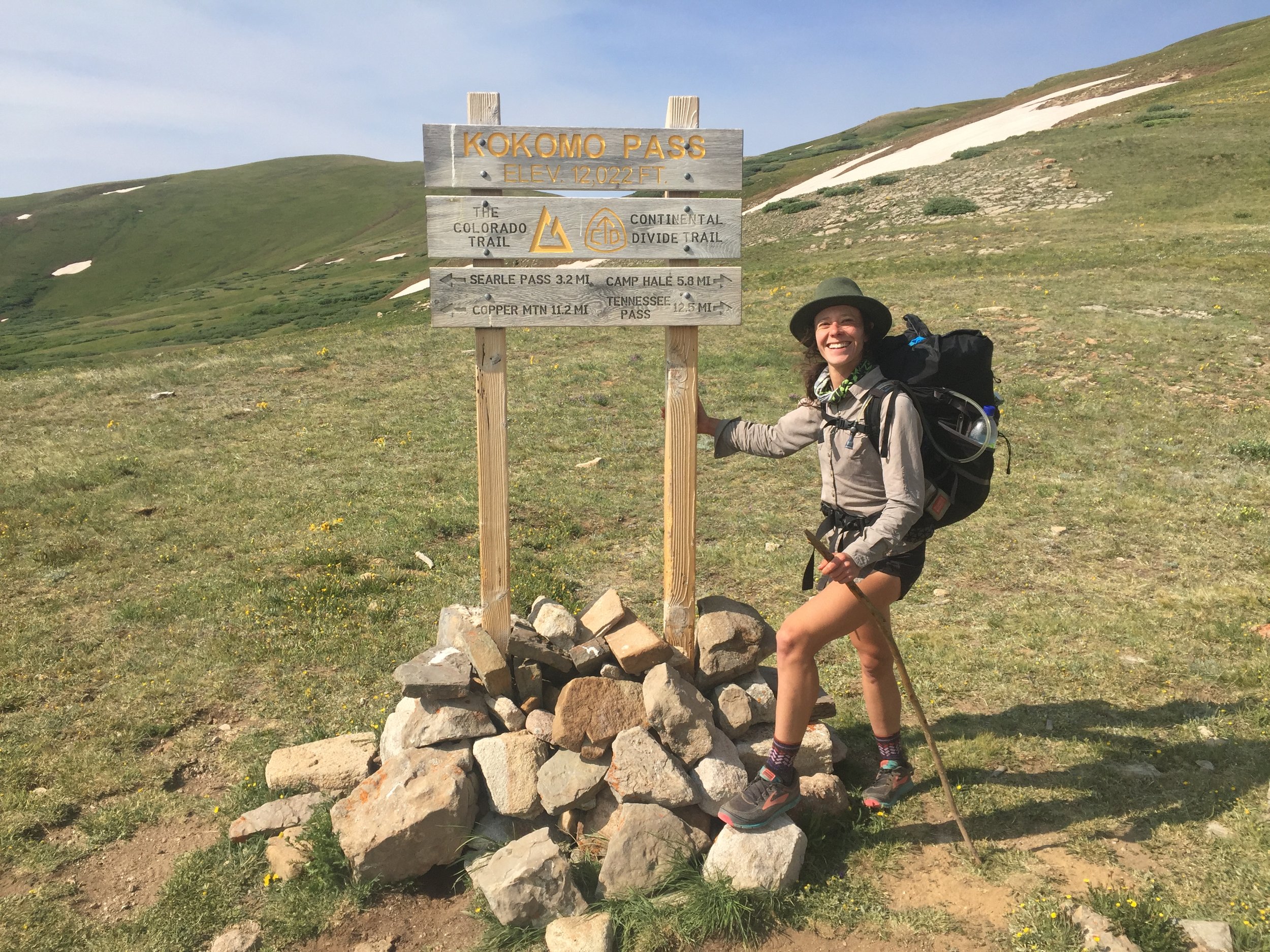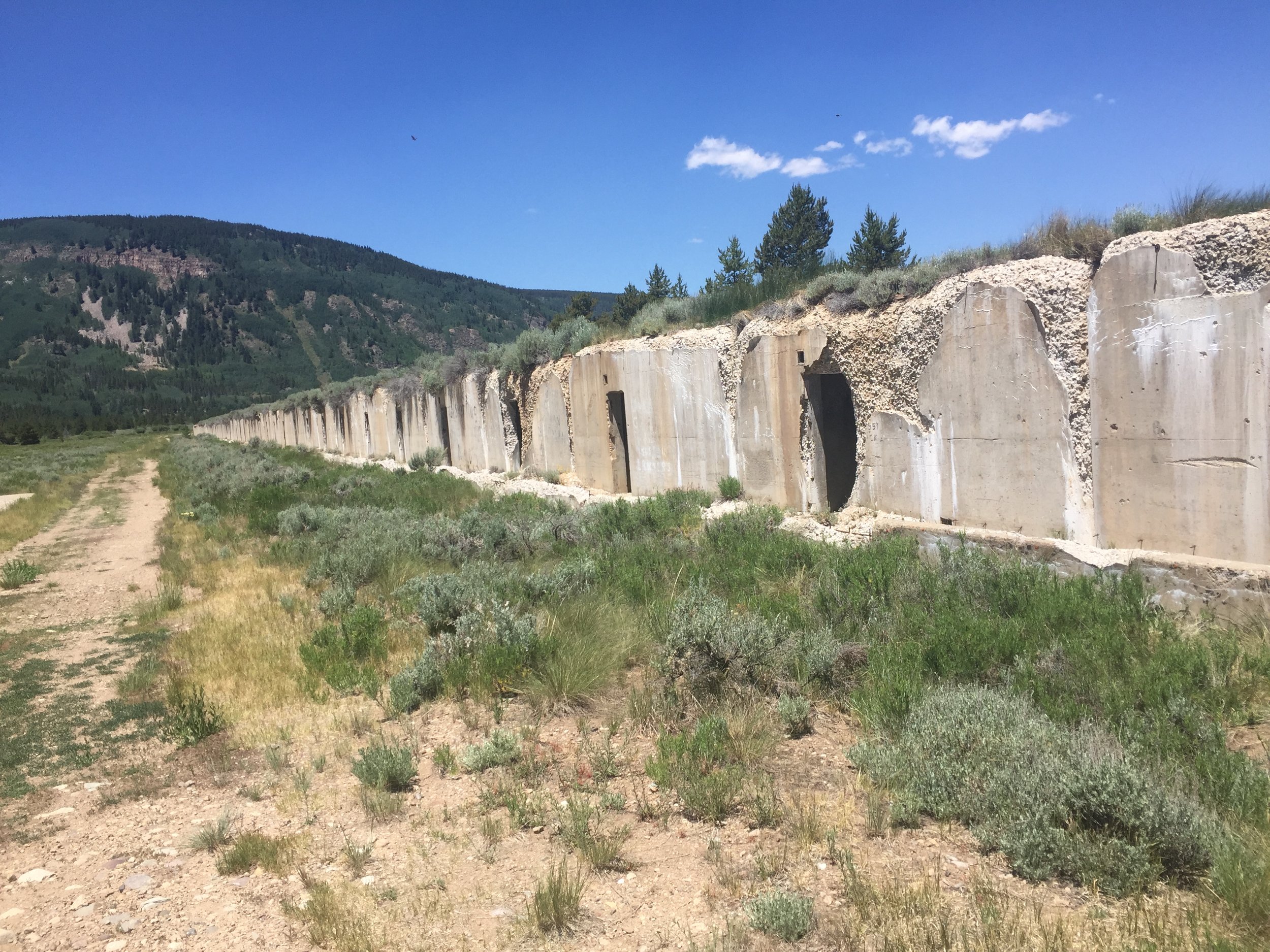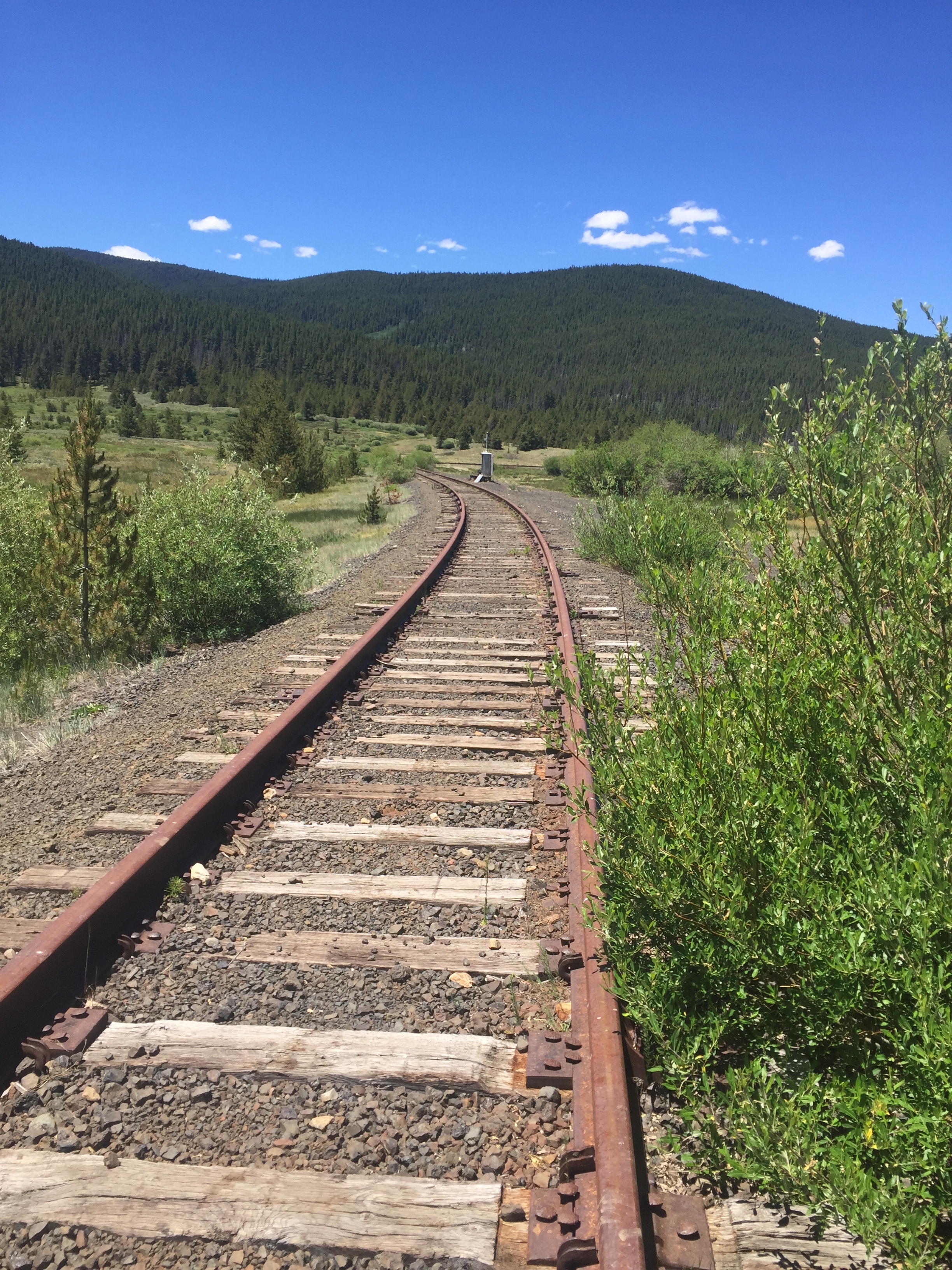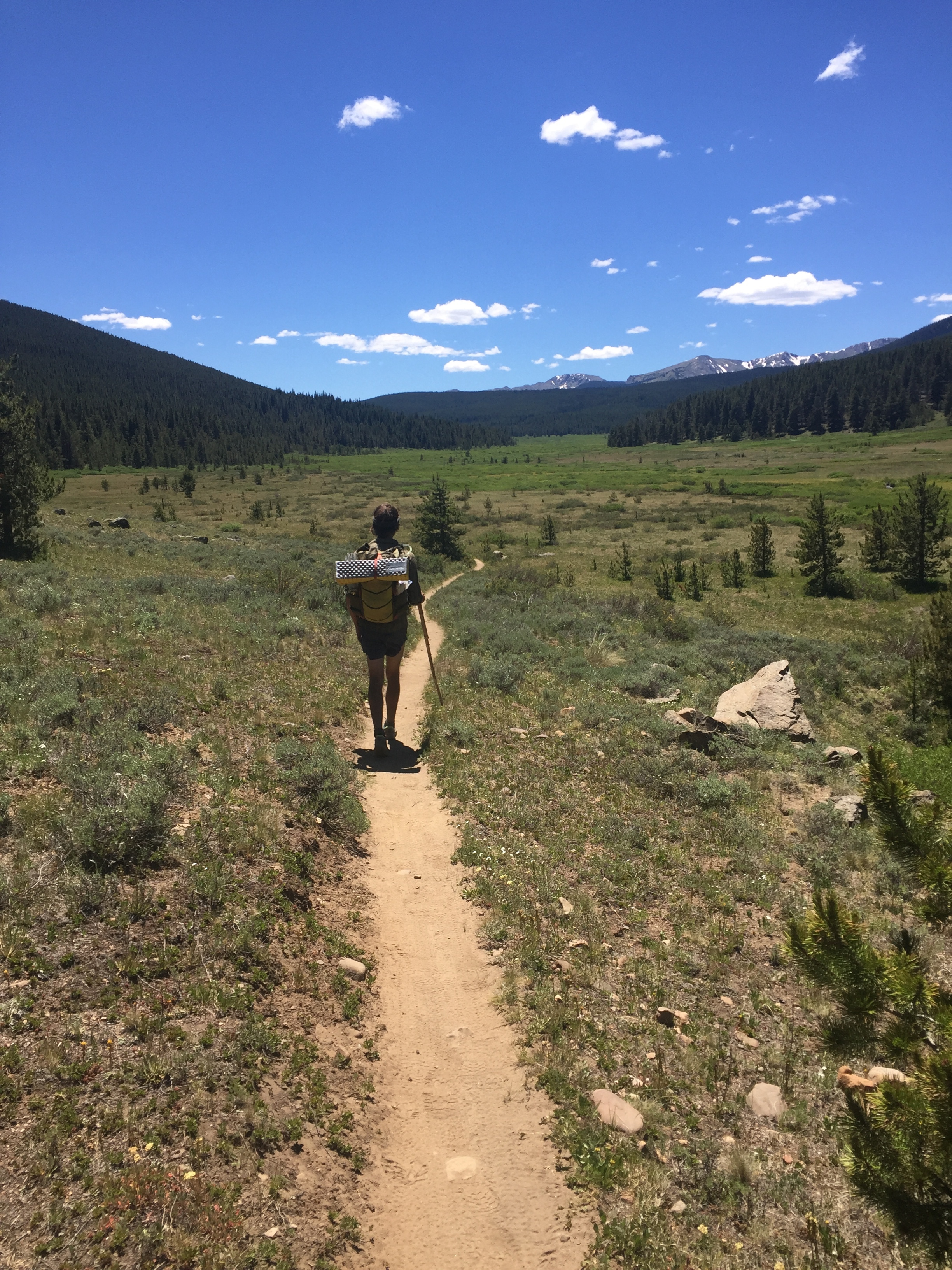 We hiked 16 miles today and entered the Mount Massive Wilderness. Most of the day held clear skies and warm temperatures. By late afternoon clouds began to roll in and rain fell down in a drizzle.
We got to the Mount Massive Trailhead at around 5:30pm and set up camp. The clouds were still gray around us, but with a few speckles of blue we wondered if it wasn't too late to try to summit.
As we started our climb I kept a close eye on the clouds as they appeared to be drifting away from the summit. Mount Massive is 14,421ft and the second largest peak in Colorado. I was nervous on the climb and kept my eyes glued to the intimidating ridge line that would be our last half mile scramble.
On several occasions I tried to think of different reasons to quit and turn around but Cosmo was persistent.
After a few false summits we made it to the top at sunset. The views were indescribable.
We hurried down as the sun continued to set, and although we were exhausted and hungry we felt proud getting back to our camp around 9:30pm.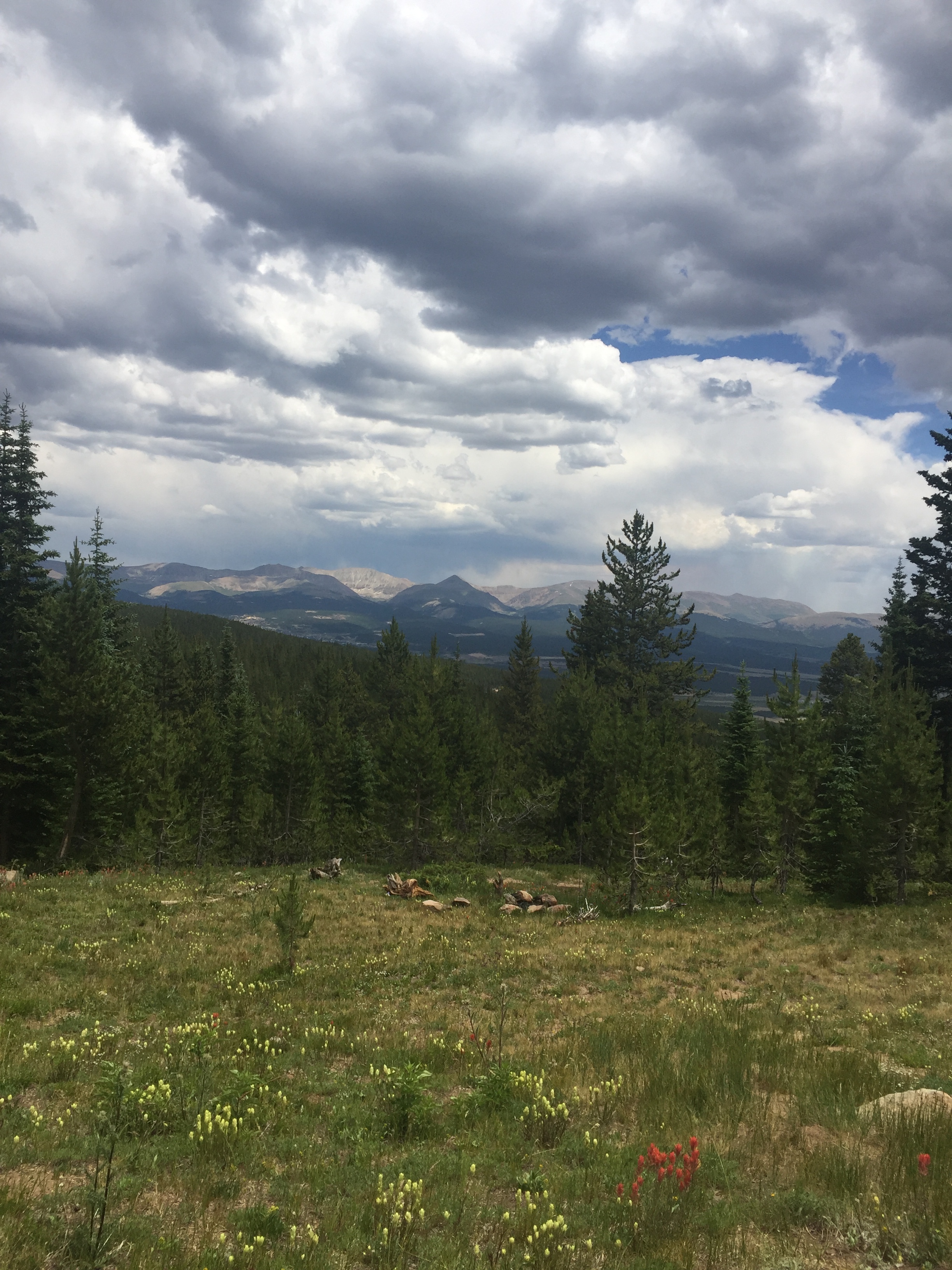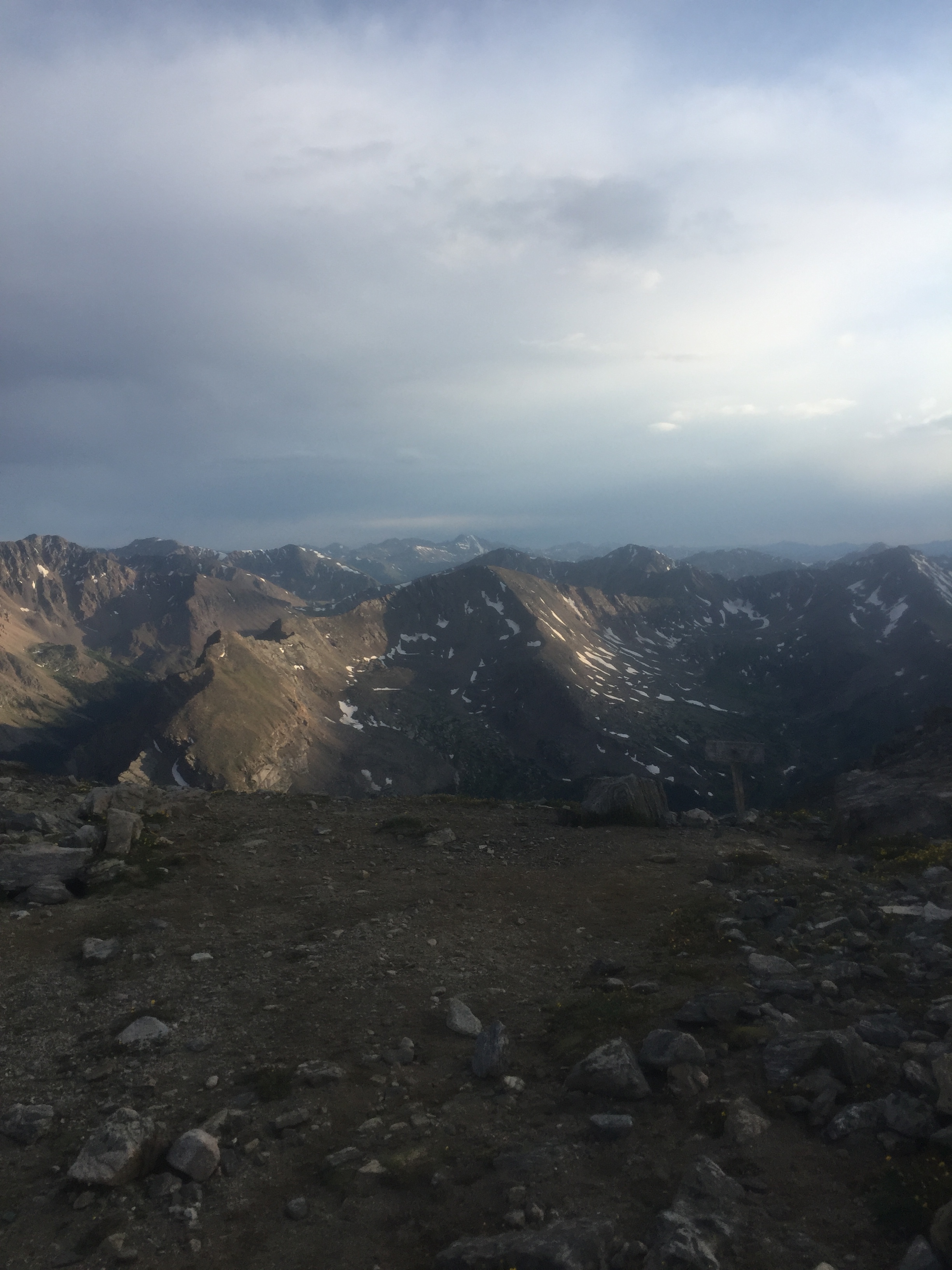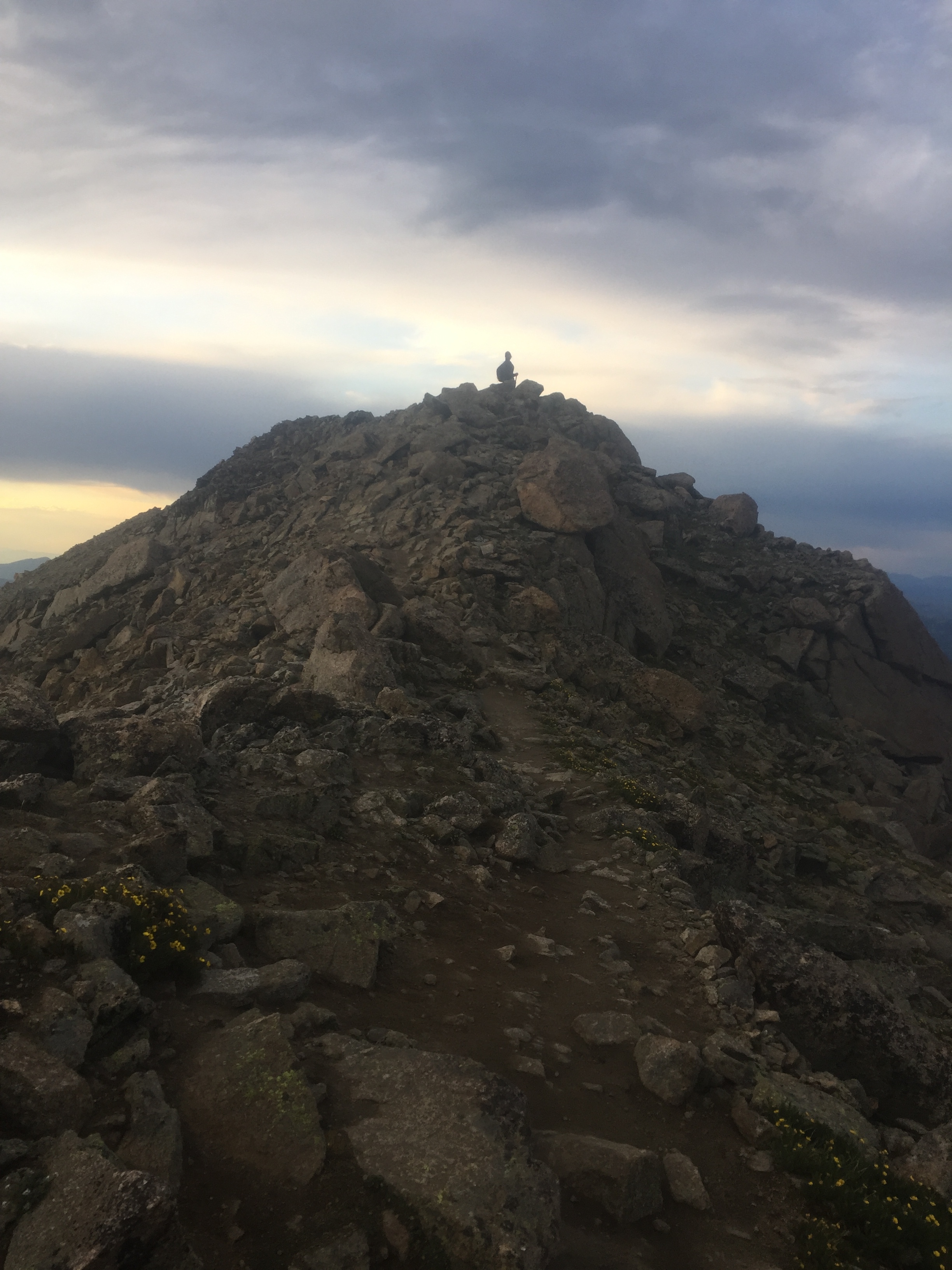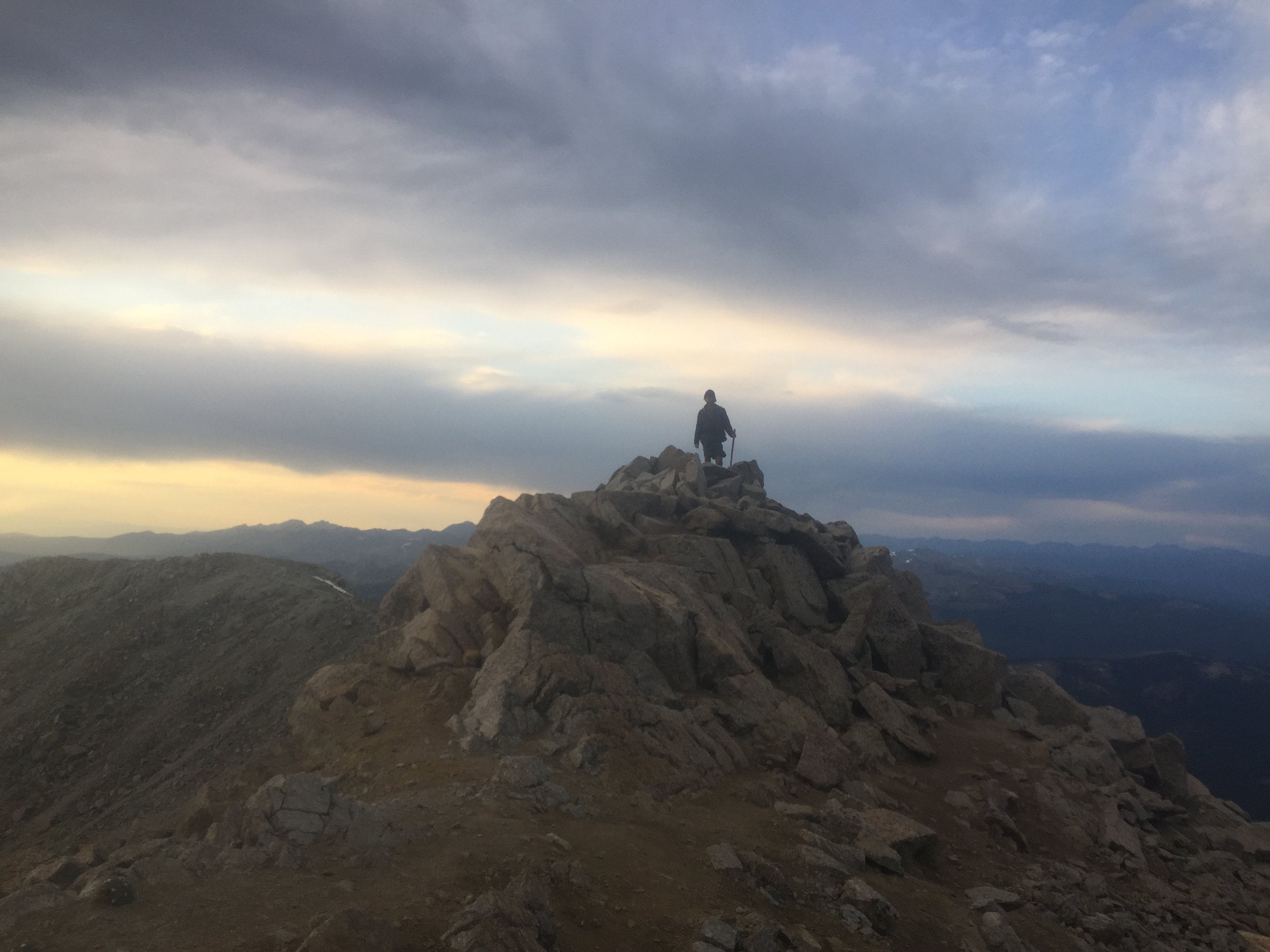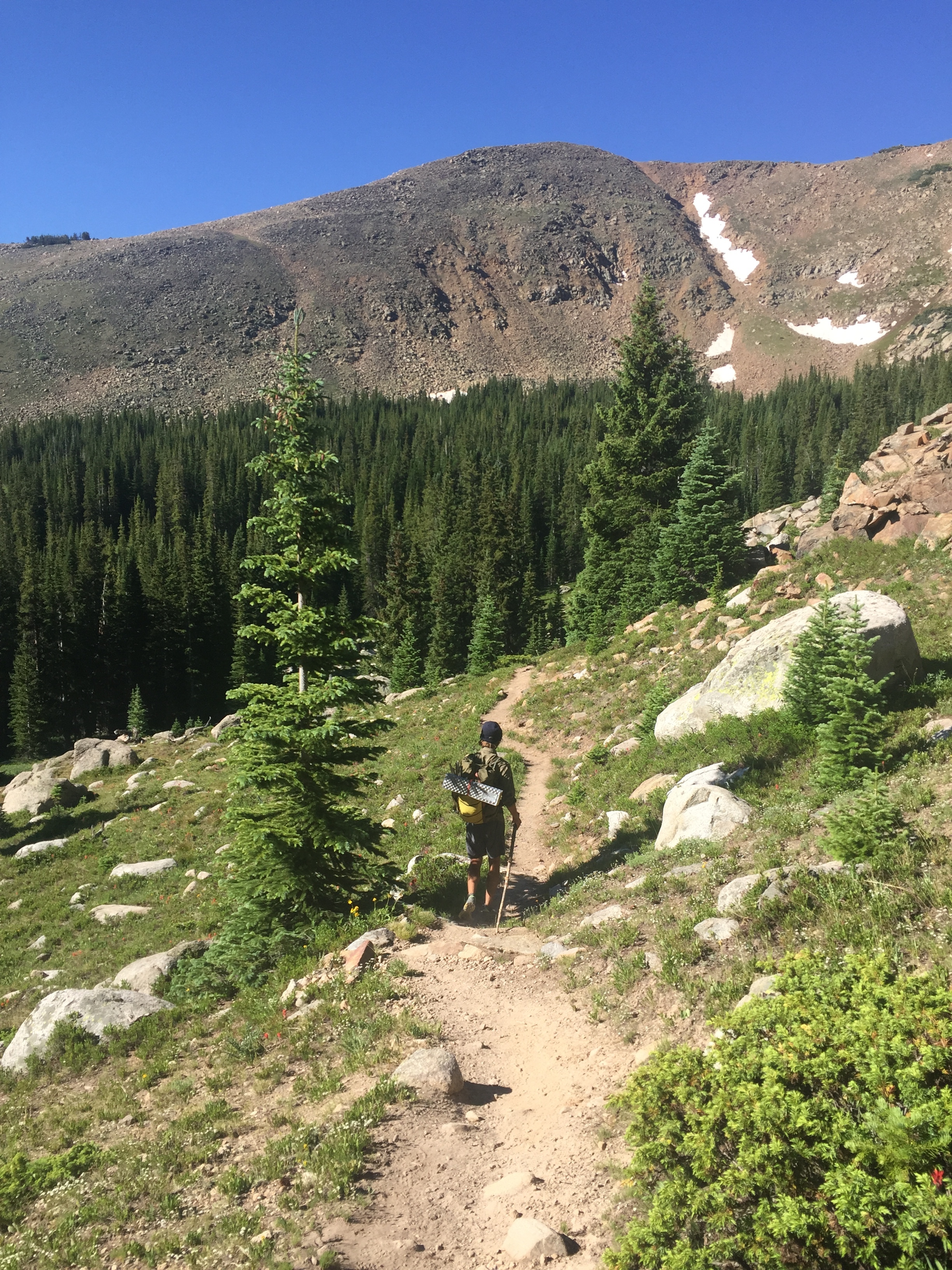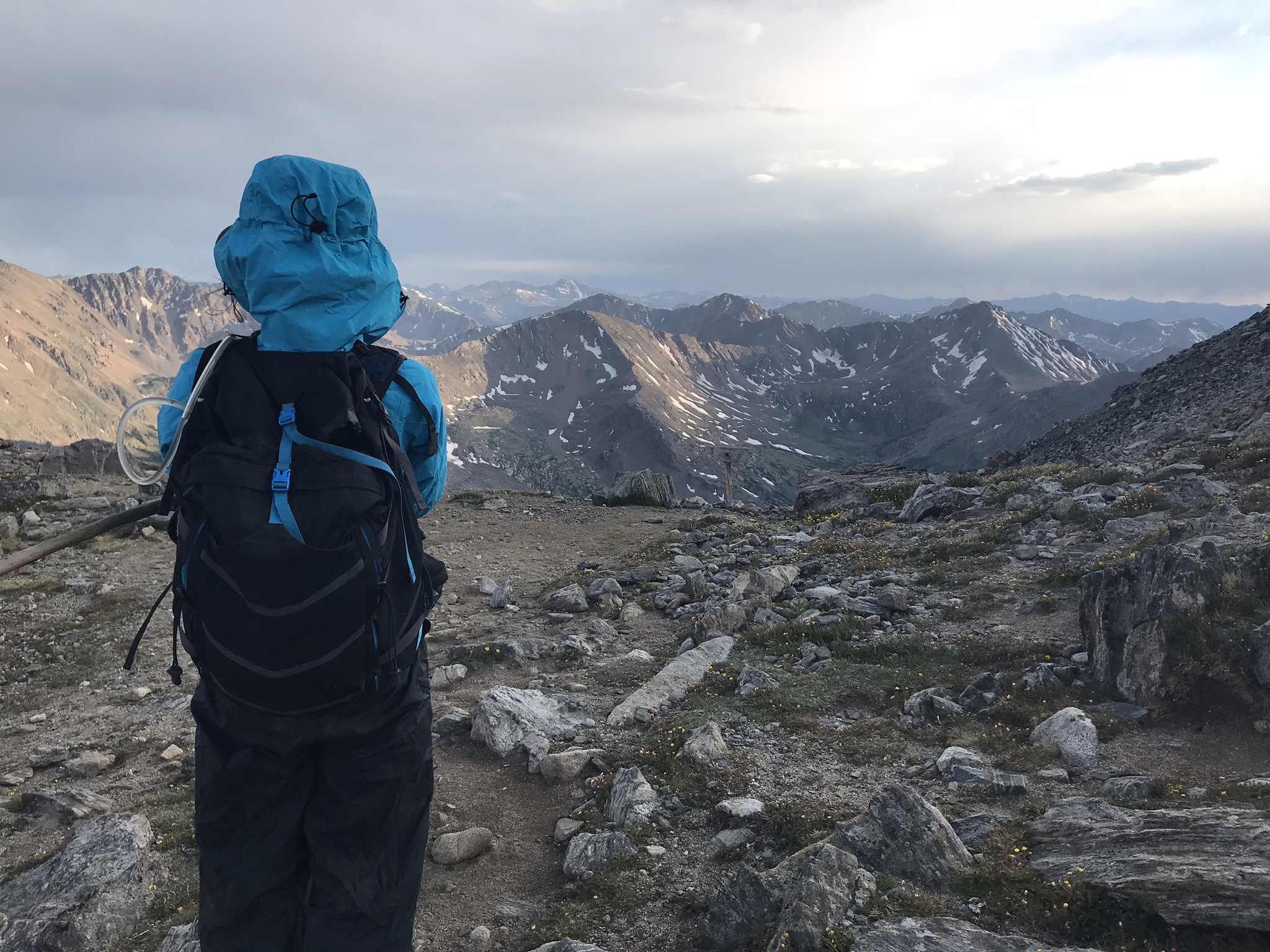 Day 10 | July 4, 2018
When I woke up this morning my muscles were still tired from last night's climb, so I slept some more. It can be a struggle on trail to allow the proper time to rest. It's easy to slip back into the "go, go, go!" mentality I keep in the city. I know that rest is important and this morning I listened to my body.
We started hiking at 10am and made our way to the trailhead of Mt. Elbert, Colorado's tallest peak.
The trail was packed with day hikers, but they all seemed to be going down as we went up. The trail was an unforgiving climb that made its way straight up the ridge of the mountain. To call it steep would be an understatement. Dark clouds loomed in the distance but it was mostly clear skies above us as we hiked.
As we neared the summit we were briefly stopped by another hiker and told "You can't go to the top, rain is coming!" We looked at the sky and saw no threat in the weather, I replied "okay" and we hiked on.
Just below the top we ran into a mountain goat!
It was a gorgeous summit and we had it all to ourselves! We stayed on the top long enough for a snack and then made our way down the South Elbert Trail.
We were met by Anthony, a friend of a friend, who joined us for a few miles taking photos and filming our hike into Twin Lakes.
It was a quick stop in town. We got our resupply, some food, and stuck our thumbs out on Highway 82.
We were picked up quickly by a couple headed to Aspen, our final destination for the night.
When we got to Aspen we met up with a friend from the PCT, Luke aka "Gentleman", who was kind enough to drive us back to his place for the night. We haven't seen Gentleman since the early days of the PCT and it was great to catch up.