Denver to Breckenridge
Day 1 | June 25th, 2018
It was a beautiful, clear Colorado day and we were finally set to begin our journey. The first six and a half miles from Waterton Canyon Trailhead followed the South Platte River, along a wide dirt road. Along that brief section we saw goats frolicking in the water, mule deer, and a herd of big horn sheep sunning in the grass.
The trail began to climb from there through dense pine forest. We passed a few hikers and were startled by several mountain bikers barreling down the single track.
We made it to the top of a high point just as the sun was setting and the full moon was rising. We set up camp on the top of a ridge where we ate dinner and gazed out at the mountains in front of us. As darkness began to fell we could see the lights of Denver out in the distance, soon fading behind us. It feels good to be back in trail life!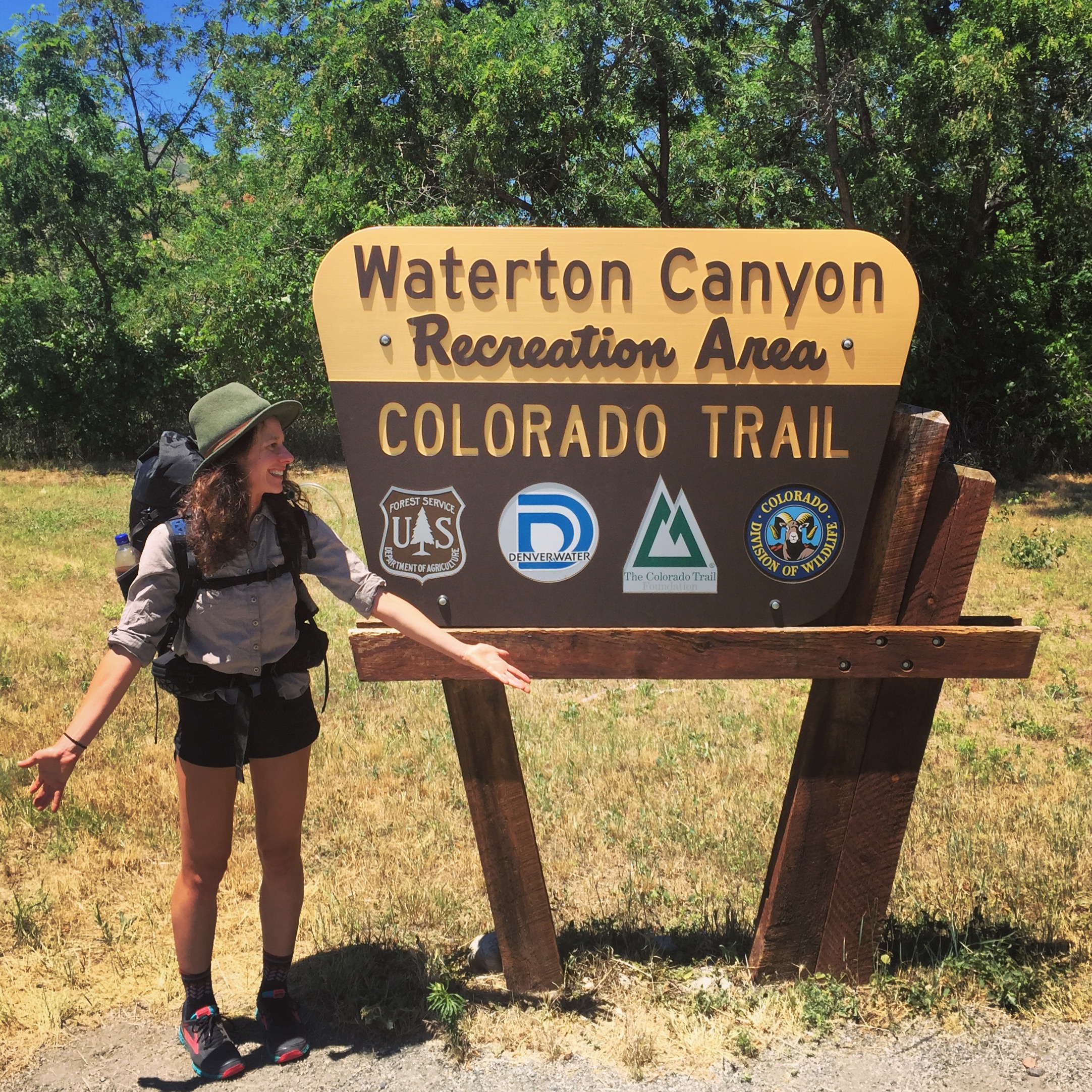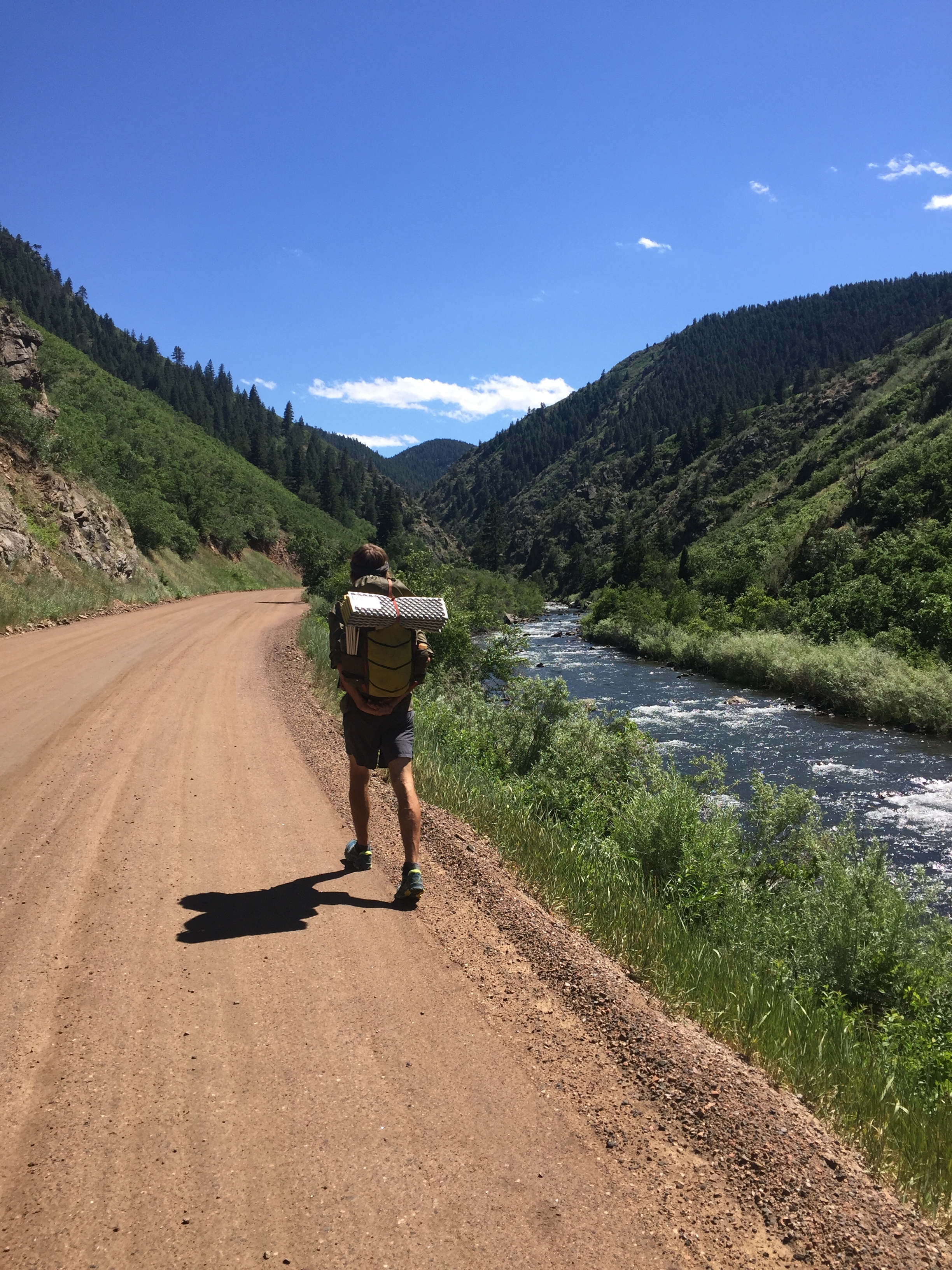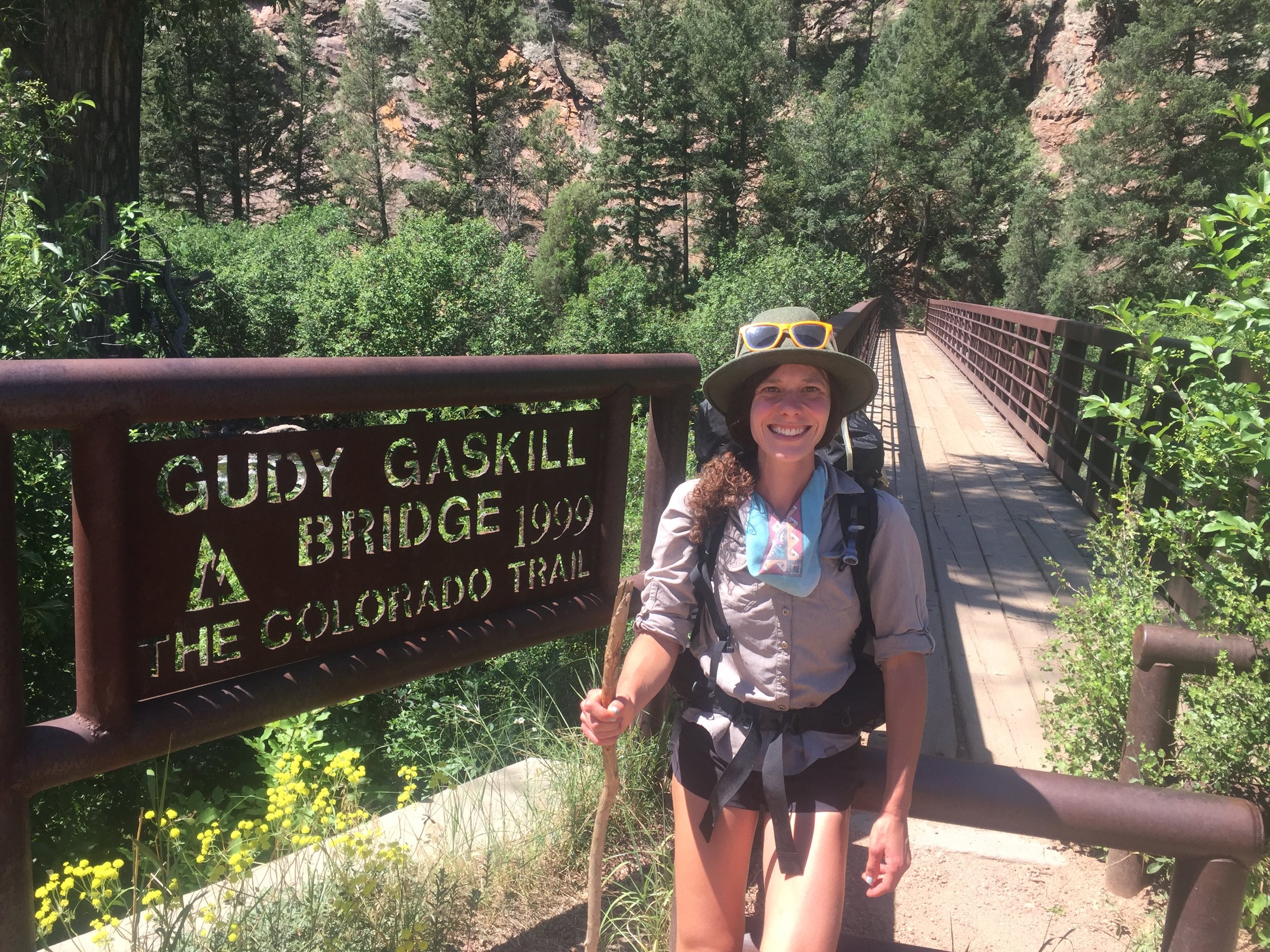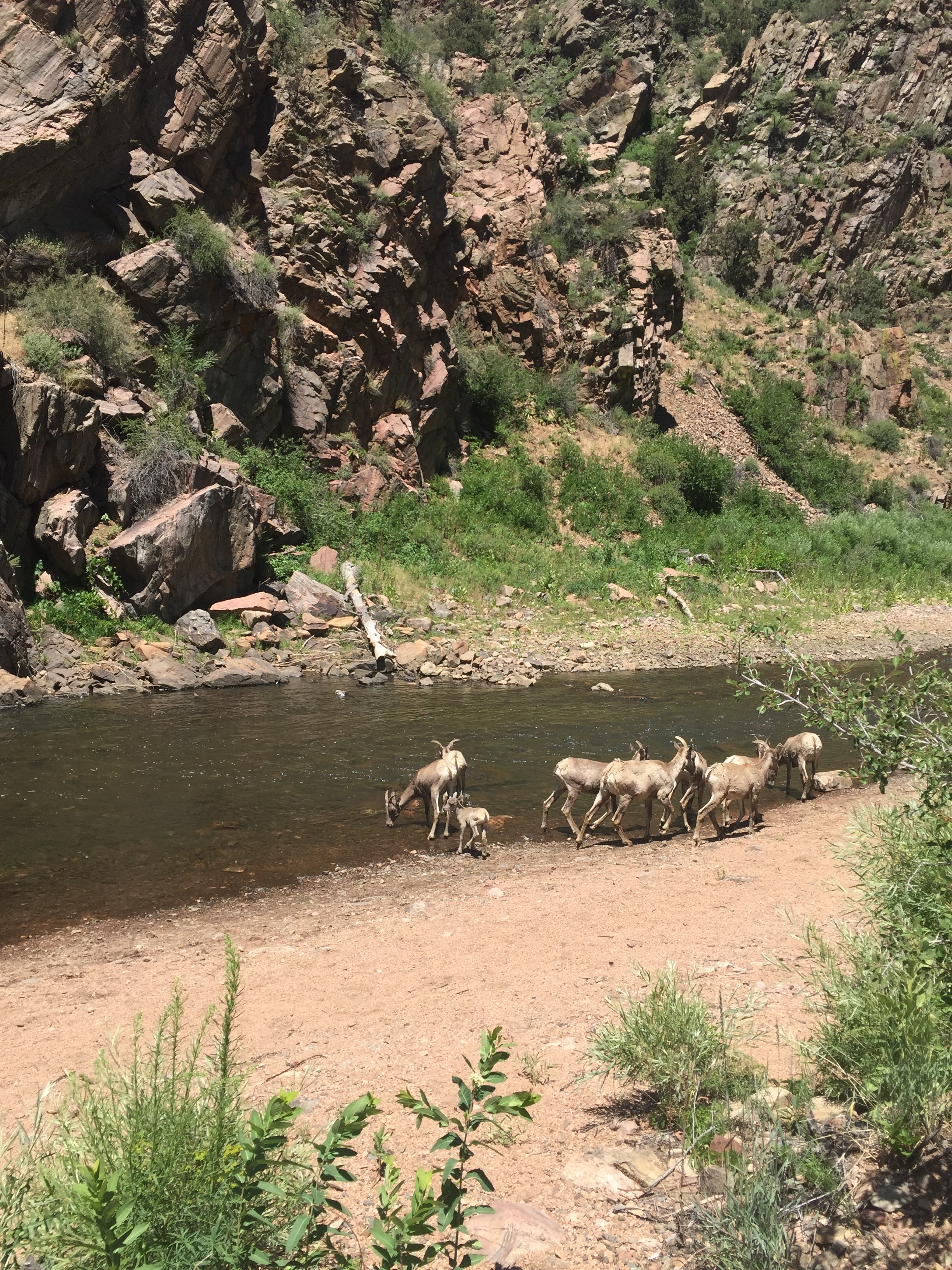 Day 2 | June 26, 2018
We woke up with the sun and enjoyed a leisurely morning. I slept deeply and woke up naturally, feeling rejuvenated and ready to start the day.
We hiked four miles and stopped for a mid- morning coffee break at the South Platte River. It felt good to dip my feet and dunk my head in the cool flowing water. This was an especially nice break, as the next 17 miles would be dry, exposed, and HOT. The trail meandered through a burn area, where the fallen trees exposed the meadows and Rocky Mountains around us. The unique beauty of a burn area acts as a reminder that natural fires are necessary for the health of the forest.
The heat of the day took a toll on me and created an elevation chart of salt lines on my shirt and shorts.
By the evening we got to our next water source and were surprised to find it full of hikers, the first group, or "trash, we've seen on trail. The campsite was full, so Cosmo and I hiked on and found a quiet hilltop spot in the sunset hours.
As the full moon began to rise I had my first taste of homemade vegan chili and quinoa, an experiment with my dehydrator that I worked on before trail. It tasted delicious, and felt satisfying to know that I made it myself!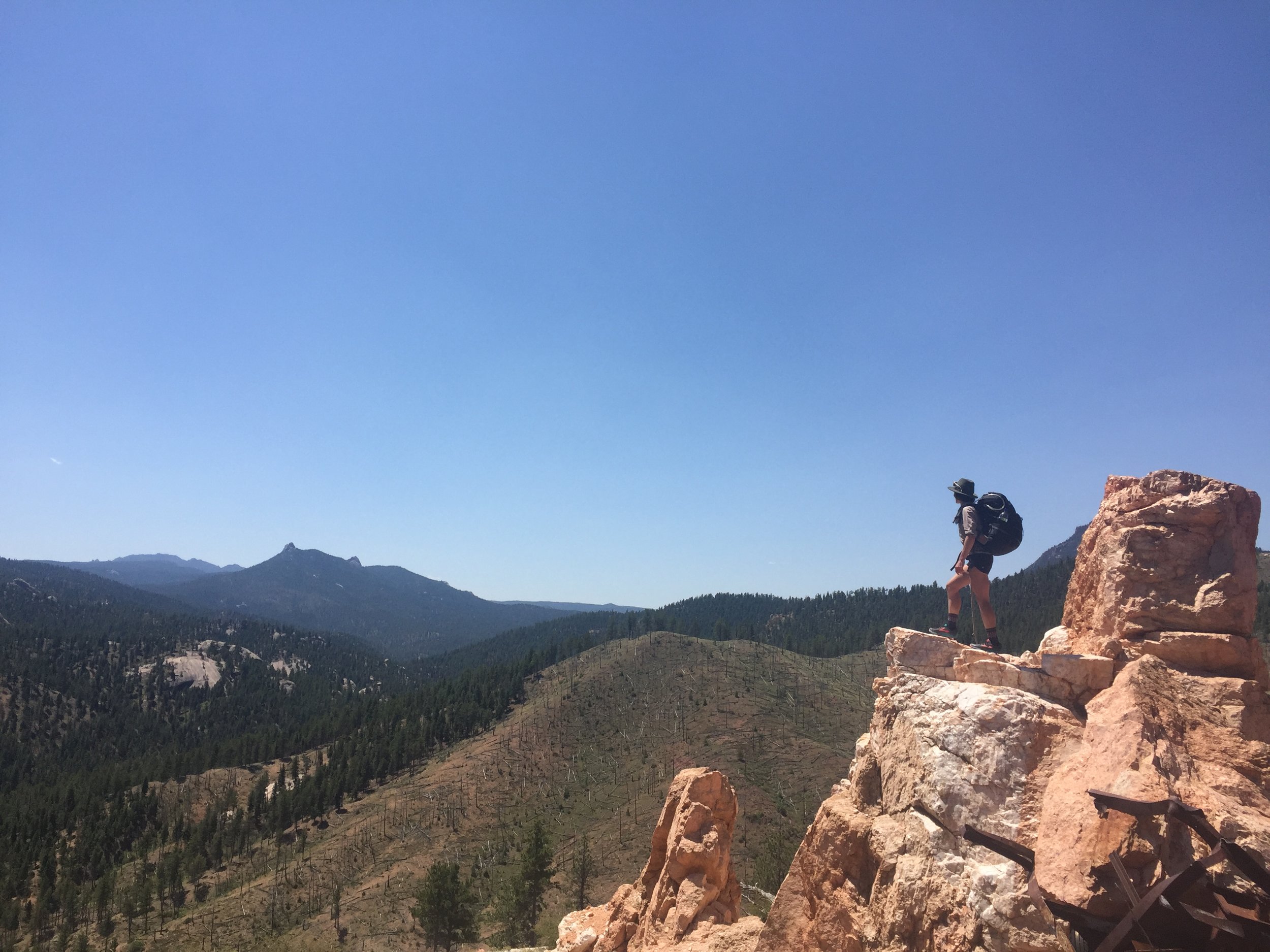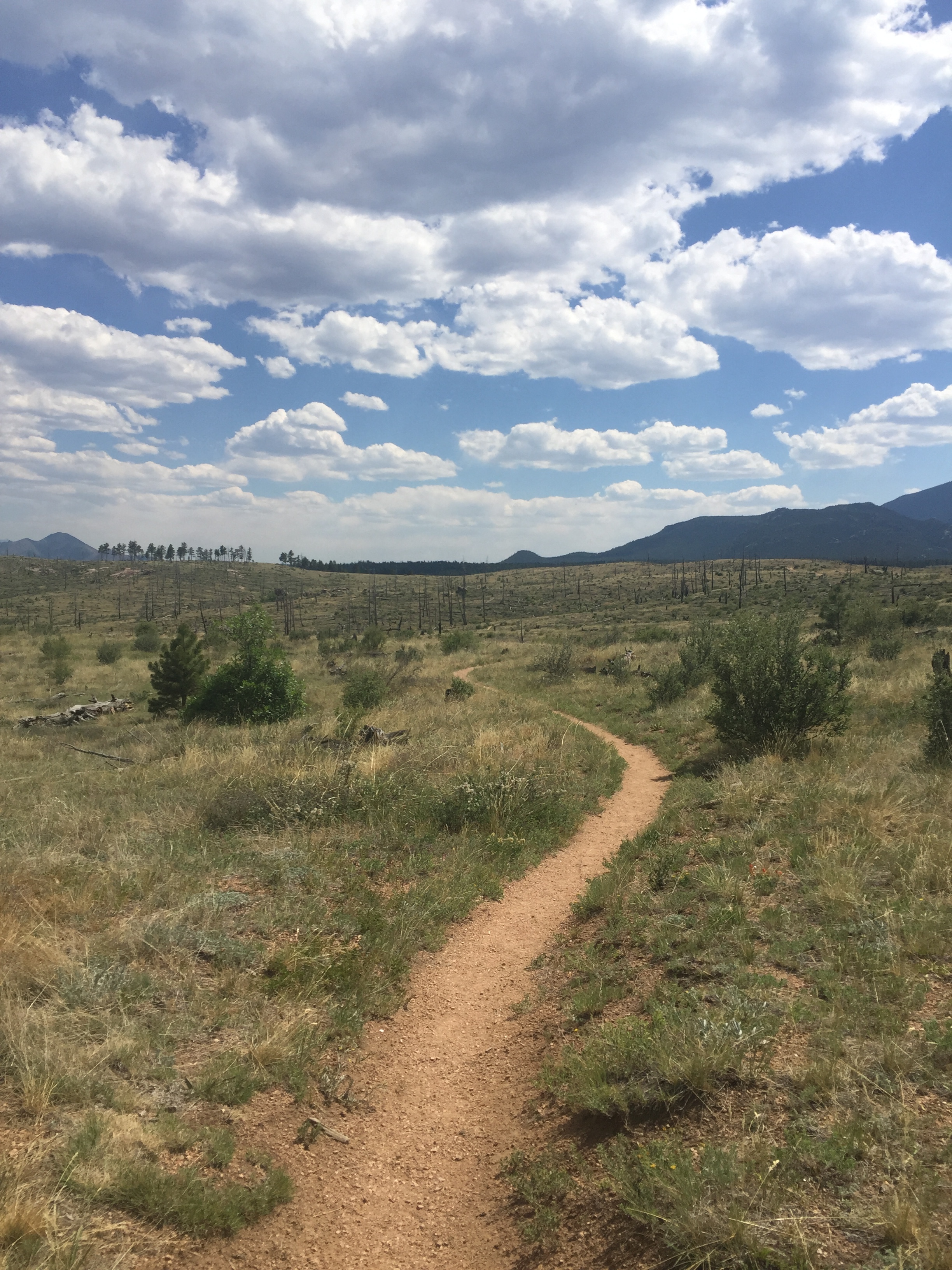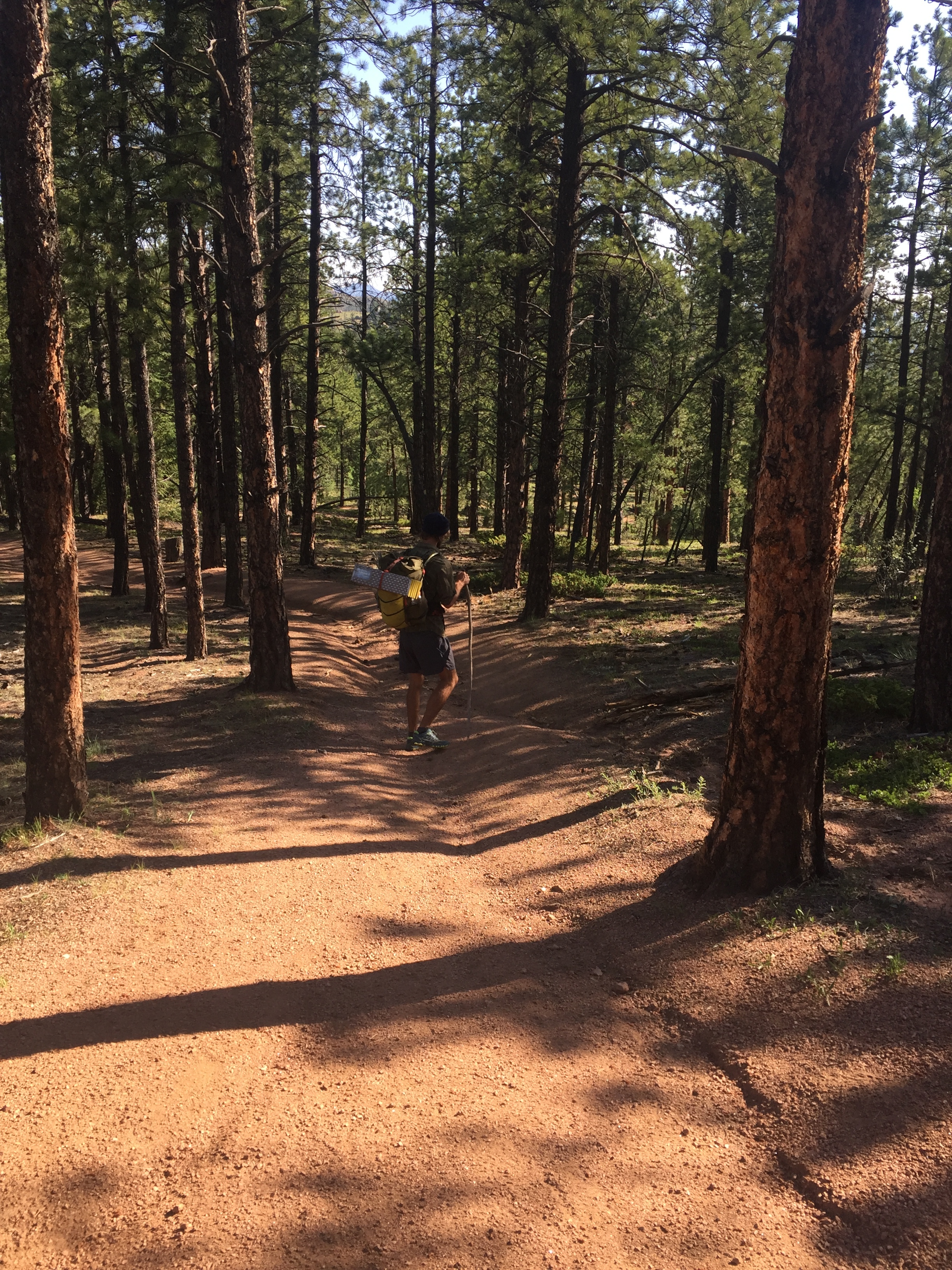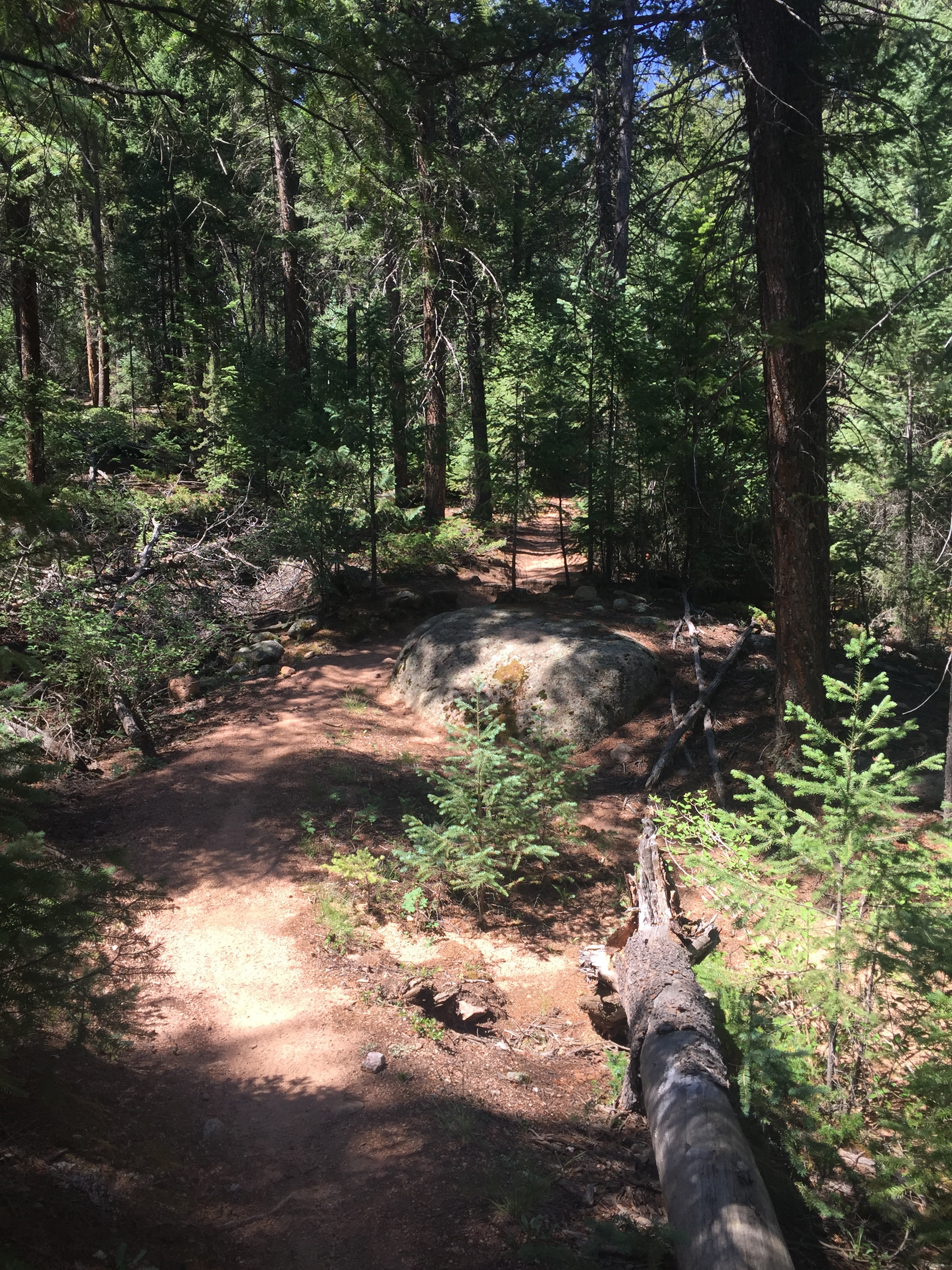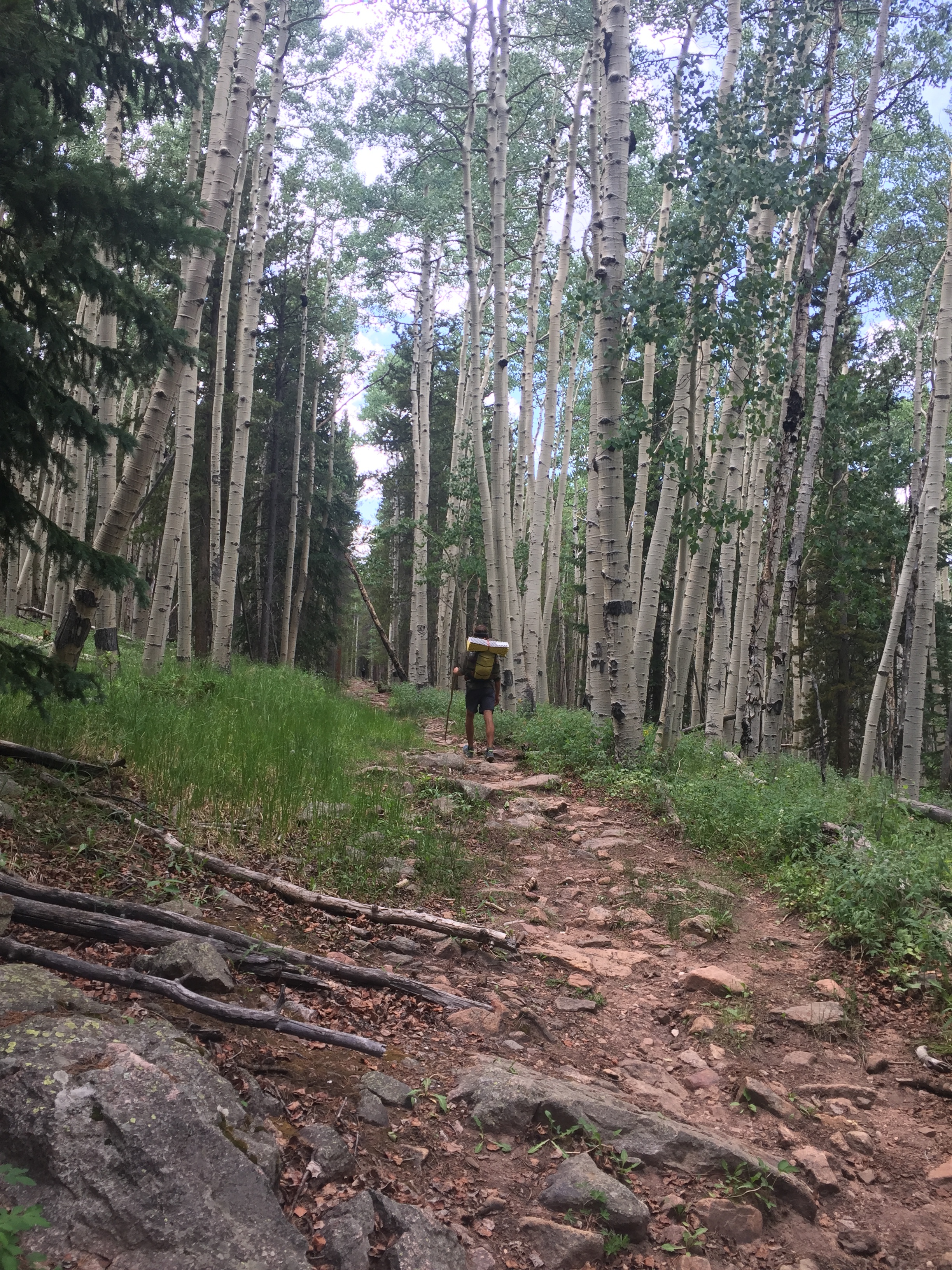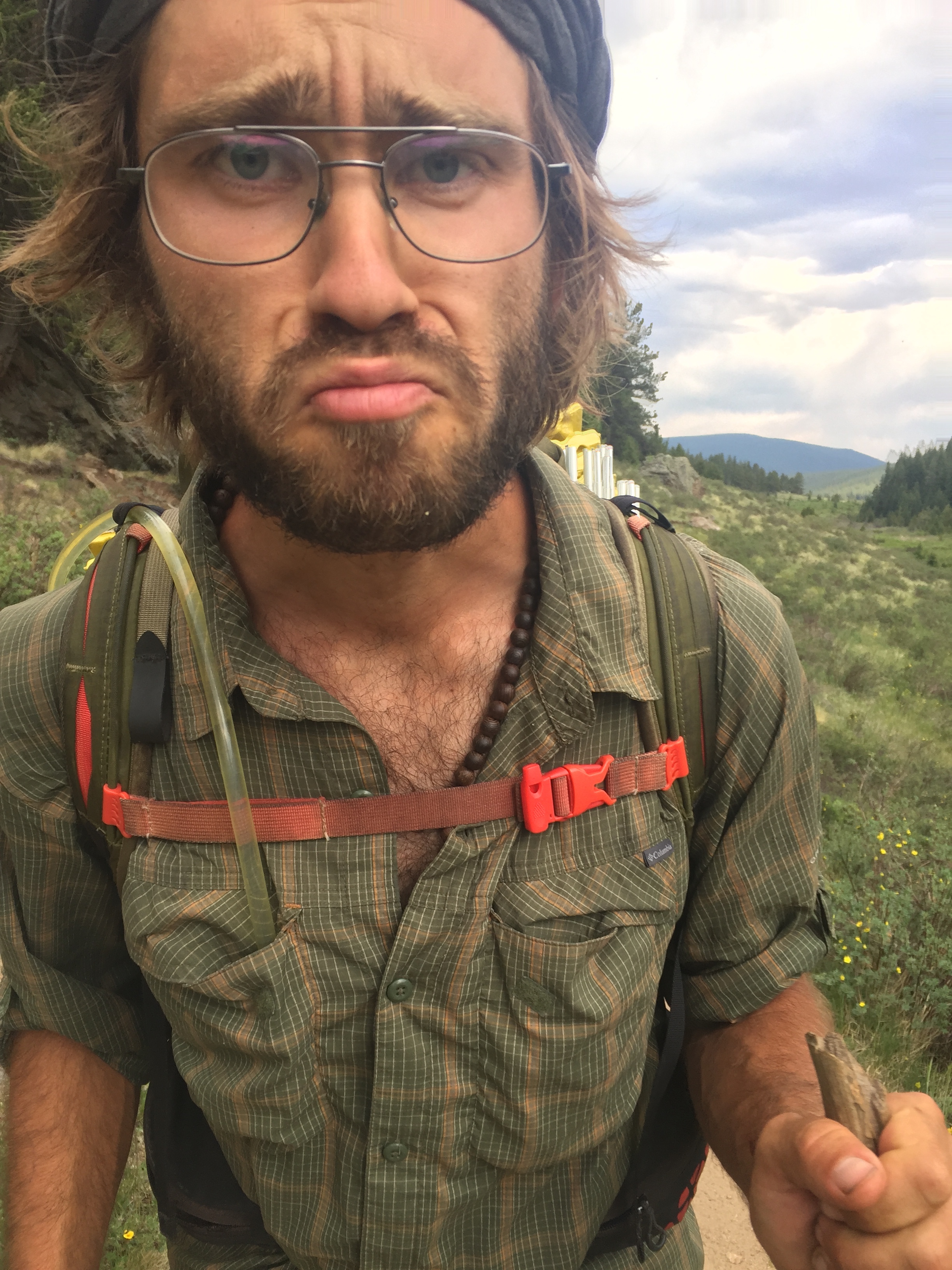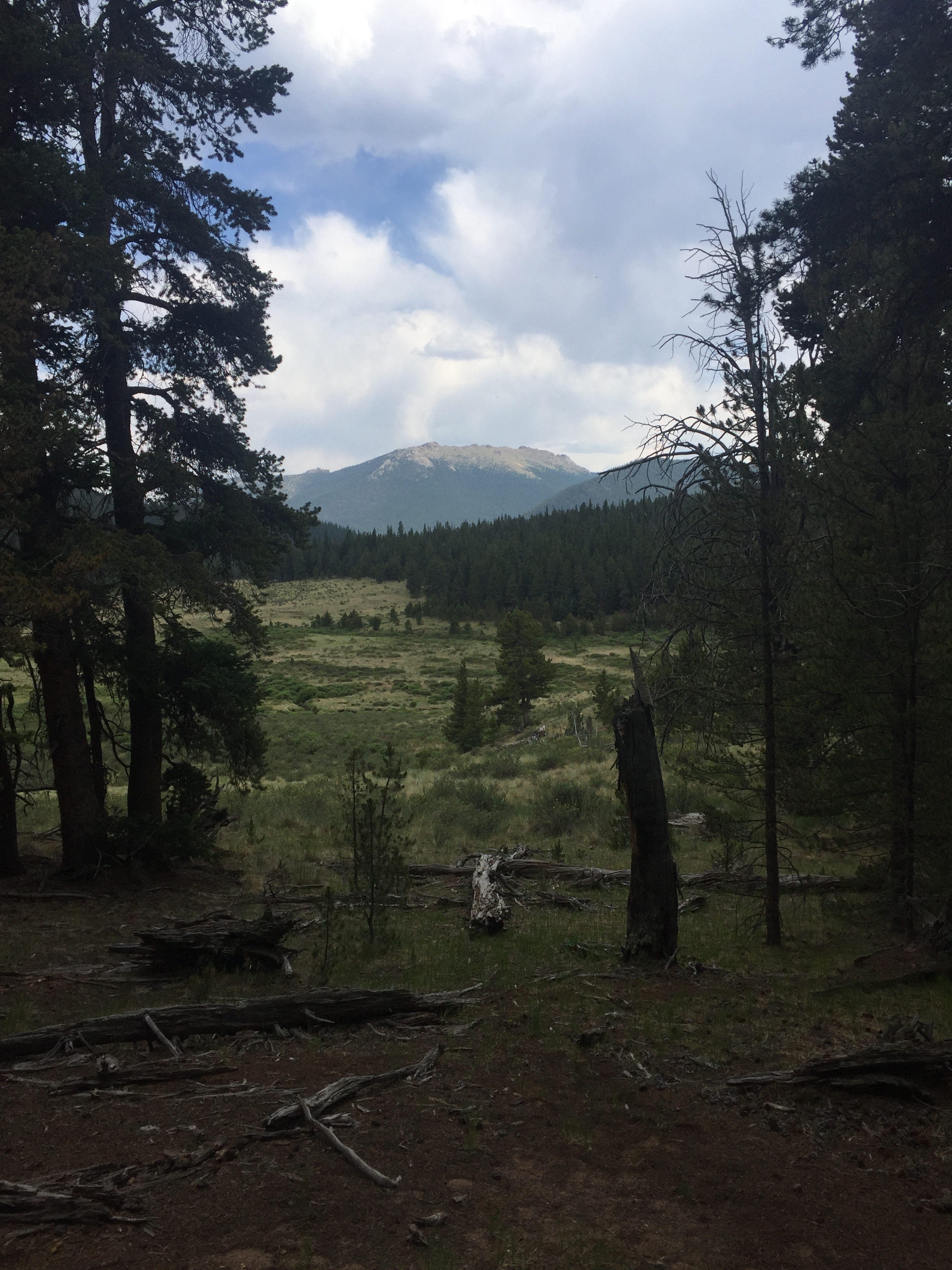 Day 3 | June 27th, 2018
Today we entered the Lost Creek Wilderness in the Pike National Forest and spent most of the day climbing. We hiked from 7,000ft up to 11,000ft through dense pine forests filled with gardens of aspen trees.
We leap frogged with several hikers, sharing relaxation time at the various streams and rivers as we filtered and filled up our water. Leaving the wilderness area took us into a surprisingly beautiful meadow enclosed by green mountains. The trail remained flat and manageable for six miles through the meadow before climbing again.
By the evening the train of hikers we were with began to wither away as folks stepped off trail to set up camp. Cosmo and I intended to go a little further to the next water source. As we hiked down from a pass the sky began to darken and thunder roared in the distance. I peered over the edge of the mountain and through the trees I could see a big valley separating us from giant and jagged peaks. In the clearing I could also see a few rain storms falling down on the mountains around me. I hiked a little faster and got to our camp spot without being rained on. The wind picked up around us, but the storm must have passed because all we got was a drizzle. As I sat down for dinner I noticed a stillness in the air and the green trees began to turn golden in the light of the setting sun. Cosmo has tried to describe the magic that comes from a Colorado summer sunset, and now I understand. Eventually the sky grew dark and the wind picked back up. I listened from my tent as the leaves rustled in the wind and let the soothing sounds of nature lull me to sleep.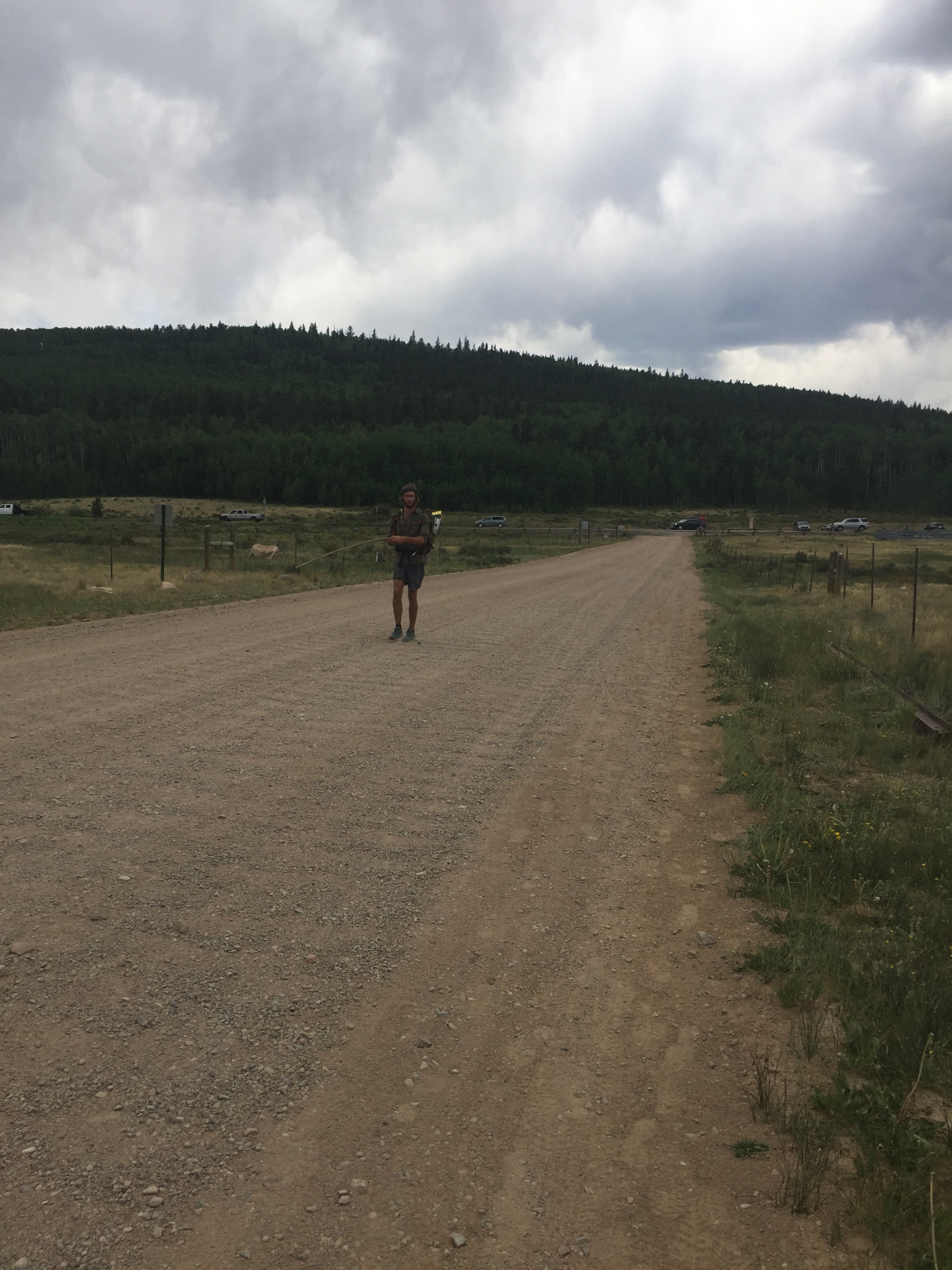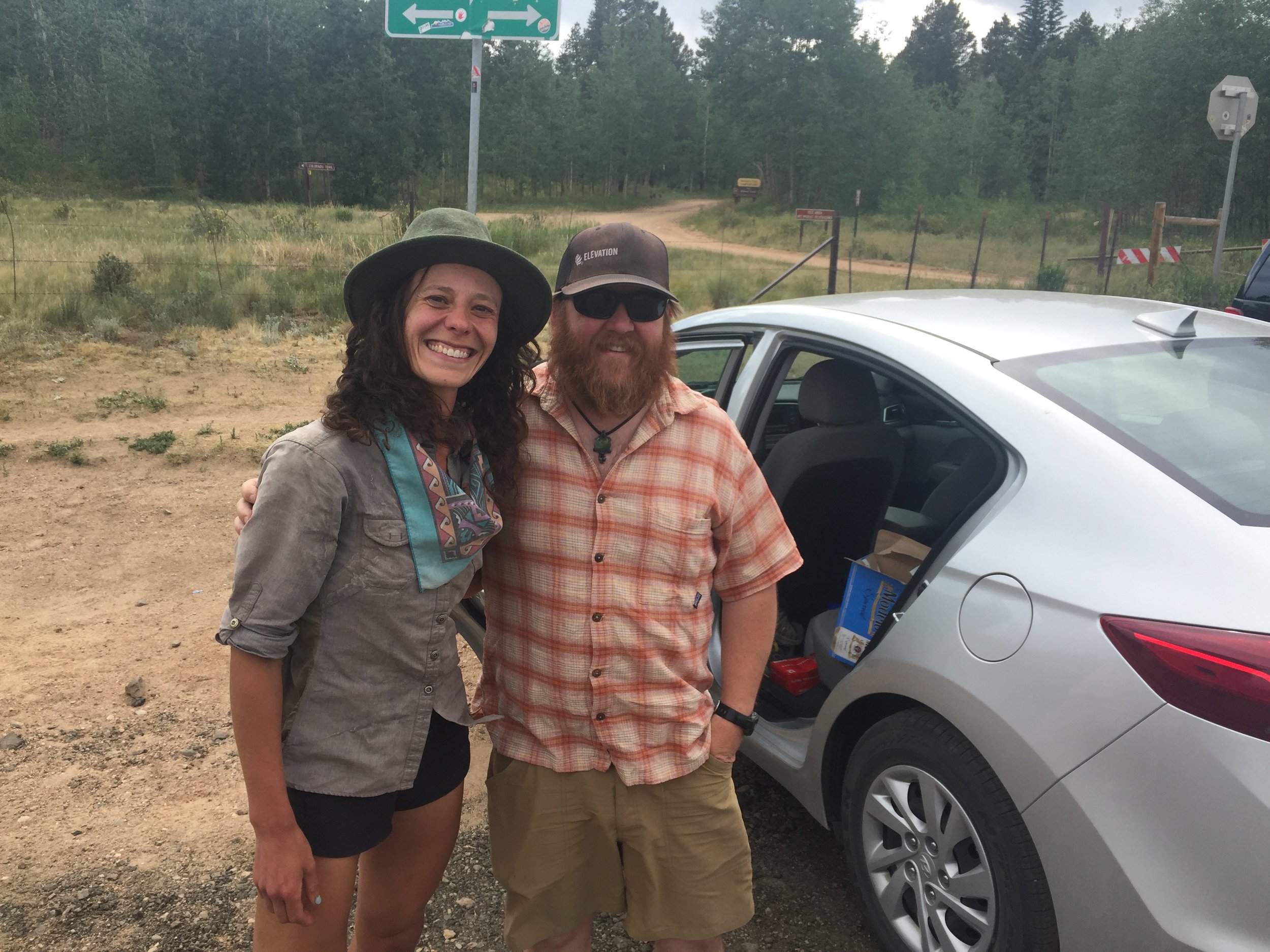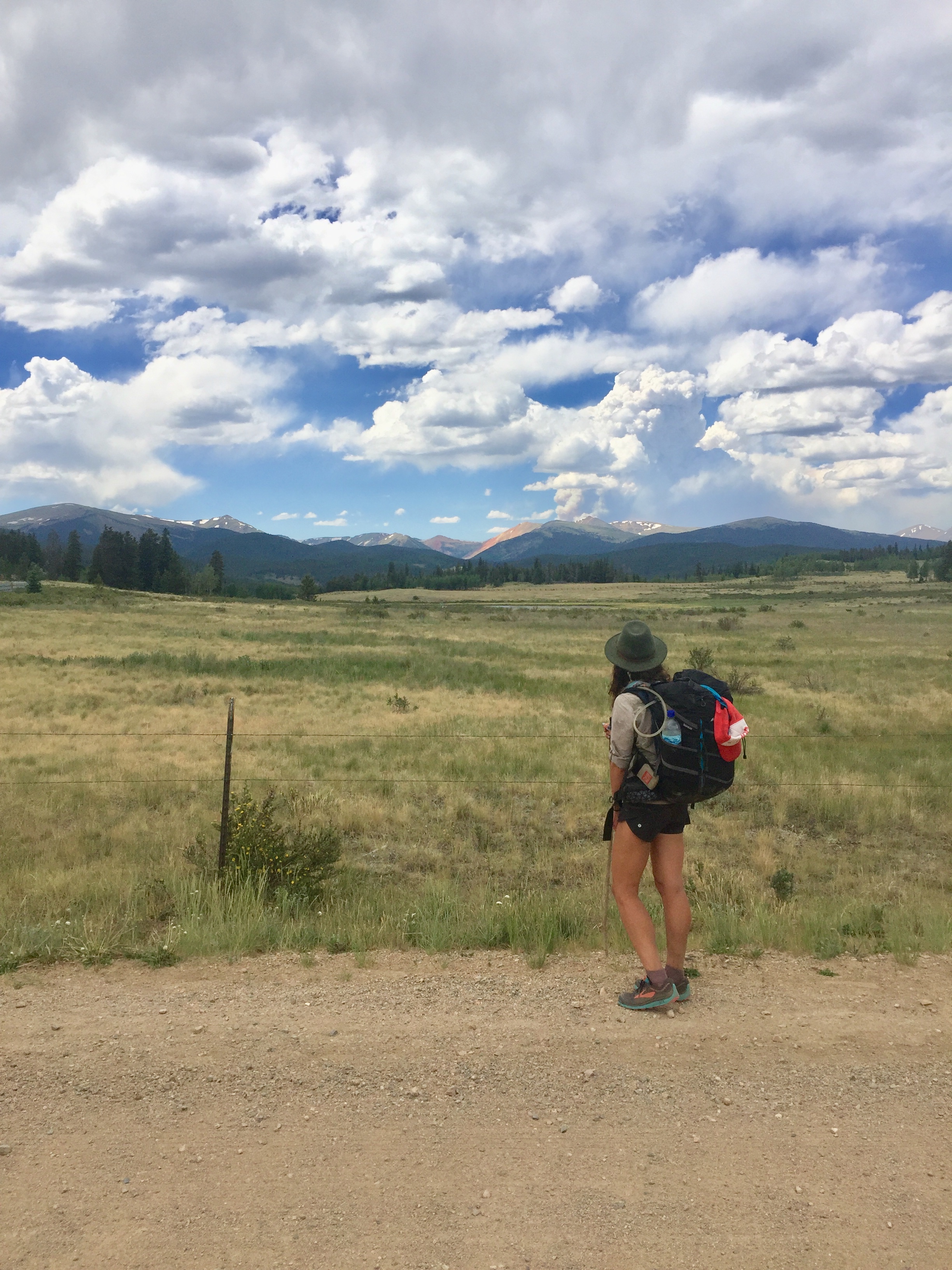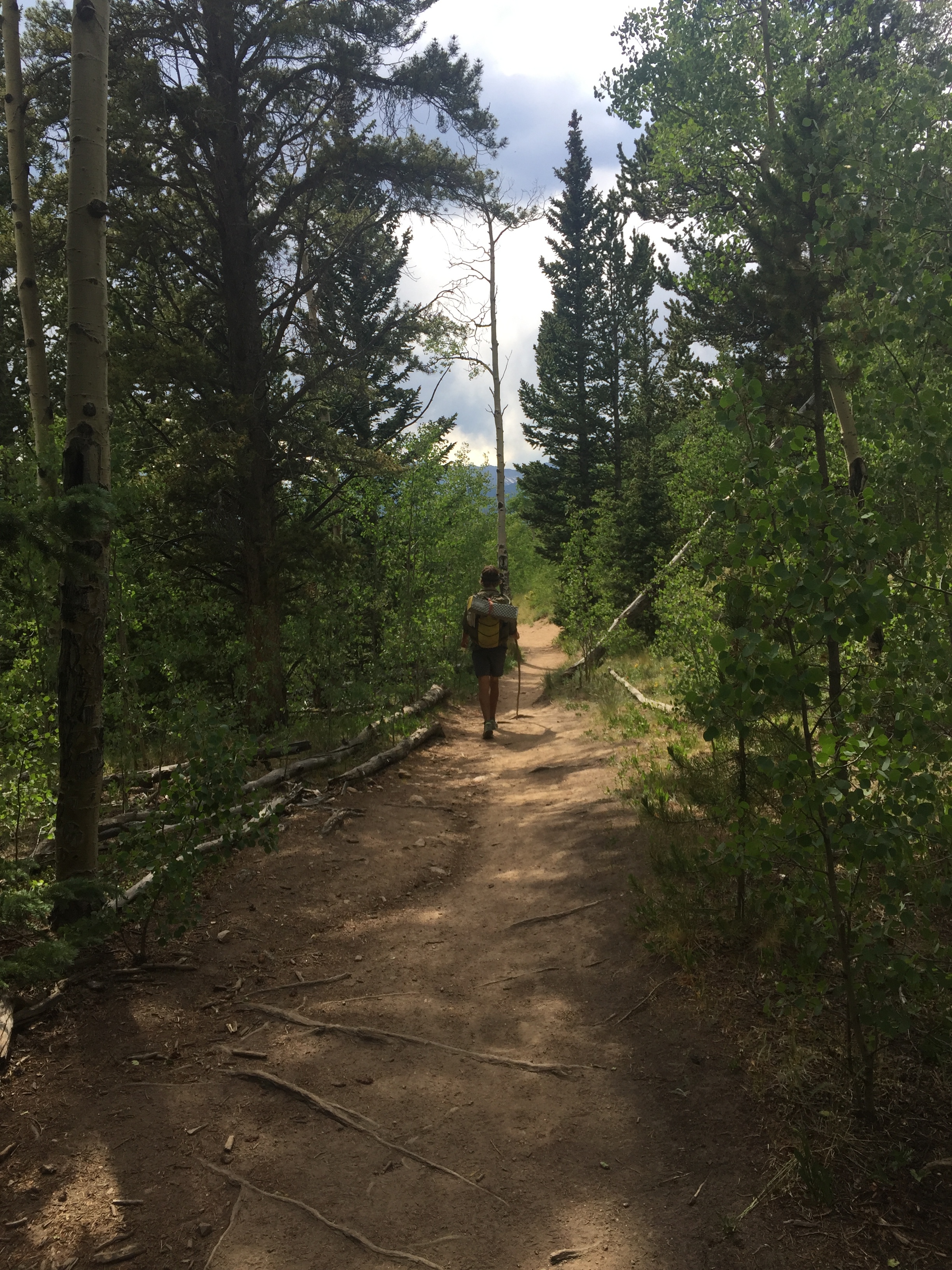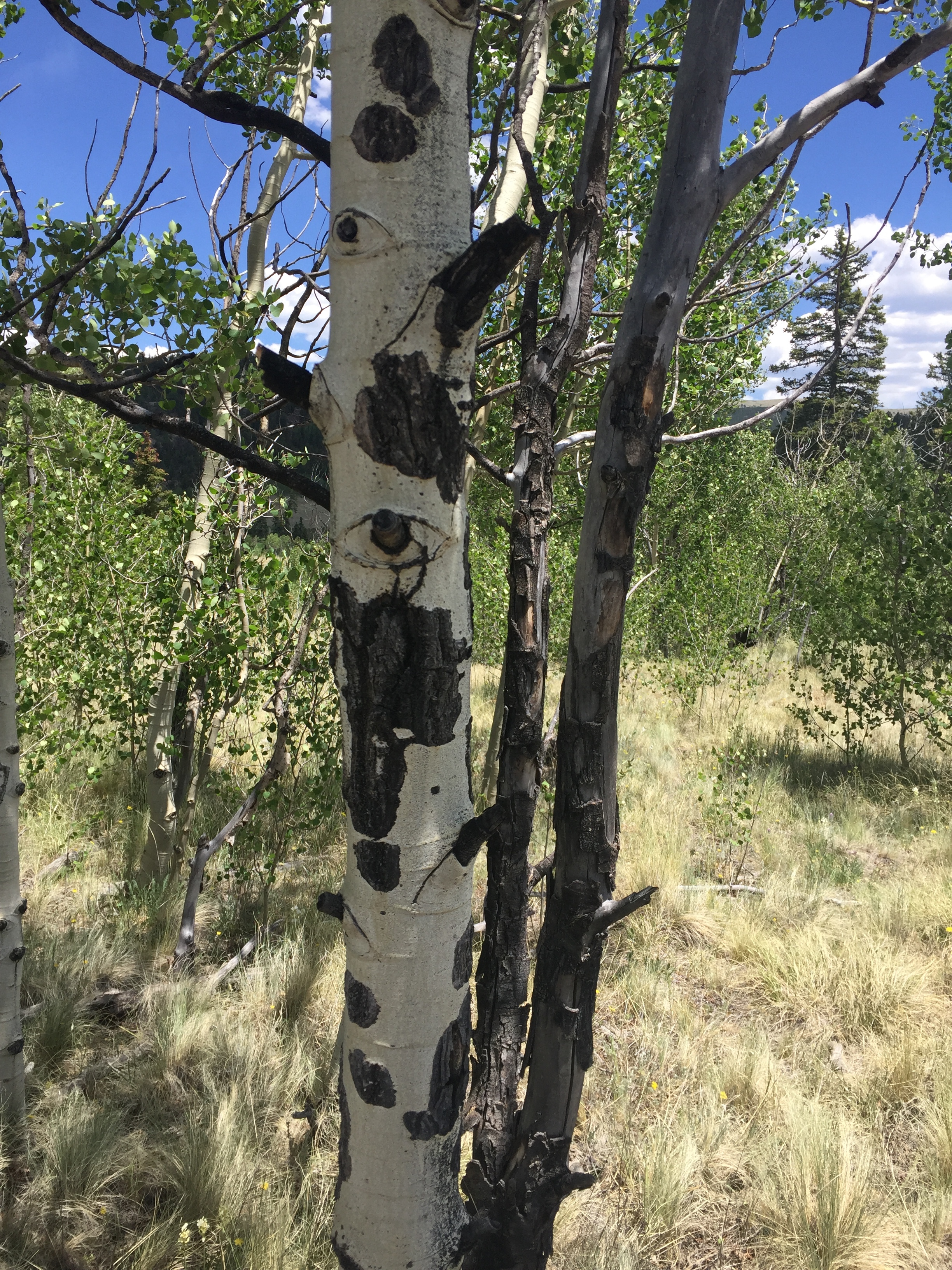 Day 4 | June 28th, 2018
I wanted to take my time this morning but the mosquitos quickly hurried me off as they swarmed the tent, ready to feast on any revealed skin they could find.
The day was sunny and warm as we continued to hike through aspen and pine forests. The trail meandered in and out of dense forest, at times revealing the impressive mountainous landscape that surrounded us. The sky in Colorado is big and expansive, and looking out from the trail I could see several different weather systems in the distance. It was sunny and clear in one spot, stormy in another spot, and a sky filled with scattered fluffy clouds in the next. Out in the valley I could see a small area of smoke that seemed to be that from a fire.
Halfway through the day we arrived at Kenosha Pass and were treated to our first bit of trail magic. Tom, a former thru-hiker, treated us to beers, soda, and water. As we drank and talked, my eyes became fixated on the red-stained mountains behind us. Yet another fire was burning, and this one seemed big. Tom didn't know which fire it was, nor did he seem too concerned. We thanked him for the drinks and continued to hike. As we began to climb I noticed the smell of smoke in the air. Cosmo did not seem to notice it as much, so I tried to quiet my concern. We passed several campsites on our way up towards Georgia Pass and all of them were filled with tents. Today we saw the most CT hikers we've seen yet.
We hiked late and finished the day with 25 miles, the most we've done so far!
My body is starting to ache, hot spots on my feet and hands, and perma-dirt is beginning to build up in several spots on my skin. All in all, it feels good to be dirty, to be connected to nature, and to be following a new path.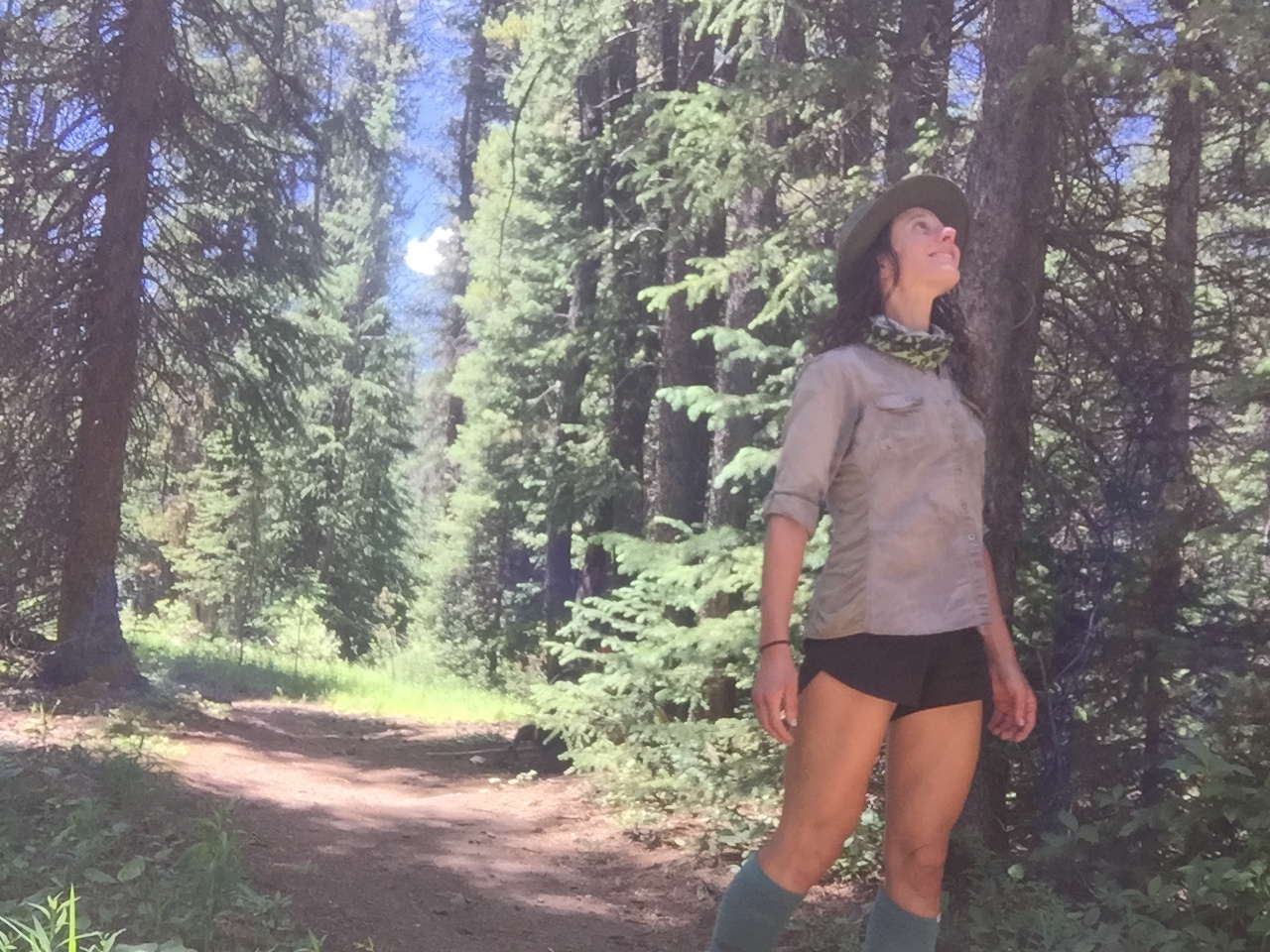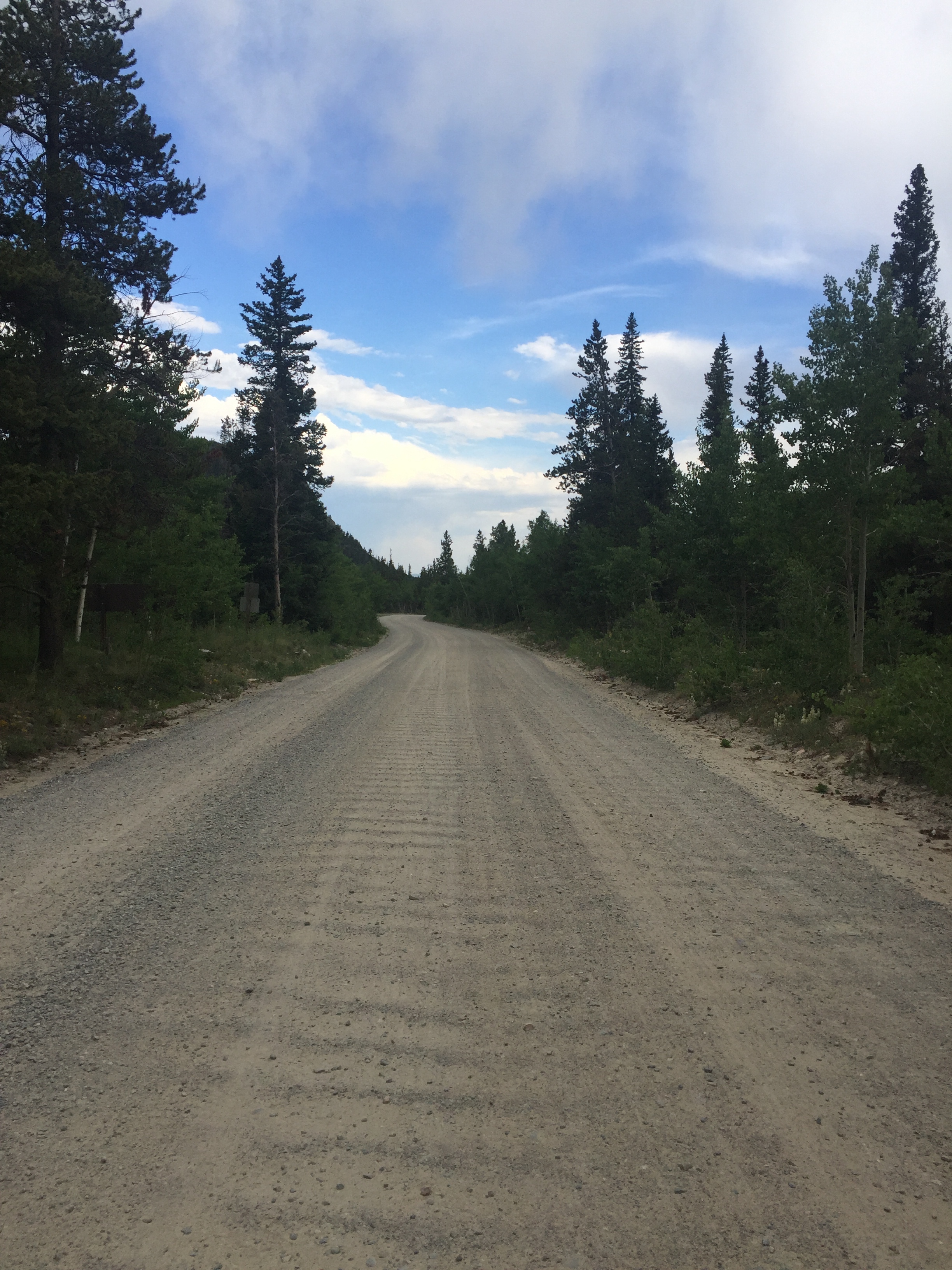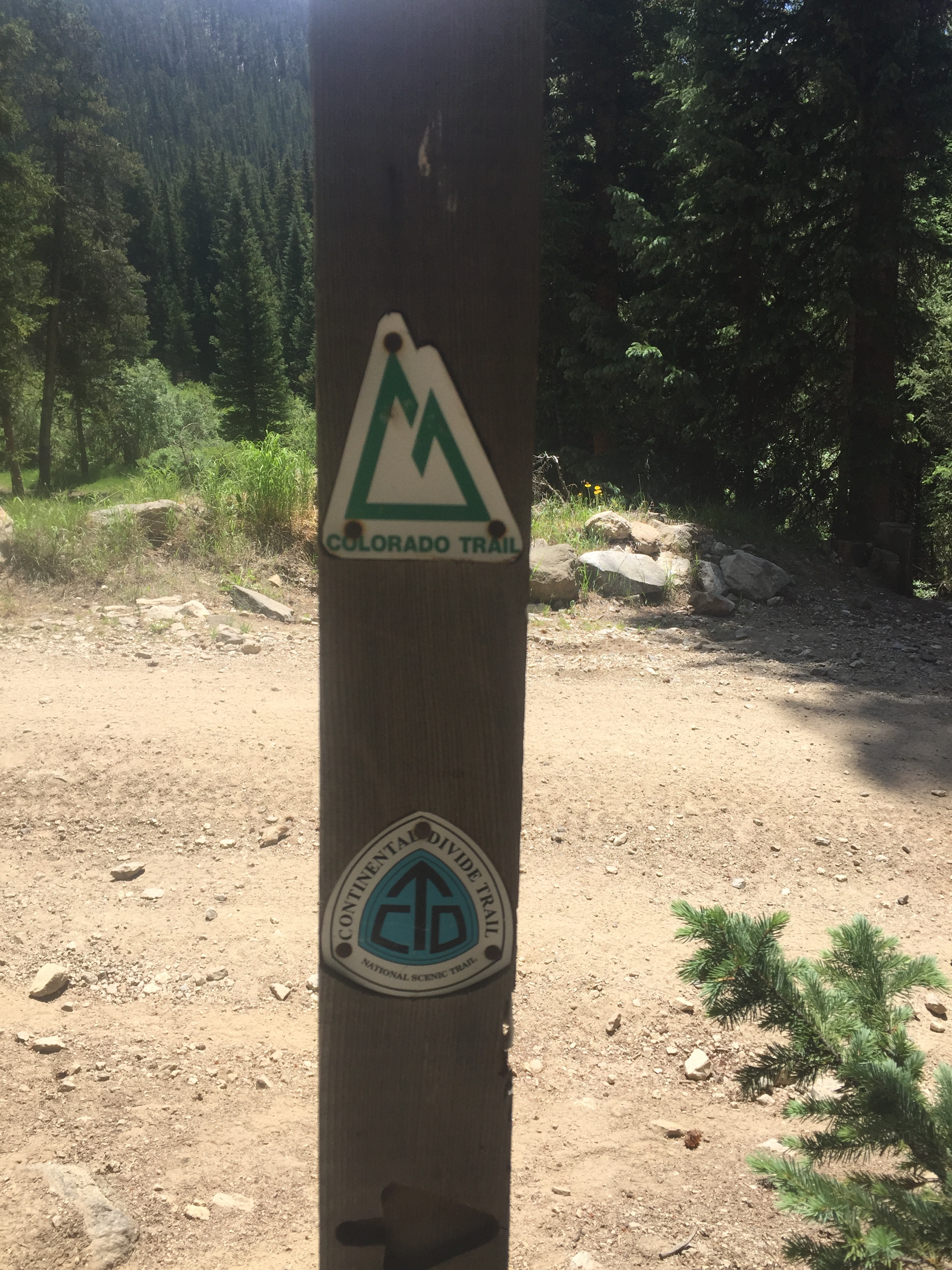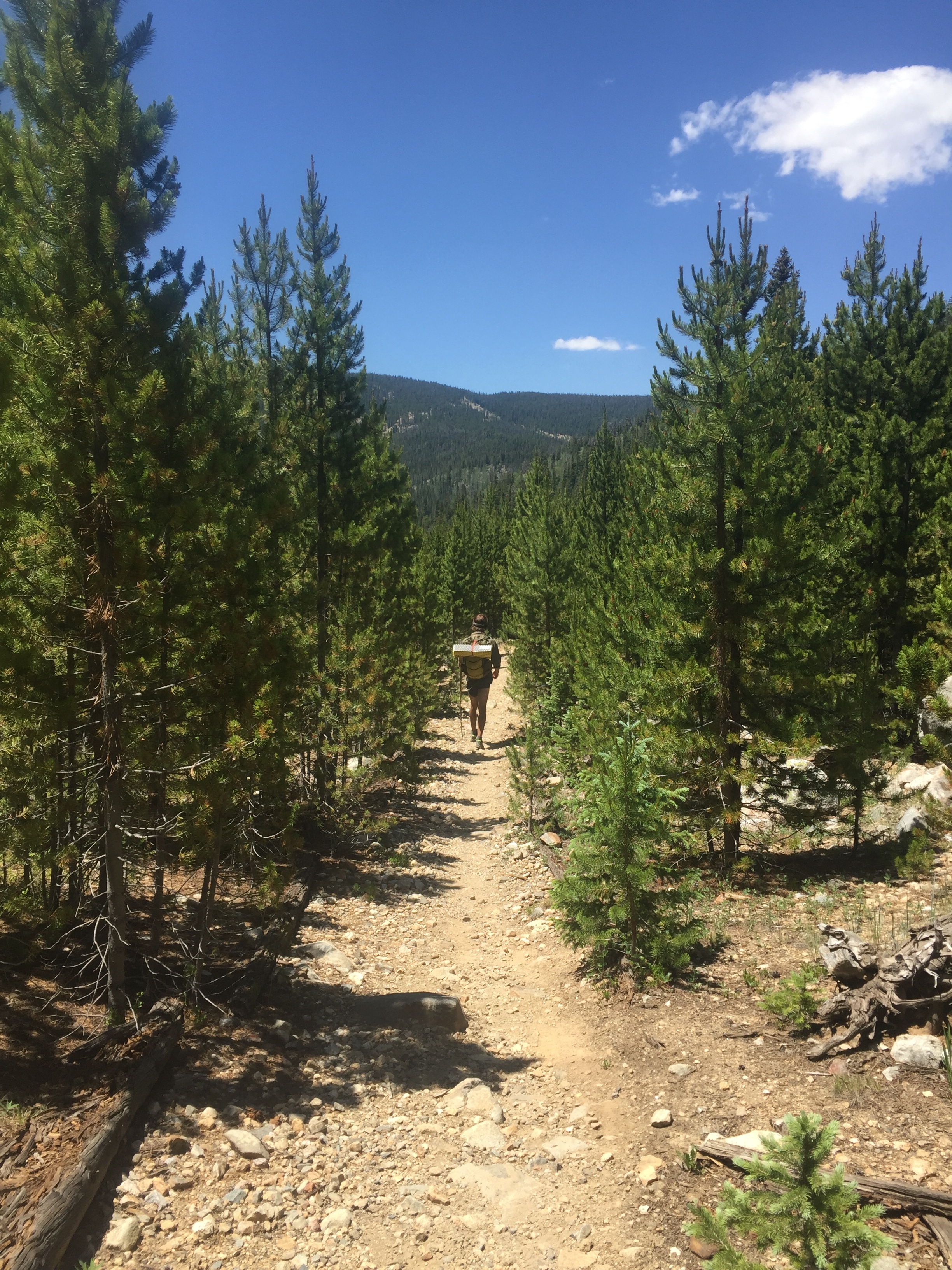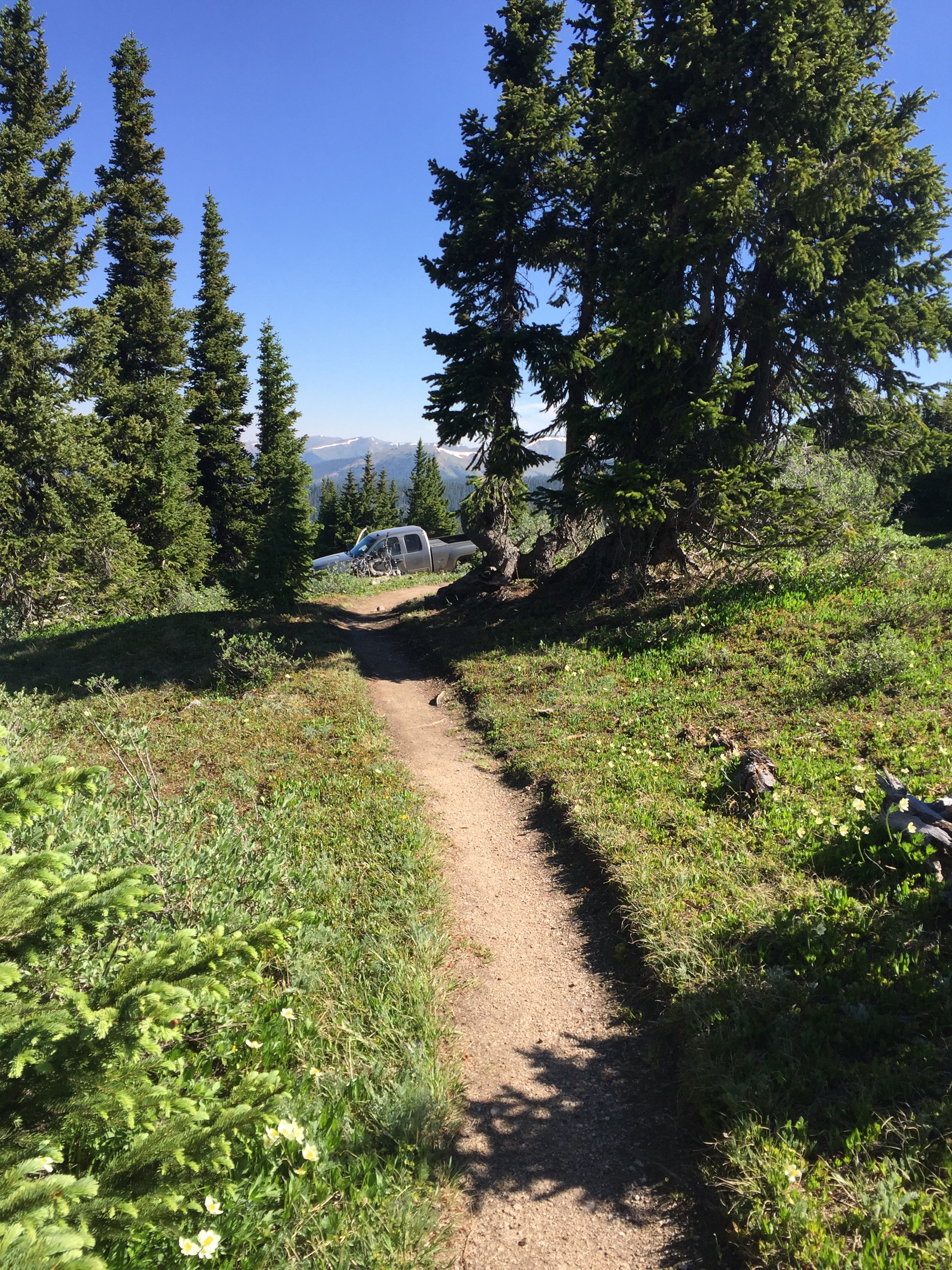 Day 5 | June 29th, 2018
The sky was clear this morning as we hiked up to Georgia Pass. This was the first mountain pass that actually felt like a mountain. The trail made a thin tan line in a green meadow of grasses and wildflowers, and snowy mountaintops surrounded the ridge in every direction. The sky was clear but I could still smell smoke in the air. One of the small fires we saw yesterday has sparked up overnight and has grown to nearly triple its size.
The hike into Breckenridge was beautiful. Aspen and pine trees filled the forest but spread out enough to reveal prominent peaks, like Guyot and Keystone.
It was mostly downhill into town and our only danger was the speedy mountain bikers whizzing by in both directions on trail.
Over the past 4 1/2 days we've hiked 104 miles. And, as town grew nearer, the rumble in our bellies grew louder. Hiker hunger, you old friend! The last few miles felt the longest and all I could think about was unlimited chips and salsa with a burrito bigger than my face. I was on a mission.
We made it to Highway 9 with some daylight left, and we were lucky enough to get a hitch into town right away. Benji grew up in Breckenridge and was used to picking up Colorado Trail and Continential Divide Trail (the CDT is another Mexico to Canada route) hikers. He understood our needs and dropped us off at Mi Casa, a local Mexican restaurant.
What a feeling to have a food and to eat when you are so hungry!
With big smiles and full (sort of) bellies we enjoyed an evening walk through downtown Breckenridge. I can see the appeal of living somewhere so close to the mountains, but the niceties of town magnified the dirt on our packs and bodies.
Finally, we arrived at The Bivvi, a hiker friendly hostel hosting other hiker trash. We felt comfortable here and were happy to shower, wash our clothes, and sleep in a cozy bed.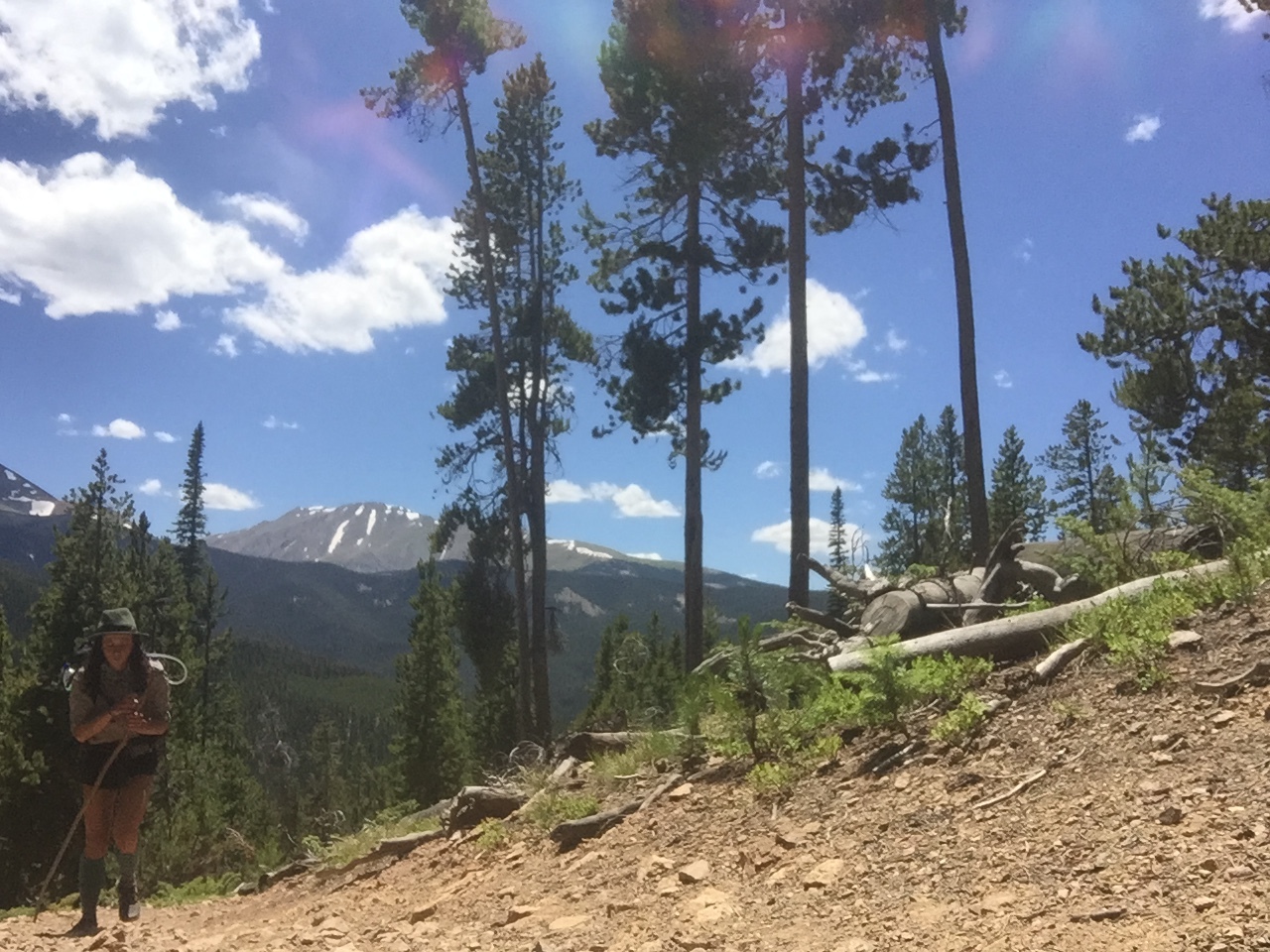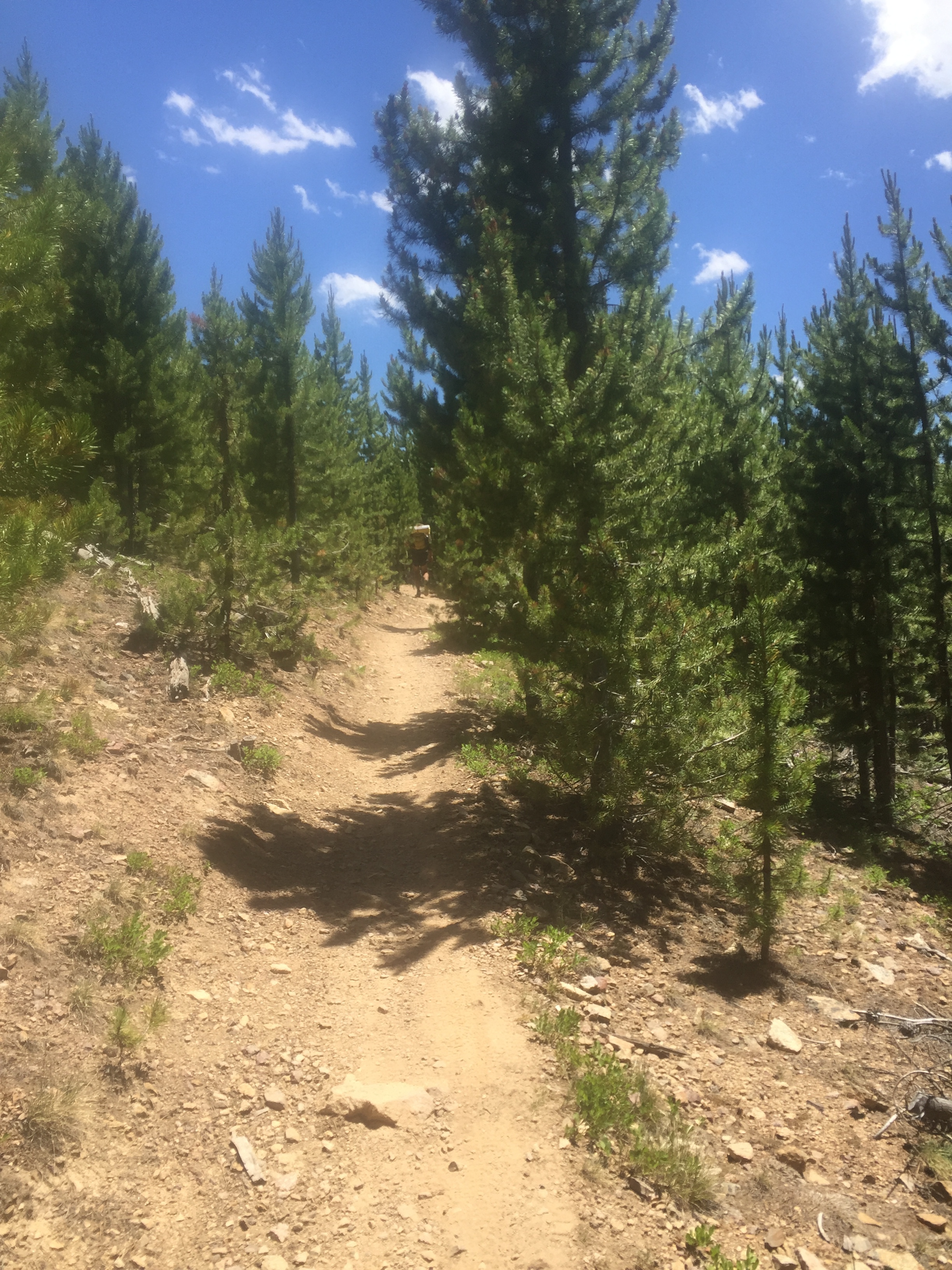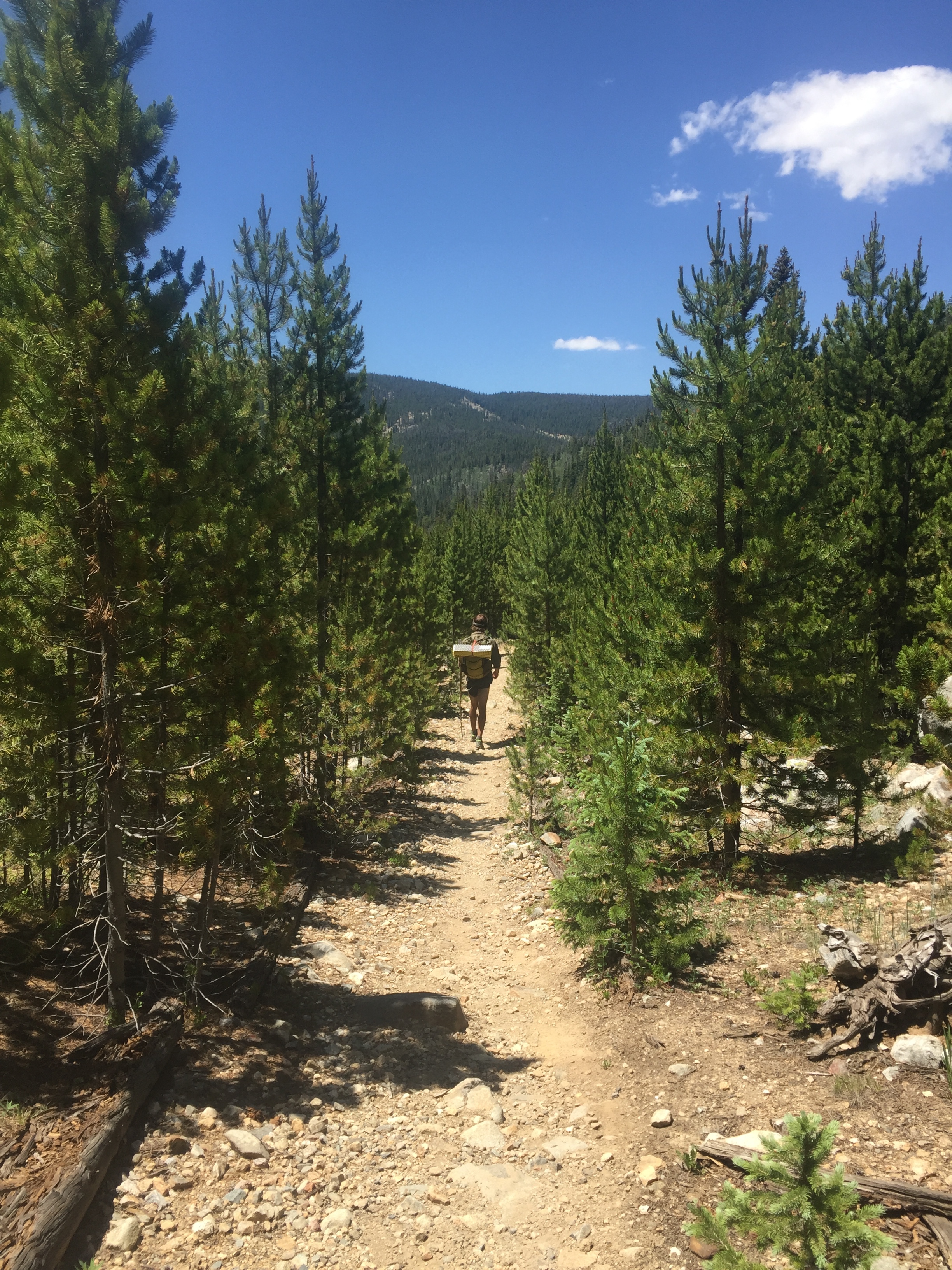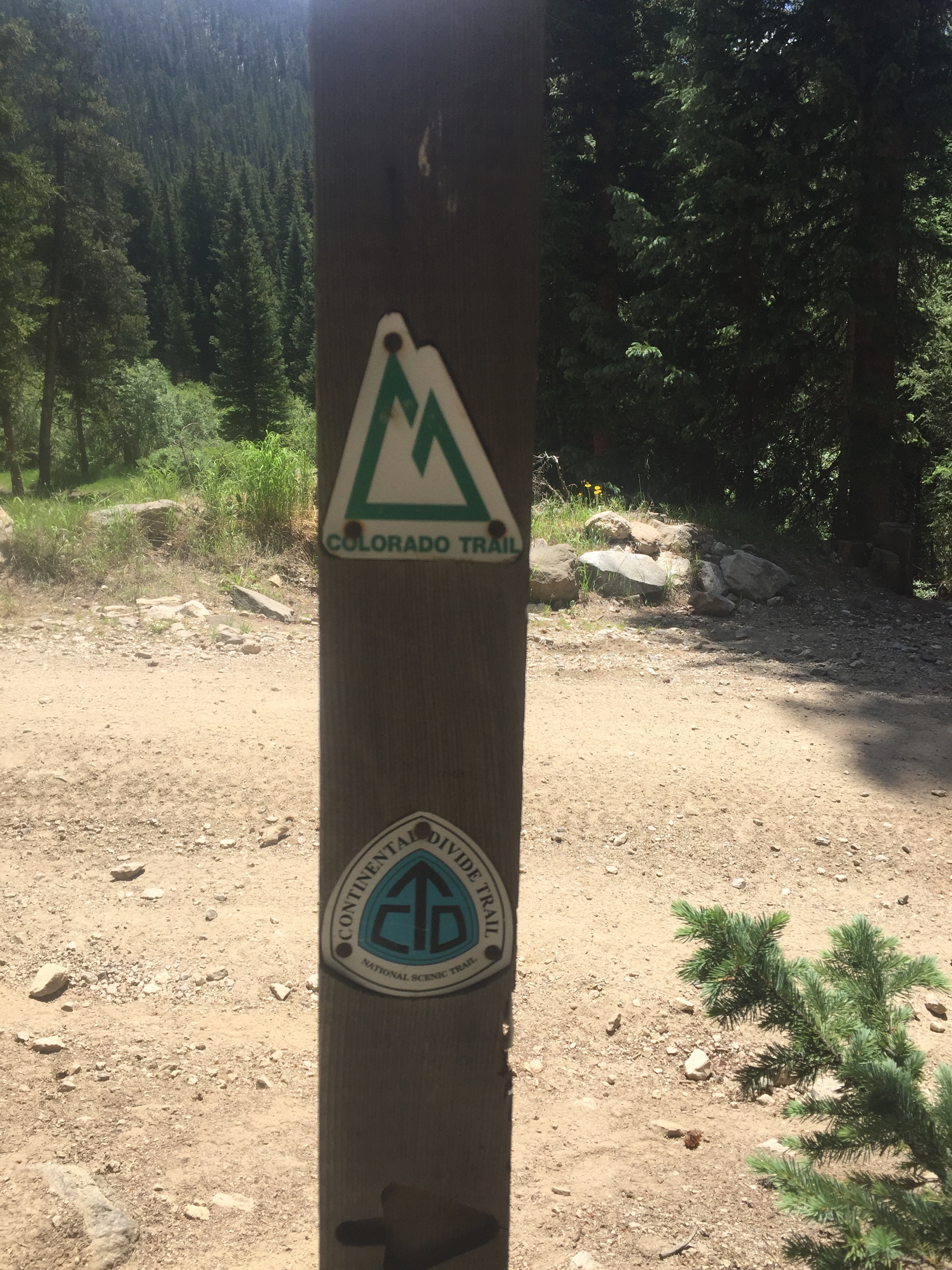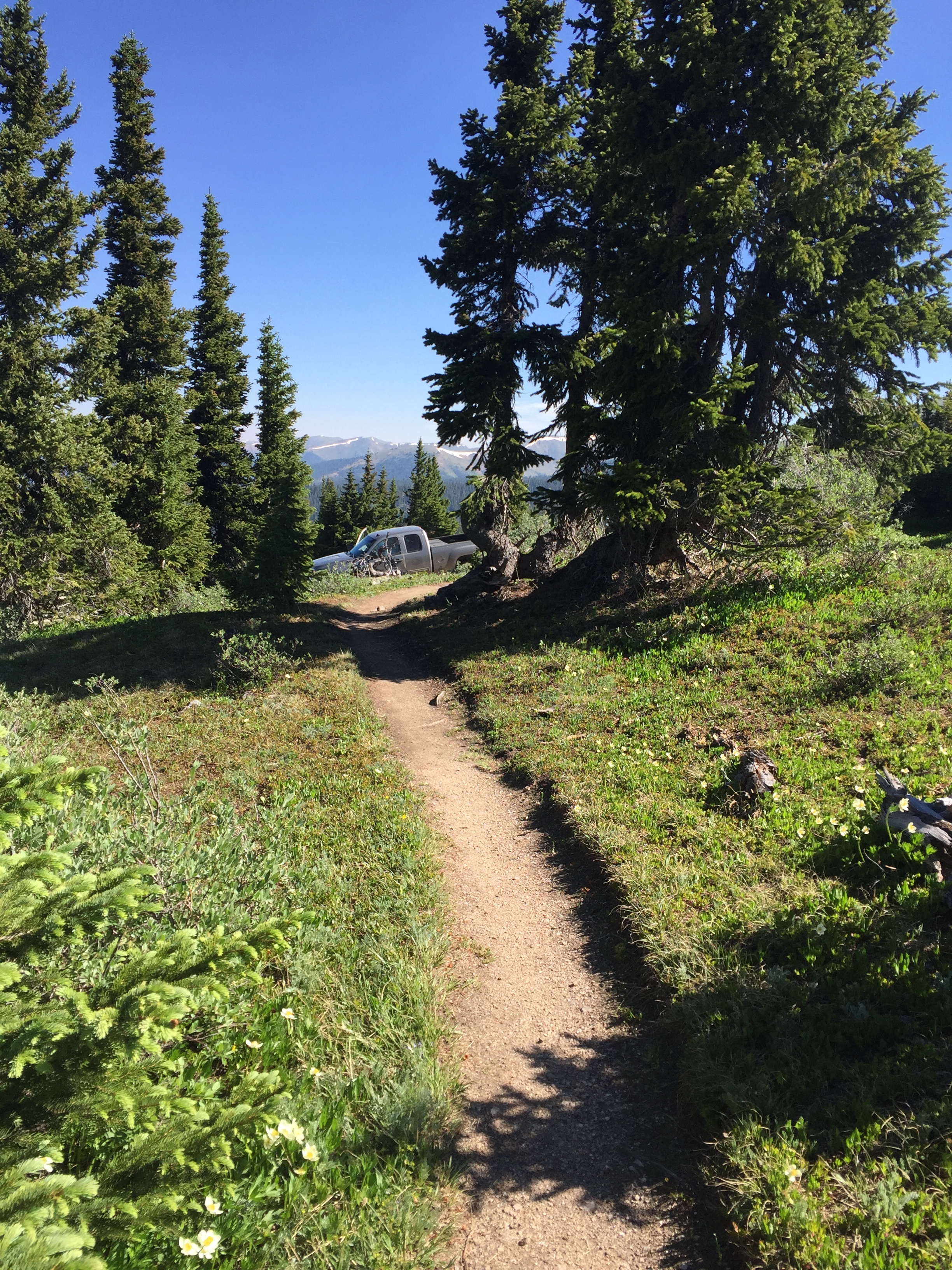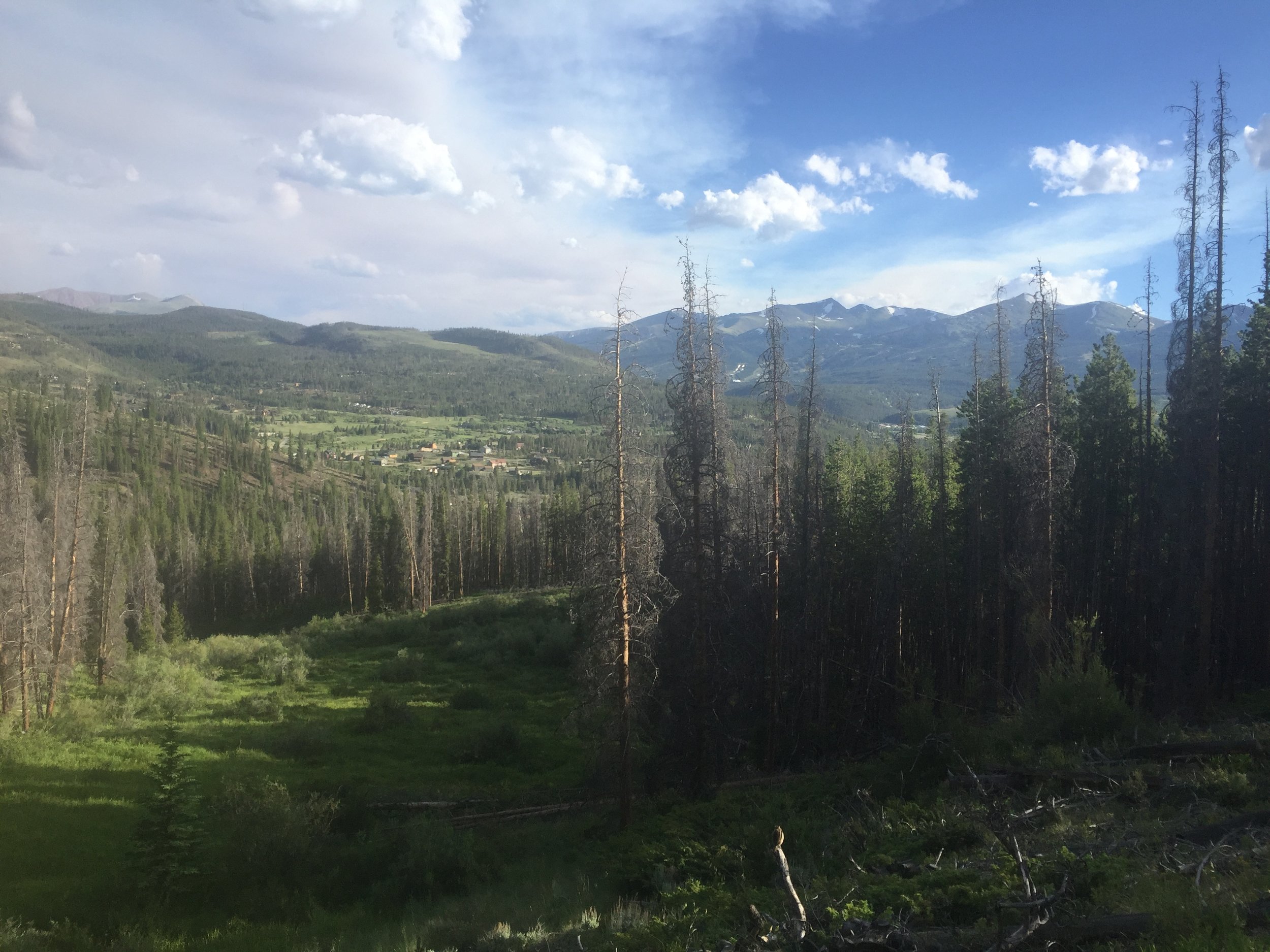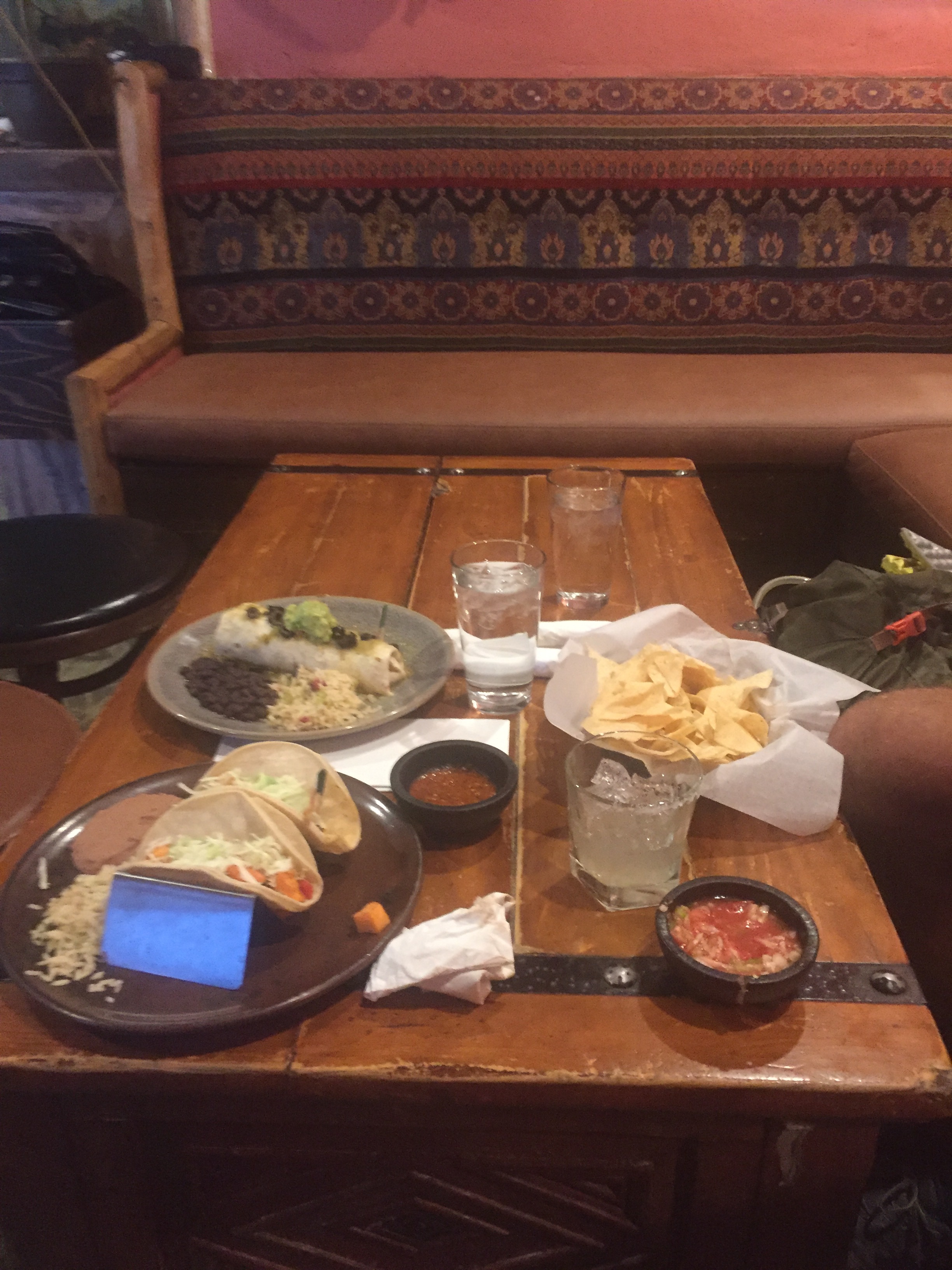 Day 6 | June 30th, 2018 
After a recovery soak in the hot tub, and a complimentary breakfast at The Bivvi, we were ready to get our town chores done and get back to trail.